This post may contain affiliate links. Read my disclosure policy here.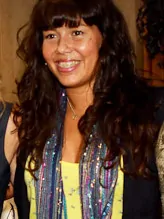 I've always wished I were a scarf girl!
I'll see women wearing fabulous scarves and wish that I had the confidence to add similar flair to my outfits.
So I asked Mary Mendez, the Design Director for the Route 66 collection of Kmart Design how to select and tie a scarf.
Mary is the ultimate scarf girl and I suppose it makes sense that she's brilliant at selecting the perfect scarf for an outfit, since designing scarves is part of her job…
Watch as Mary teaches me the art of scarves…
What About You?
Are You a Scarf Girl?
Are you confident selecting and wearing scarves? How many do you own?
Thanks to Our Sponsors

Thanks to Kmart Design we shot a ton of fabulous and fun BlogHer footage that we will be publishing in the coming weeks, so make sure you watch our feed.
Also… here's a little tip…
If you want to see the videos as soon as we upload them to YouTube (even before we can get them published here at 5 Minutes For Mom), subscribe to our YouTube channel.
Written by 5 Minutes for Mom co-founder Susan.
You get our feed, right?