This post may contain affiliate links. Read my disclosure policy here.
Amber here…
Can I make a confession? I am horrible at salads. They are my biggest cooking shortcoming, right after muffins.
Salad should be easy, right? I make foods from scratch that seem much harder, like hand-kneaded bread and home-canned peaches. I am not even lying a little bit when I tell you that I am currently fermenting dill pickles in a vat in my garage. I can put in the work and get my hands dirty in the name of a good meal. But combining vegetables with dressing in a bowl defies me.
(Janice thinks I am crazy — salads are her forté. Check out her summer salad and balsamic dressing!)
So I was incredibly glad when the folks at Newman's Own sent along a salad recipe for me to try. The photo they included looked very appetizing, I must say.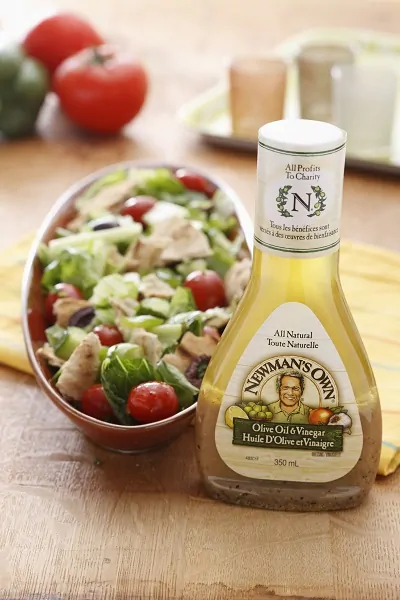 Here's what they had to say about the salad:
Known as fattoush, this refreshing salad goes perfectly with anything barbecued. It's a great way to use up pita that is less than fresh. Ground sumac is made from the ground dried berries of a Middle Eastern shrub. You can find sumac at specialty stores in its ground or dried berry form. It adds a traditional sour note to the salad.
(I am going to confess that I totally did not use the sumac. I substituted lemon juice instead, because my suburban grocery store is just not that hip.)
Here's the recipe:
Middle Eastern Bread and Vegetable Salad
Makes 8 side salad servings
Ingredients:

2 pita breads
3 cups (750 mL) bite-sized pieces romaine lettuce
1 pint cherry or grape tomatoes
Half English cucumber, chopped
1 sweet green pepper, chopped
1/4 cup (50 mL) chopped fresh mint
1/4 cup (50 mL) chopped fresh parsley
2 green onions, chopped
1/2 cup (125 mL) Kalamata olives, pitted and halved
1/2 cup (125 mL) Newman's Own® Olive Oil & Vinegar Dressing
2 tsp (10 mL) ground sumac or juice of half a lemon

Preparation:

On preheated barbecue or in grill pan on stove top, cook pita bread over medium heat for 5 to 6 minutes per side or until crisp and grill-marked. Set aside to cool.

In large bowl, toss romaine, tomatoes, cucumber, mint, parsley, green onions and olives. Add dressing and sumac; toss to coat. (Salad can be made to this point early in day. Chill. Add pita just before serving to maintain crispness.)

Break pita up into bite-sized chunks. Add to salad; toss to coat. Serve immediately.

TIP: To turn this into a main course, add some crumbled feta cheese for protein.
Full of optimism, I made the salad. I must say that I was extremely grateful to have an olive pitter, it simplified the prep considerably. I must also say that I totally added some feta before I ate it, because I am a huge fan of cheese. Huge. My salad was not quite as pretty as the one in the photo, but it looked good all the same.
What was the verdict? I really enjoyed it. My son really enjoyed eating the tomatoes and bits of pita out of it. My husband ate it without complaint. My daughter refused to touch it as soon as she saw me open a jar of olives. She is 5, she is sort of like that.
My foray into making salad was a qualified success. I would totally make this again for myself as a lunch, I think. Maybe I don't have to be afraid of salads anymore?
What about you? Are you a salad star? And how do you make fresh veggies appetizing for your children? I'd love some more tips!
Written by 5 Minutes for Mom Contributing Editor, Amber Strocel. Check out her blog, Strocel.com.