This post may contain affiliate links. Read my disclosure policy here.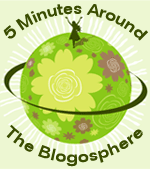 CONTESTS & GIVEAWAYS
At An Island Life and An Island Review you could win:
You'll have to hurry for this one! Deadline is midnight tonight! Metropolitan Mama is giving away a copy of The Vaccine Book: Making the Right Decision for Your Child by Dr. Sears. This book is filled with valuable unbaised information regarding vaccinating your child. To enter, just leave a comment and your email address on the giveaway post.
If you have children in your home, you may want to consider switching from commercial cleaners to natural ones. The Crunchy Domestic Goddess has an interesting post that discusses the benefits of going all natural. She's also giving away a 32 oz. bottle of Lily's Garden Herbals All Purpose Clean. To enter, stop by there before November 19th.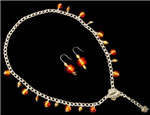 Shannon at Seasonal Kids Activities is holding her very first giveaway for a beautiful handmade necklace & earring set by Wendy Piersall. Deadline to enter is November 21st.
Solutions for Busy Moms is giving away a Family Manager System and Makeover to one lucky winner. With this system you will learn how to take charge of running your home-without running yourself into the ground. You'll figure out how to meet your own needs, so that you can be there for yourself as well as for others. Deadline to enter is November 14th.
Stephanie of Adventures in Babywearing has two great giveaways going on right now. First, you could win $25 to Cheeky Jewelry. You'll have to hurry, though. This one ends tonight! Second, enter to win a Saving Dowensky T-shirt. Jamie at Dreaming[Big]Dreams, along with her husband Aaron, recently started the journey of adopting Dowensky, a precious 2-year-old boy from Haiti. For more info on how you can help, stop by Saving Dowensky. Deadline to enter is November 14th. Help support this worthy cause!
Scribbit's November Write-Away Contest is going on right now! This month's theme is "My life is different because of . . ." Deadline to enter is November 21st.
Memarie Lane is giving away a beautiful piece of jewelry from Zuda Gay to one lucky person. You have until November 15th to enter.
COMMUNITY AWARENESS
The Toy Industry Association has recently launched a new toy safety website at www.toyinfo.org. Aiming to both reassure and educate consumers on the industry's rigorous safety standards and testing processes, the site contains answers to tough questions on what the industry is doing to ensure safety and how parents can help. If you're a parent who's concerned about all the latest toy recalls, you have to check out this site.
COOL WEBSITES
I don't know about you but I'm always looking for ways to make my holiday shopping a little easier. eBeanstalk whose mission it is to "plant the seeds that help children grow," helps to take the guesswork out of choosing entertaining, yet developmentally and age-appropriate toys for kids. Use the code WOOLGATHERINGS to receive a 10% discount. Thank you to Melissa for the hat tip!
If you're a Precious Moments fan, you'll love this new website. Precious Moms offers tools to make the most out of life's celebrations, including practical advice from real world moms, party-planning tips and recipes, and inspirational messages. Mothers who visit the site will be able to interact with other moms across the globe through message boards, articles, videos, podcasts and blogs. In addition to the content on the site, moms can benefit from the Precious Moms e-newsletter. Subscribers to the e-newsletter within the first 90 days will be eligible to win a one-year membership to either the Collectors' Club or the Fun Club for kids! These coveted memberships come with many benefits including access to exclusive figurines, publications and events.
ANNOUNCEMENTS
There's a new carnival in town – The Military Family Carnival. This carnival is basically for military family members and spouses, however, military personnel are welcomed, too! As an incentive, a monthly prize will be given to all participants for that month. How cool! For more information, stop by An Army Wife's Life.
Do you love books? How about free books that have yet to be released to the public? HarperCollins has a program called First Look where you could be selected to read & review tomorrow's books today!
GREAT DEALS
If you're planing on purchasing make-up from Sephora.com, use the code FF2007 for a 20% discount. Deadline: November 21st.
The U.S. Fire Administration is offering a free Sesame Street Fire Safety Station Stories & Songs Audiocassette. All you need to do is register with their site.
If you would like to have a post on your blog featured in 5 Minutes Around The Blogosphere, please send us an email at features5minutesformom at gmail dot com and we'll see if it can be arranged.
Kailani can be found at An Island Life and An Island Review.