This post may contain affiliate links. Read my disclosure policy here.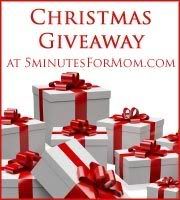 Your party is fantastic – the guests are laughing, the food is disappearing – but you are run off your feet with no time to stop and click some pictures of your event. Solution? Get your guests to take the pictures!
You've likely been at a wedding where single use cameras graced each table, but have you thought about borrowing the idea for your kids' birthday parties… or graduation parties or baby showers or really any get together that you want to remember?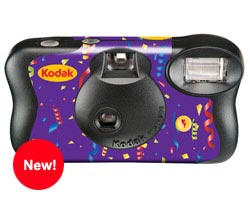 Kodak just launched a new line of Celebration Single Use Cameras which have a fun party design to add to the festive decor of your event.
And to celebrate these new celebration cameras, Kodak is providing six packs of ten cameras for our giveaway. So six of you will receive a free ten pack of Kodak's Celebration Single Use Cameras for you to let your guests – or your kids – in on the fun.
At your next party, put out the cameras with instructions for your guests to take pictures. When you develop the pictures later, you will have a fun look at your party through your guests' eyes.
Or, you can give the cameras to your kids. If your kids are anything like Jackson, they like to be in charge of a camera themselves. I love to give Jackson single use cameras. He has a blast recording his world – and I am not worried about my camera getting damaged.
These handy cameras come with KODAK 800 speed film for clear, sharp pictures and a simple manual flash so you can click away indoors or out.
If you want to pick up some single use cameras for your next party, Kodak.com sells the Celebration Single Use cameras in ten-packs for $79.50.
If you want to win one of the six packs of ten Kodak Celebration Single Use Cameras, all the instructions are explained in the Christmas Giveaway 2007 post (including the code to put our Christmas Giveaway button on your site.)
But here is a quick run through:
Leave a comment on this post to be entered.
Either post a link to this contest OR post a button linking to our Christmas Giveaway post. (If you post the button and link to the Christmas Giveaway, you are qualified to enter in all the upcoming Christmas Giveaway contests. And we have many more contests to come!) Non-bloggers are welcome too – we understand you can't link – but feel free to pass the word on to your friends.
(This giveaway is open to US shipping addresses only.)