This post may contain affiliate links. Read my disclosure policy here.
Here's one for you Spider-Man fans… or wives and mothers of Spider-Man fans.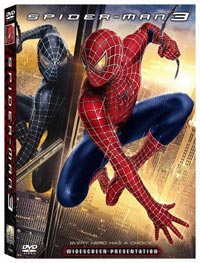 Do your husband or older children love the Spider-Man series?
And if you have little boys, I'd be willing to bet they go crazy for Spider-Man toys and basically anything with the Spider-Man character plastered on it.
So you can win this one for them… We're giving away 5 prize packs including the Spider-Man 3 DVD and Spider-Man 3 Thinkway Command Action Figure.
The toy is created for children 6 years and older and the movie… well, you can decide how old your kids need to be before they can watch Spider-Man in action.
Jackson being only 5 (almost 6) still is too young to watch the movie, but that certainly doesn't diminish his love for the character.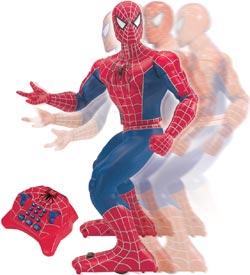 He saw this toy in the Toys R Us catalog and quickly added it to his Christmas list. And I can see why… it's a cool toy that I would have loved as a little kid (tom-boy that I was).
It's a wireless, infrared remote controlled action figure that moves in any direction with preprogrammed actions including 360-degree spins, "S"-shaped turns, web-slinging action with sound effects and character voice.
It comes with two joy sticks and has 10 buttons for different programmed actions.
The remote control is also programmable and easy to use, with over 1,000 possible program-action combos. It's available in red and black.

This clever toy was created by the folks at Thinkway Toys.
(Psst… the best place to get it is Wal-Mart. It's supposed to cost $39.99, but Wal-Mart is selling it for $29.97.)
If you want to win a prize pack including a DVD and action figure (we're giving away 5 prize packs), all the instructions are explained in the Christmas Giveaway 2007 post (including the code to put our Christmas Giveaway button on your site.)
But here is a quick run through:
Leave a comment on this post to be entered.
Either post a link to this contest OR post a button linking to our Christmas Giveaway post. (If you post the button and link to the Christmas Giveaway, you are qualified to enter in all the upcoming Christmas Giveaway contests. And we have many more contests to come!) Non-bloggers are welcome too – we understand you can't link – but feel free to pass the word on to your friends.
(This giveaway is open to US shipping addresses only.)