This post may contain affiliate links. Read my disclosure policy here.
My child asks at least once a day, "Mommy, can we play the blocks game?" Now, I'm not a gamer, and I spend so much time working at my computer that I normally choose to spend my playtime off-screen, but a couple times a week I'll oblige and we'll play Baby Blocks here at 5 Minutes for Mom Games! It's our Mom and Me Computer Games time!
My son is three. He's a little young to play the games himself, but he loves to watch me! He'll cheer me on when I eliminate enough blocks to progress to a new level. He also recognizes the 'game over' screen and lets out a big sigh when mommy loses. (stinker) His constant question throughout the game is "Mommy, are we going to get any orange blocks?" Yes, I am that bad. You see, there are about four levels before the game introduces an extra color. I usually lose and have to start over before that level, so seeing the orange blocks is a rare occurrence in this house. I don't even know if the game gets harder than that, or adds another color…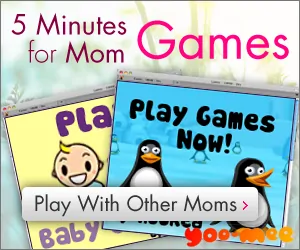 But, playing isn't about whether I'm good at the game, how many times I win, or beating other people's scores, it's about those few minutes when we're cuddling together on the couch, or he's on my lap at the table, and we're playing together. I know these days won't last long, and soon he'll be asking to play the games on his own. I'm just trying to enjoy this little bit of Mom and Me time.
Do your kids like to play computer games or play with you? Have you tried the family friendly games on 5 Minutes for Mom?