This post may contain affiliate links. Read my disclosure policy here.
This is the second of two reviews and giveaways at 5 Minutes for Books. Click here for the first one.
I haven't had any time to read these last couple of months. But when the offer to review Amy Grant's first autobiographical book, Mosaic: Pieces of My Life So Far, popped up in my inbox, I simply couldn't resist. (And with Jennifer our regular 5 Minutes for Books columnist also reviewing the book on her own site, Snapshot, it gave me the perfect excuse to make some time to read and review this one myself.) So this weekend, as I nursed Olivia, I treated myself to reading Mosaic.
As a Christian teenage girl growing up in the eighties and nineties, Amy Grant was simply a musical staple. I think I have owned all of her albums over the years. (It is amazing to think that so much time has passed – I have been listening to Amy Grant for two and half decades! And every year as I decorate the tree, I still always put on her Christmas albums.)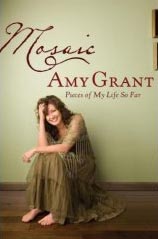 But it has always been more than her music that has drawn me to her. Although in the early years her life at times appeared perfect, her sincerity and approachability factor carried through song lyrics and interviews and made you feel as if Amy were a "real" person – a woman you would want as a friend and confidante.
Over the years, we have seen that indeed Amy's life is not charmed. No one's is. She has struggles and challenges just like we all do. Amy went through a divorce and remarriage, facing criticism and scrutiny by many in the Christian community. Yet she kept her faith and life intact, continuing to inspire others through her music and her work.
Now in her book, Mosaic: Pieces of My Life So Far, we get an honest, personal look at Amy's life through her stories, poetry and lyrics. Amy's thoughtful, caring spirit shines through as she reflects on what God has done in her life and shares her cherished memories with us.
As I read Mosaic, Amy's lyrics triggered many of my own memories – the familiar melodies playing in my head, taking me back through the years. And as Amy dug into her history, treasuring her memories and life lessons, I too was inspired to appreciate and recall my own life stories. As I held and nursed my newborn daughter Olivia, Amy reminded me to cherish every day God gives me, even the simple or mundane moments that all blend together to create a beautiful mosaic.
This review is part of a "blog tour" for Mosaic. To read more about Amy Grant and get free music download of two of the songs mentioned in Mosaic head on over to her site.
The publishers have given us three copies to giveaway. If you would like to win Mosaic, leave a comment on this post and we will randomly draw three winners on Thursday, October 18th.