This post may contain affiliate links. Read my disclosure policy here.
It's midnight and I've been home for over an hour and I can't even make myself try on my fancy new clothes.
I'm too devastated to think about my lovely new dresses. I'm frazzled and freaked out. I'm enraged and at the same time sick with sadness. I'm lost in disbelief.
I think I may never fall asleep tonight and if I do I'll have nightmares of innocent young moms — just like me — unjustly in jail.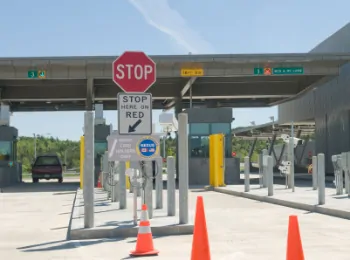 I'll be imagining who was behind that menacing closed door. Who was the young woman whose car they were stripping apart in front of me?
Did she know? Had someone planted the drugs in her car? Or had she been so desperate to pay her rent that she listened too long when that man approached her in Target?
But either way, really… does it even matter? Apparently not.
As the oddly friendly, young border guard shared with me, it doesn't matter if she knows or not. If the drugs were on or in her car, she goes to jail. It's impossible for her to prove that she didn't know.
In the most unusual and disturbing conversation I've ever had at the border, this guard told me that a common practise is for drug dealers to hide their drugs on your car while you're in shopping. They pick a car with plates revealing an unsuspecting Canadian shopper, plant the drugs and then follow her across the border. If she makes it through without being thrown in jail, then he follows her home, waits for her to get out of the car, and then takes back the drugs.
My jaw hit the floor in disbelief as my innocent mind could never have even thought of such a simple, yet evil plan.
I protested that it wasn't fair. And he just shrugged his shoulders and calmly said that technique isn't as common anymore. Apparently, that trick was all the rage back in 2005, but the dealers were disappointed with loads that got lost… so they're focusing more on paying off desperate folks who look like they'd never be questioned at the border.
The guard told me they regularly arrest "people just like me" and also elderly people with canes. He said, "Hey, if you were a drug dealer, who would you get to carry your load? I'd get someone just like you."
It's haunting me. Those words. He said them so many times. It makes me think that the person behind that huge metal door was a young mom with two little girls. Except, maybe she wasn't as lucky as I am. Maybe she couldn't pay her rent. Perhaps she just weakened and agreed to take a parcel across the border. Or even worse… maybe her car was parked next to mine, and eeny, meeny, miney, moe…
I don't know how long it will be until I stop thinking about all the injustices surrounding the whole situation. I don't know how long it will be until I cross the border to go shopping again. I don't know.
I don't even know if she's still behind that same door… or if she's already behind bars.
Written by Susan, Mom Blogger and Co-Founder of 5 Minutes for Mom
You get our feed, right?