This post may contain affiliate links. Read my disclosure policy here.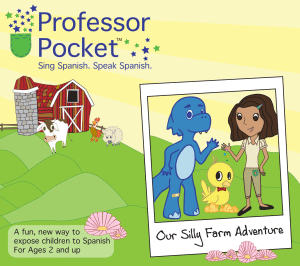 The five winners of the Professor Pocket CD are:
#132 Elizabeth G.
#17 Mikki
#31 Ellen Christian
#43 Nora Scott-Platt
#99 Evelyn
If you didn't win, but would still like more information about helping your children learn a second language in a fun way, you can sign up for their newsletter by emailing paula (at) professorpocket (dot) com.
And there's more:
As a thank you to all of you who participated in the drawing to win a Professor Pocket™ Our Silly Farm Adventure CD, Professor Pocket would like to offer a special promotion to all of you. Please visit the Products page on our website, www.professorpocket.com. Type in the promotion code "thankyou" to receive $2 off as well as free shipping on your CD!!