This post may contain affiliate links. Read my disclosure policy here.
It doesn't get much better than this…
Yes, Olivia arrived early! And my tackle plans for the week suddenly changed.
I did not get to cross off all the things on my to do list for the week. I didn't finish tackling my filing mess on my kitchen table, go shopping, work on the shower post, nor finish organizing Olivia's and Jackson's rooms, to name just a few things. I didn't even pack my bags for the hospital! (While in labor, I did manage to pack, sort some of the papers on my kitchen table and quickly put together the shower photo before leaving for the hospital. But unfortunately I left all the other work for the big shower post on Susan's weary shoulders.)
So my house isn't in the order that I had hoped for it to be, nor am I caught up with all my emails and other work. But what to do – babies don't wait. 🙂
And of course I couldn't be more thrilled than to get to meet my little Olivia early! (And to have giving birth over – I feel so bad that Susan still has to go through it!)
I am ecstatic with our precious daughter – she is definitely the most beautiful "tackle" I have ever posted. Here she is: Olivia Jenae when she was one day old.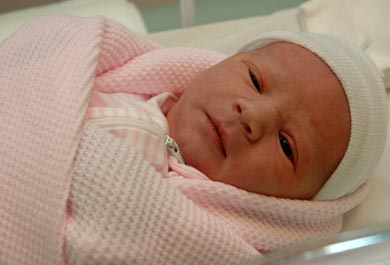 Also – may I stay a HUGE thank you to all of you for your wonderful comments and support! What a sweet gift to get to read all your kind words about Olivia. THANK YOU!
So what did you tackle this week?