This post may contain affiliate links. Read my disclosure policy here.
Project to Tackle: Our Van
Happy July 4th to you all! I hope you are having a wonderful holiday with your families.

I am sure the number of participants tackling today will be much smaller due to the holiday, but I tackled nonetheless.

But first I wanted to share a humorous, little story…

Today I told my son I needed to clean the van for Tackle It Tuesday. He asked if he could help and then offered that I could help him with his new day "Washy Wednesday." "What happens on Washy Wednesday Jackson?" I asked, so amused that my son has caught onto our blogger craze for alliteration. "Oh…water parks, sprinklers, waterslides, swimming, showers…" He is so thrilled about it. Perhaps I will have to post some pictures of his Washy Wednesday.

Now for Tackle It Tuesday.

My inspiration for today's tackle came from two different Works for Me Wednesday ideas. (Unfortunately I have forgotten who they belong to. I am so sorry. If you know, please email me or mention in the comments and I will add in the links.)

The first suggestion was to always keep a change of clothes for family members in your vehicle. I usually do have extra clothes for Jackson in his backpack and some scattered through my van, but I don't have any for me. I decided to get more organized about this and keep changes of clothes for us in the van. This leads into the next idea. Another blogger showed that she keeps a laundry basket in the van and puts all the loose items and toys in there.

So I decided to get my van organized.

Often the extra clothing or toys ends up on an extra seat or on the floor.

So here is my before picture:
Our Van – Before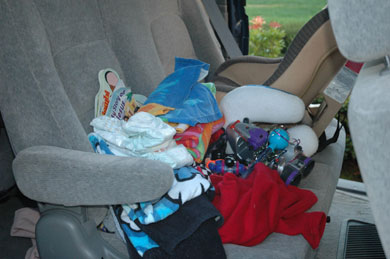 And here it is after: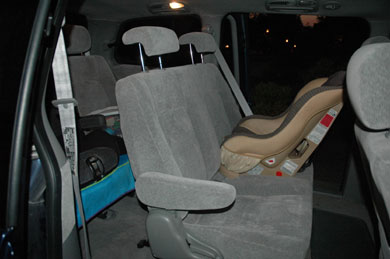 I put a laundry basket in the back: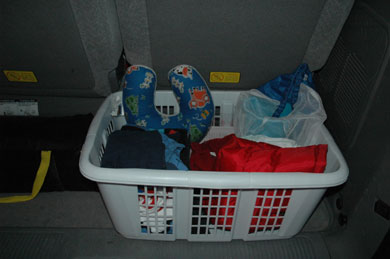 Then I put a box in the back seat with Jackson for all his toys and books. (If you are wondering why Jackson sits in the back seat – he insists! He thinks it is more fun back there.)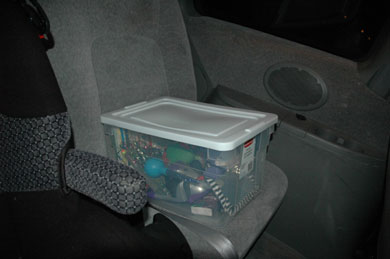 And I put a basket in the front to hold all the miscellaneous items that collect so quickly throughout my day. If someone gets in my vehicle, it is quicker to move this basket than to pick up all the odds and ends to clear the seat.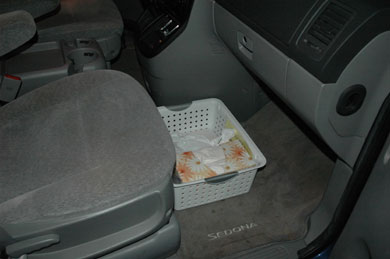 So there you have it – my new organized van!
(Did you notice the after pictures are in the dark? Yes – once again I scrambled to finish my project late Monday night. This time however, Jackson was still up. Oops – I didn't get him to bed till after 10 pm. These summer nights I just keep letting him stay up too late.)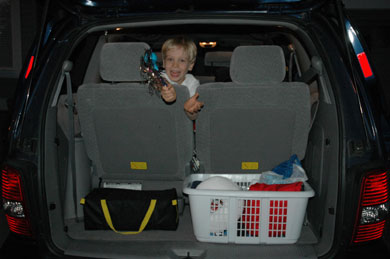 Join Us For Tackle It Tuesday

Each week on Tuesday, we are posting before and after pictures of a project or trouble area that we tackled this week.

I will link to any of you who are also playing along, so add a comment and/or email me. Find out more about Tackle It Tuesday here.

The project can be little or big – whatever you want. Basically, Tackle It Tuesday is about giving ourselves incentive, deadlines and satisfaction in getting our household tasks done.