This post may contain affiliate links. Read my disclosure policy here.
Bye Bye Baby Clothes…
I am determined to reduce the amount of "stuff" in my house by 30%.
I may not qualify for "Hoarders" but I do have tons of clothes, toys, etc. that need to move on to another home. I even have most of it boxed and bagged up ready to go. But still I procrastinate.
WHY?
Well, when it comes to my kids clothes, I am pretty sentimental. And most of them are in such good condition that I know they can be a real blessing to a family.
And I really love giving them to friends so I can see their little ones growing up in the clothes my kids did. Such sweet reminders of those days that went by too fast.
So, since Olivia and Sophia were born and I knew that Susan and I would not be needing boy clothes, I have begun to get rid of Jackson's clothes. Last year, I sold a ton of old baby toys and some of Jackson's clothes and we used the money for Jackson's sponsored child through Compassion International.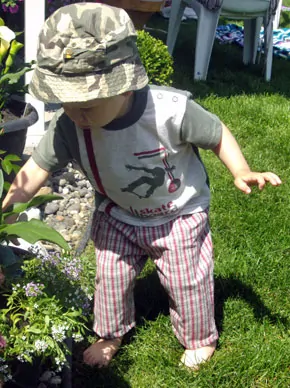 And as I told you this winter, I gave a bunch of Jackson's older clothes to a fellow student in Jackson's class whose house burned down just days before Christmas.
As well, I have had other friends go through the smaller sized clothes a few times and take what they wanted.
Somehow though, I still have BOXES of clothes left.
So, when my friend Rayanne and her sweet little Jacob came over, we tackled all the clothes and she hauled away three garbage bags of clothes!
I still have some of Jackson's clothes and most of Olivia's baby clothes to donate, so I will have more tackles to come. But I am moving forward!
And doesn't little Jacob look so sweet in his outfit from Jackson? (Jackson never even wore that one! It still had the tags on it. LOL)
Thanks Rayanne for sending me this picture too!