This post may contain affiliate links. Read my disclosure policy here.
Irrational Parenting — Sometimes, it's the best kind.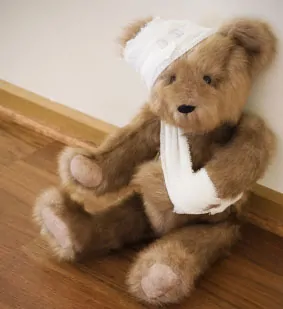 When I was seven, I broke my arm. The only problem was that my parents didn't believe me.
I was playing soccer in the backyard with my siblings and the neighbor's kids. Somehow I ended up on the grounded crying.
But for some reason, probably because after raising my older siblings my parents didn't jump at the sound of a scream, they didn't think I was seriously hurt.
For the next week, I complained to my mom that my arm really hurt. I couldn't carry my school bag or pick up anything. At the end of the week, my mom had my twin sister at the doctor and mentioned to her, "Oh, you might want to check this one's arm." X-rays vindicated me. My arm had a small fracture.
"Do I get a cast?" I asked the doctor.
"Well, since you have lasted this long without one, I think we are okay," he replied.
To an adult, this would have been a great relief. But to my seven-year-old heart it was a tragedy. You see, ever since a schoolmate had arrived one day boasting a new cast, proudly sitting still as we gathered around to sign it, I had longed to break my arm.
I wanted to be the one to wear the cast everyone clamoured to write on. I wanted to be the one to tell the story of how I got hurt and what it felt like to sit in the hospital and get my arm plastered.
I wanted the attention.
But when I told my friends the story of my bravery, of enduring pain without the help of a cast, it sounded pretty unimpressive even to me. I had been robbed of my cast—my moment.
So the other night, when my husband insisted that my son's eight-stitch knee wound had healed enough to remove the gauze bandages wrapped around his leg and switch to two adhesive bandages, I understood why my son protested…
Continue reading at Guideposts.com
This in an excerpt from an article written by Janice Croze, co-founder of 5 Minutes for Mom. You can read the conclusion at Guideposts.com