This post may contain affiliate links. Read my disclosure policy here.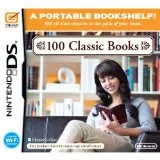 Can I admit right here (probably to the shock and dismay of many) that although my daughter is almost 12, and my son just turned 6, they've never had a hand held gaming system? Amanda did receive an ipod touch for Christmas which she does use for games, but other than that, we are uninitiated, and held off for that until after she was 11 years old.
That's all changed.
Over the next couple of months the entire review team at 5 Minutes for Books, along with Janice here at 5 Minutes for Mom is going to be testing out a brand new product from Nintendo. They've just released 100 Classic Books for use with the Nintendo DS. It can be used with any DS system, but is especially designed for the bigger screen on the latest version, the Nintendo DSi XL.
They approached us because they wanted to know what moms and kids thought of it, and if it would appeal to readers who want to read some classic books (they liked our Classics Bookclub that promotes reading and discussion of classic novels). Of course I was drawn in by the fact that they are trying to encourage gamers to read more by turning it into a sort of an e-reader.
Follow along over the next 6 or 8 weeks, as we post on our experience with the e-reader and our use of the 100 Classic Books cartridge.
I haven't had a chance to read anything on it, but I have looked through it, and immediately some really cool features jumped out at me. If you are trying to figure out which of the 100 classic books that are included (with a few more available via internet download), you can take a quiz. You are asked the genre that you want to read (adventure, fantasy, mystery etc), the age group (child, young adult, adult), the time period, and the length (shorter, medium, or long), and it pops out a recommendation for you. At any time you can use the categories to simply pare down the books on the bookshelf for you to choose from as well.
I think that this would be an excellent addition to the middle school or high school student's game selection. If they are going to have to read Pride and Prejudice, they might rather read it on their DSi. Then if they like it, they can check out Sense and Sensibility or Emma, already preloaded and ready to go.
Most of the titles will be too much of a challenge for anyone reading under about a 5th grade level, but there are many titles that could appeal to that age and up, such as
The Wonderful Wizard of Oz
Little Women
Jane Eyre
The Little Princess
Tales from the Arabian Nights
Tom Sawyer and Huck Finn
White Fang
The Jungle Book
and many many more
There are titles that most high schoolers are asked to read, such as
The Odyssey
Les Miserables
White Fang
Anna Karenina
Walden
Romeo and Juliet (and several other Shakespeare plays)
and on and on
I can't decide what I'm going to read first! It's kind of exciting having them all at the ready.
This is NOT meant to be a go-to e-reader; but for those who don't have an e-reader, but are intrigued with the idea of having a library at their fingertips, and like the gaming aspect of the Nintendo DSi, I think that 100 Classic Books is going to fill a very specific niche.
In fact, read our Mailbox Monday post (where we post about all the books that we received in our mailboxes this week) to find out Lauren's 8-year-old son's enthusiastic response to reading a book on his DS!
Will you help us out? Join in the conversation, and let us know what you want to know about this new product:
Do you currently use an e-reader? Why or why not?
Do you think that you would use an e-reader application on your existing DS, or would this encourage you to buy one?
Do you think that your child would read more if he or she could use the DS to do so? Why or why not?
We are looking forward to trying this out, but we'd love to hear what your gut reactions are. Please join in the discussion in the comment section below!
We don't have a giveaway this week, but we do have several giveaways going on right now at 5 Minutes for Books. Check out all our book giveaways and enter now. Our Klutz Glossy Bands book from last week's column is still open for new comments, and my daughter is still enjoying it!

Disclosure: We each received the 100 Classic Books software, along with a DSiXL in order to test out and use the system and software and give our honest opinion on them.
Book blogger Jennifer Donovan enjoys reading everything in any way, whether on some sort of an e-reader, listening to an audiobook, or turning the pages of a good ol' print book. She blogs about her family — an 11-year-old daughter, 6-year-old son, husband and dog living in Connecticut — at Snapshot.