This post may contain affiliate links. Read my disclosure policy here.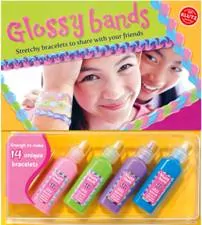 I've had so much positive experience with Klutz books and activity sets that if I'm tasked with buying a birthday gift for a girl between 9 and 13, I know that I will find something that she would love in their collection. They have a few that appeal to boys as well, and there are some fun books that are perfect for boys in that same age range as well, such as the Encyclopedia of Immaturity.
The newest in the Klutz collection is Glossy Bands: Stretchy Bracelets to Share with Your Friends.
My 11 1/2-year-old daughter spent a few minutes with her grandmother yesterday figuring out the instructions and designing two Glossy Bands for herself.
This would be a great kit to have on hand to squelch the summertime "I'm bored's," or to be prepared for gift-giving needs. My daughter loved this kit, and it's something she could do on her own, without help or hovering from me (although she enjoyed sharing the special time with her grandmother).
I love that it provided enough instruction to get her started, and enough leeway for her creativity to grow and her to try new things on her own.
This video shows you how fun and easy it is to make your own Glossy Bands:
I have a great prize pack to offer you — 3 of you will receive your own Glossy Bands kit. Just leave a comment below to be eligible to win.

We'll announce the winner in our June 21st 5 Minutes for Books column right here.
We have lots of winners to announce from previous giveaways:

Molly Ringwald's Getting the Pretty Back: #34 Liz

Potty Animals: #15 Karen Rorison, #50 Amanda A., #6 Kathleen

The Summer Camp Survival Guide:#14 Mozi Esmes Mom, #7 katlaw777, #5 Alison S
Book Blogger Jennifer Donovan thanks the publisher for the review copy.