This post may contain affiliate links. Read my disclosure policy here.
Is it really almost Father's Day? Why do I always feel like that holiday sneaks up on me? It probably has a lot to do with the fact that the dads in my life are so hard to shop for! First, I need to stay in the budget and second, there's the whole problem of trying to buy them something they don't already have. The dads in my life aren't really in need of another tie or coffee mug!
This is why I love Things Remembered! Not only do they offer gifts within any budget, but they are high quality and personalized! And this is what I really, really love about Things Remembered — If you go to their website and look at their Father's Day gift selection, you will see that they have suggested gifts for each "type" of dad! If you're shopping for a "tech dad", you'll find gifts that are more tailored to him. If you're shopping for a "sports dad", then you'll find more sporty gifts! Such a helpful tool!!!
My husband will be receiving this amazing personalized Grill Set as his special gift next weekend!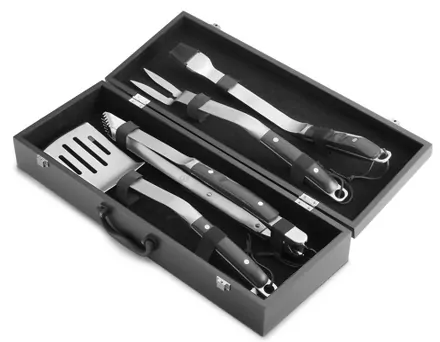 This four piece set has everything dad will need to feel like he is king of the grill (barbecue fork, tongs, silicon basting brush, and an engravable slotted spatula). The best part is that all of these "grilling tools" are high quality that should last a long time and they are kept safe in an amazing engravable wooden case.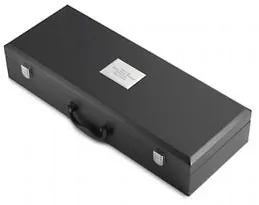 While I'm looking forward to some amazing meals coming off the grill now that he will have these fabulous tools, I'm sure it will be my responsibility to make sure they all end up back in the wooden case. Are jobs are never done, right ladies?
Now that the husband's gift is taken care of, I'm off to do a little more Things Remembered shopping for the grandpas! I have a feeling that one or both of them would love the Multi-Tool Flashlight!
Don't forget to check out the amazing gift ideas at Things Remembered, not only for Father's Day but for all those graduation parties you'll be stopping by this Summer! You can also check out Things Remembered on Facebook and Twitter (@tremembered).
To help make Father's Day extra special for one of our lucky readers, we are giving away a personalized Grill Set! To enter, just leave a comment below.
This contest is open to US addresses only and closes on Friday, June 25. The winner will decide what they would like engraved on the wooden case or slotted spatula. Please refer to our site's terms and conditions of use for more information.
I did receive a personalized Grill Set from Things Remembered so I could give you an accurate and personal review. Things Remembered is also providing the winner with a personalized Grill Set.