This post may contain affiliate links. Read my disclosure policy here.
This is the first of two reviews today for 5 Minutes for Books. Click here or scroll down for the second review. Both reviews today are written by Janice.

Understanding Your Moods When You're Expecting – Emotions, Mental Health, And Happiness – Before, During, And After Pregnancy
No matter how we find out – two lines on "the stick", a doctor's appointment, a nauseated stomach – from the second we discover another life is growing inside of us, everything changes. Overpowering hormones and huge life alterations make pregnancy and early motherhood an emotional minefield. Thankfully the medical world is finally taking notice, societal taboos are somewhat fading, and women are beginning to talk about their emotional health and get much needed help.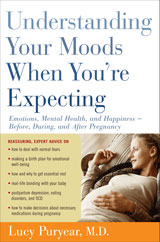 Understanding Your Moods When You're Expecting – Emotions, Mental Health, And Happiness – Before, During, And After Pregnancy by Lucy, J. Puryear, M.D., a practicing psychiatrist and a pioneering expert on women's reproductive health, is a wonderful and important resource for expecting women and their spouses.
Dr. Puryear walks us through the emotional changes happening during the various stages of pregnancy as well as the critical time after the baby arrives. Through illustrations from her practice, Puryear helps us to realize that we are not alone – and we are not "crazy." She gives concrete tips and steps to help us traverse through these difficult months and to recognize when we may need to get more help.
As a mother who lived through postpartum depression and anxiety, I am thrilled that Dr. Puryear has written this book. My pregnancy and my postpartum months with my son were the hardest times of my life – I even put off trying to get pregnant again for three years for fears of reliving the overwhelming symptoms.
I was fortunate that I was diagnosed and medicated only ten days after my son was born, but the months during my pregnancy, when I was already suffering from anxiety and depression but was undiagnosed, as well as the first few months of his life, were difficult. To have had this resource then would have helped me so much.
Knowing what is happening in our bodies and talking openly about what we are experiencing is critical for women approaching motherhood. Going into this pregnancy and preparing for my delivery in a couple months, I have had a completely different mindset because I know what I am up against. I know the signs and what I need to do to get help when I need it. I also know the steps I need to take to help protect myself this time around.
Understanding Your Moods When You're Expecting helps empower and educate an expecting mother about what is going on in her body and how she can look after herself. It brings the subject out of the shadows and lets a mother know that she is not the only woman who is struggling with her emotions.
Approximately 80% of women experience the "baby blues" after delivery and about 10-15% experience postpartum depression. As women, we need to talk about these issues – and demand that the medical field meets our needs as well.
If you are expecting, or planning on getting pregnant, I highly recommend Understanding Your Moods When You're Expecting. And if you would like to win a copy, leave a comment here. We have five copies to giveaway. (This contest is open to both US and Canadian shipping addresses.)