This post may contain affiliate links. Read my disclosure policy here.
This is the second of two reviews today for 5 Minutes for Books. Click here for the first review. Both reviews today are written by Janice.

Hot Stuff to Help Kids Cheer Up – The Depression and Self-Esteem Workbook
Kids get depressed too.
For years professionals believed that children were not capable of such complex emotions, but now the American Academy of Child and Adolescent Psychiatry report that about 5 percent of children and adolescents suffer from depression at any given time. As well, children who are under stress, who experience loss, or who have attention, learning, conduct or anxiety disorders are at a higher risk for depression.
Watching a child struggle with depression and low self esteem is heart breaking. As parents, we want to offer our children the best help we can to meet their life challenges.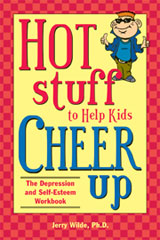 If your pre-adolescent or adolescent child is battling emotional issues, Sourcebooks' Hot Stuff to Help Kids Cheer Up – The Depression and Self-Esteem Workbook by Jerry Wilde, PhD, is an excellent tool that helps a young person to learn to cope with depression or low self esteem.
Based on cognitive-behavior therapy, Dr. Wilde educates the young reader about what depression is and how they can learn effective strategies to change their thoughts and feelings. Wilde breaks it down into easy to understand exercises that the child can learn and practice. (I even found his methods effective for adjusting my own thought patterns!)
Hot Stuff to Help Kids Cheer Up teaches kids:
How to think differently so they can feel differently
What causes depression and low self-esteem
The difference between sadness and depression
How to stop worrying about what other people think
How to cheer themselves up when they are feeling low
How not to equate how well they do with their self-worth
Wilde, who has ten years of experience as a school psychologist, uses a casual, friendly voice to communicate with his young reader. This work book is short and not intimidating, but it is packed with the critical information someone needs to help understand and cope with depression.
Sourcebook lists the recommended age for the book to be 9-12 year olds, but I think it would work well with young teens as well. The lessons are effective for any age group and I am sure teenagers would also appreciate the quick-read style.
Here is an excerpt from the book for you to get a sense of Dr. Wilde's style to see if it would work well with your child:
"I decided to write this book because I think I can help you learn the skills necessary to understand and overcome feelings of depression and low self-esteem. I've written several other books about depression, but they were for counselors and psychologists, not for students. This one is just for you.

Are you ready to hear the hard part? You had to know there was a catch, didn't you? There's always a catch. Okay here it is.

Since there're really isn't any magic in the world, you won't feel differently is you don't think and act differently. Your friends, parents, teachers, dogs, cats and gerbils can't make you feel better. I certainly can't magically fix your life with a book, but I can help you learn some ideas and activities that have been proven to work. To feel better you're going to have to actually do some of the things that I'll be suggesting. Your life won't suddenly be perfect, but you'll feel better…"
After reading this book, I highly recommend it to for young people who are facing depression or low self esteem. The tools and lessons are actually effective for everyone – whether or not one is experiencing a clinical depression.
If your child (or a child close to you) is struggling with depression or low self-esteem, please consider picking up Hot Stuff to Help Kids Cheer Up – The Depression and Self-Esteem Workbook. If you would like to win a copy, leave a comment here at this post.