This post may contain affiliate links. Read my disclosure policy here.
This week we are closing the Army Wives $100 giveaway.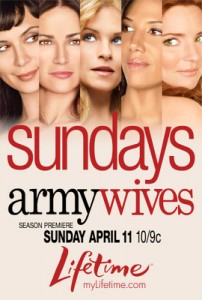 In 2007, when Army Wives premiered on Lifetime, I remember how excited I was to watch it. I quickly fell in love with Army Wives, appreciating the glimpses it gives into the lives of military families. It is a powerful show – raw and entertaining.
Army Wives follows the struggles, dreams and friendships of a diverse group of women – and one man – living with their spouses and families on an active army post. The series films in Charleston, South Carolina and stars Kim Delaney, Sally Pressman, Brigid Brannagh, Brian McNamara, Sterling K. Brown, Wendy Davis, Drew Fuller, Terry Serpico, Katelyn Pippy and Catherine Bell.
This fabulous show returned on April 11th for its 4th season. If you missed the premiere, don't worry, you can watch it online right now.
Comment Number 267 – brenda h, will receive a $100 gift card!

Congratulations! You should receive an email about claiming your prize.

If you haven't received an email, please send your FULL NAME, SHIPPING ADDRESS, and TELEPHONE NUMBER to contests5m4m(AT)gmail(DOT)com by Wednesday, May 5th in order to claim your prize. Any prizes unclaimed will be forfeited and a new winner or winners will be selected.