This post may contain affiliate links. Read my disclosure policy here.
*** Monthly Feature Column ***
Positively Speaking
Building Assets in your Kids by Kelly Curtis, M.S., author of Empowering Youth: How to Encourage Young Leaders to Do Great Things.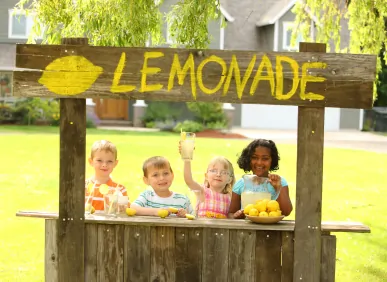 Have you ever met a young person who has a "spark" for entrepreneurship? Do you know a child with creative ideas that could actually sell – who can think of the many steps needed to make an idea turn into a product? If you know of a child like this, you probably understand this is most likely a future business person. There are many ways to encourage that child in his or her entrepreneurial pursuits, including the nation-wide event called, Lemonade Stand Day.
Search Institute has identified Empowerment as one of the 40 Developmental Asset categories. Research shows these are characteristics of healthy, caring, resilient kids. The more assets youth have, the more likely they'll resist risky behaviors in the future.
Lemonade Stand Day is an event where kids can learn to set goals, develop a business plan, establish a budget, seek investors, provide customer service, and give back to the community. The nation-wide event is Sunday, May 2nd, 2010, but children can use the process and ideas anytime. Youth of all ages can participate, with adult supervision and Lemonade Day directly affects the participants, but it also affects the entire community. Kids that have lemonade stands need adult supervision, sponsors, investors, employees, and customers.
My daughter learned about Lemonade Stand Day when she spoke at the Healthy Communities/Healthy Youth Conference in Cincinnati last year, and she's already started plans to host a Lemonade Stand this summer with her neighborhood book club. The intent is for the young entrepreneurs to keep everything they earn. In the spirit of a true business, they are encouraged to open a savings account, pay back investors and make a further investment in their community by donating a portion of their profits to a charity of their choice. For more information about Lemonade Day, please visit www.lemonadeday.org.
There are some other ways to encourage the entrepreneurial spirit in your kids:

Host a garage sale
Kids generally love to participate in the "cashier" part of a garage sale, but consider enlisting their help with the pricing, setup, and marketing as well. Each aspect of a garage sale serves as an excellent introduction to business. Your child can also organize a bake sale or beverages to go with your garage sale, determine costs and price accordingly. As a family you can decide where the proceeds will go – whether to bills, charity, or a family vacation!
Offer an investment opportunity
My husband recently found a great deal on a fishing boat, and he offered the kids "shares" in the investment. He would plan to resell the boat right away, and according to his research, after expenses incurred in the purchase, he estimated a significant profit. Both the kids considered the offer and chose not to buy any shares. Although the shares in the boat would have netted a profit, it also posed risk. However, both kids were willing to loan us their savings at 5% interest, when we bought a motor home last week. They felt more comfortable investing as "lenders" in the motor home, and we all get to enjoy the investment.
Take advantage of resources
In addition to Lemonade Stand Day, there is another excellent resource for helping young entrepreneurs to get a good start. Girls Going Places Entrepreneurship Award Program is hosted by Guardian Life Insurance and their regional conferences give girls a fun and informational look at what it means to be a woman in business. My daughter attended this outstanding conference at the University of St Thomas in Minneapolis last month and I wrote about it here.
Start a business!
As your children get older, there are numerous opportunities to start a business. Your child will need your guidance in determining a price to charge for services, such as babysitting, lawn mowing, dog walking or creating jewelry. Business owners must consider time spent, cost for materials and transportation, general logistics and enjoyment of the activity. Parents need to help the child understand safety rules as they pertain to their business as well. If your child asks you for a loan for startup costs, treat your child like a bank would. Ask for a business plan.

How will you encourage your child's business sense this summer?
Thanks for joining in to build assets in your kids! I look forward to seeing you again next month for Positively Speaking.

Kelly Curtis is a Wisconsin school counselor and author of Empowering Youth: How to Encourage Young Leaders to Do Great Things. To read more about Kelly, please visit her Weblog, Pass the Torch or follow her on Twitter.