This post may contain affiliate links. Read my disclosure policy here.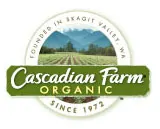 I am a blogger at Cascadian Farm, writing twice a month about trying to live a "greener" life. (You can read my posts at the Cascadian Farm Blog.)
As I have gotten to know Cascadian Farm, I am just so impressed with their commitment to organic farming.
So, it is only natural, (pardon the pun!) that Cascadian Farm would be committed to making a difference on Earth Day! (Next week is Earth Week, and Thursday, April 22 is Earth Day, a time to inspire appreciation and awareness for the environment. )
Cascadian Farm has been a pioneer in organic farming methods from the very beginning. Gene Kahn founded Cascadian Farm because he wanted to change the food system from within, but he had no idea how to be a farmer back then, so he had to learn how to grow crops without using harmful chemicals and pesticides, or genetically modified seeds.

So the Organic Farming Research Foundation (OFRF) is important to Cascadian Farm because they are providing farmers with information about how to profitably grow their crops without harming the earth. OFRF helps conventional farmers convert their land to organic – and that is really exciting!

Cascadian Farm wants to support OFRF with a donation for Earth Day, and they're asking people to make a small pledge to live a little greener. You can do that for free right here: http://apps.facebook.com/cf-earth-day/

We're hoping to raise $40k by getting 40,000 people to make this free pledge. But we need your help!
Please Note: I blog for Cascadian Farm, but I was NOT paid to write this post. I simply wanted to share this great project with you.