This post may contain affiliate links. Read my disclosure policy here.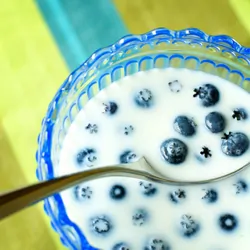 When I was a little girl, my dad and I would spend many mornings sitting on the deck together eating a bowl of blueberries and milk.
Those moments we would share, telling stories and laughing with each other, have become cherished memories. It was such a simple little thing that we did together, yet I can picture it as if it were yesterday.
Most of the time it's those simple moments, like bowls of blueberries and milk, that bring us the greatest joy.
Our lives are made up of many simple moments – The view of the sunrise from the back porch. The cup of coffee and book on the window seat. Sharing little kisses with the baby girl. Having story time on the couch with toddlers. The sound of birds chirping outside the kitchen window. Snacking on cookies and milk after school.
When you think about it, We don't need all the "stuff" in our lives, it only gets in the way. Simply… Go-Gurt is just that, simple.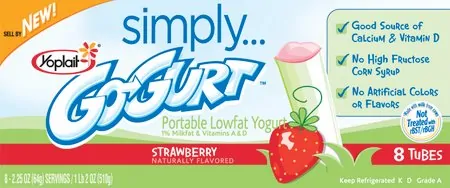 Simply… Go-Gurt is made with the simple ingredients moms look for and is free of artificial colors, flavors and sweeteners. It is filled with the goodness of 100% Yoplait yogurt made with low fat milk containing both calcium and vitamin D. These convenient portable yogurt tubes are a good-for-you, low fat yogurt snack that moms can feel good about giving to their kids.

Available in the refrigerator section of major grocery stores nationwide, Simply… Go-Gurt comes in two kid-friendly flavors, Strawberry and Mixed Berry. Each package of Simply… Go-Gurt contains eight tubes and has a suggested retail price of $2.89. Visit http://yoplait.com/simplygogurt/ to download a $1.00 coupon.
I know our days get busy, and our lives can seem so very hectic at times, but let's take some time to focus on the simple moments in life.
Embrace Simplicity and Win
Simply… Go-Gurt is sponsoring an Embracing Simplicity photo contest here at 5 Minutes for Mom. This one is different from the photo contests we have held in the past. We love the idea of simplicity, so we are keeping this photo contest simple.
We want to see your photographic definition of embracing simplicity. We have even created a flickr group for us to place our simplicity photos in. By entering your photo into our flickr group, you will be automatically entered into our Simply…Go-Gurt drawing. The best part is you can enter as many times as you'd like.
Our photography writers will also be posting tips and tricks throughout the next few weeks, to help you take and edit a stunning photo.
For the next three weeks, we will accept entries. The entry deadline is Thursday, May 6th, at 3 PM Eastern.
Head on over to our Embracing Simplicity Flickr group and submit your photo(s). You can also post your photos to your personal blog as well, but in order to be entered into the drawing, your photo needs to be in the Flickr group.
Be sure to comment on this post to let us know that you have submitted a photo or a group of photos.
Don't forget, each photo is an entry. You can enter as many as you'd like, as long as it fits the theme, embracing simplicity.
On Friday May 7th, we will select 10 photos at random and post them here at 5 Minutes for Mom. If your photo is chosen you will win a Simply…Go-Gurt prize pack, retail value $30.00.
Please see our site's Terms and Conditions of Use for a complete list of our contest and giveaway rules.This contest is open to US shipping addresses only.

This photo contest is part of a paid campaign with Simply… Go-Gurt.