This post may contain affiliate links. Read my disclosure policy here.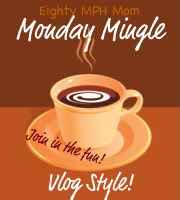 I love the Monday Mingle vlogging carnival and I missed it last week while I was away at the StomperNet conference in Atlanta.
As usual, I've uploaded my Monday Mingle response to our video conversation site Say It Face To Face.
You can join in Monday Mingle by recording a quick video answering this week's questions and upload it to your own blog or you can add your video as a response to my Monday Mingle on Say It Face To Face. Then add your link at Eighty MPH Mom.
This week's questions (submitted by Karie from The Five Fish – thanks Karie!):
So you must be a little on the wild side somewhere…how about any tattoos? Piercings? Show us your wild side. If you are free of any taintings do you want any? Piercings or tattoos?
Considering the state of our world today what is one thing you might change, suggest, or push for or against if you were to be elected to office?
Reminiscing about my impending 10 yr anniversary, can any of you recall your wedding day? Vows? Any funny or memorable moments from your special day?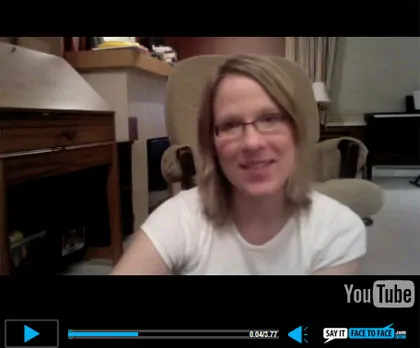 Monday Mingle is a vlogging carnival created by Eighty MPH Mom and it is a great way to get started vlogging.
You can join in Monday Mingle by recording a video answering the weekly questions and publish it on your own blog and/or even just as a response on Say It Face To Face. Then link up at EightyMPHMom.com.
Get vlogging with us over at Say It Face To Face… you don't even have to wait for Mondays. LOL
Did you know that now for ALL of our giveaways at 5 Minutes for Mom you can earn extra entries by starting a conversation or replying to a conversation at Say It Face To Face?
On the giveaway post simply add a comment and include the link to a Say It Face To Face conversation you participated in.
You can add as many of these types of entries to each giveaway as you wish. (But the conversations can't be spammy or we'll have to delete them.) And please use each conversation link only once.
Have fun, go forth, vlog and win giveaways!
Talk soon,
Susan