This post may contain affiliate links. Read my disclosure policy here.
For the next month, Scrubbing Bubbles® is getting into the fun with us here and sponsoring Tackle it Tuesday!
You see, Scrubbing Bubbles® wants to help ease busy mom's morning madness with their new Scrubbing Bubbles Extend-A-Clean™ Power Sprayer and they asked us to help spread the news!
Well ladies – I am all about simplifying my life and keeping my bathroom clean longer sounded great to me!
So we said "Yes!" and we are thrilled to have Scrubbing Bubbles® as our Tackle it Tuesday sponsor.
For my post this week, Susan grabbed the video camera and captured my family's morning madness. Seriously – she even caught me in my pjs!
And since this is Tackle it Tuesday, Susan captured me tackling cleaning my bathroom too!
Check it out:
As you saw, I am not a morning person. So I am always trying to simplify my mornings. But I don't want a long To Do list waiting for me when I get back from dropping my son off at school either!
Always on my To Do List…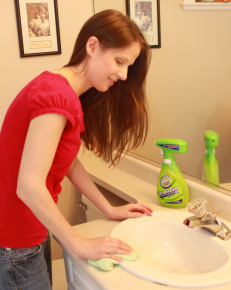 But there is one thing that is always on my To Do List…
Cleaning my bathroom! I can handle clutter, but I can't handle grime!
So, when Scrubbing Bubbles® said they had a product that would make my bathroom cleaning faster and last longer, I wanted to try it!
I really loved the power sprayer – it made cleaning my shower so much easier (and even a bit of fun too) since I didn't have to repeatedly pull the trigger. Then I just wiped the surface clean, rinsed and let the powerful formula work its overtime.
More Time For…
Now, when I step into the shower in the morning, I can look around at my clean bathroom and have one less thing to add to my To Do List for the day.
And freeing up extra time for busy moms is JUST what Scrubbing Bubbles® is hoping Extend-A-Clean™ will do!
Now if I can only get Scrubbing Bubbles® to clean out my inbox…
Your Turn…
What are YOU tackling this week?

Written by 5 Minutes for Mom co-founder and Mommy Blogger Janice.
Make sure you have our feed in your reader and tweet with us @5minutesformom.