This post may contain affiliate links. Read my disclosure policy here.
Tucking my son into bed tonight, I have little to fear. I will put on our house alarm and we will most likely all sleep in safety.
But for families in Uganda, the night terrors are all too real. LRA soldiers routinely burst into homes, kidnapping children to force them into their ranks and make concubines of the girls.
To protect themselves, each night thousands of children in Northern Uganda leave their homes to escape these rebel kidnappers.
As I was doing my filing tonight, organizing my kitchen table for Tackle It Tuesday, I came across a World Vision magazine I had put aside to read. An article telling these children's story called, "Exodus By Night" caught my eye and I took a few moments to read it. I was stunned.
As mothers, I am sure we all feel the same horror as we try to imagine what these families are going through. I tried to dig up the article on their website to share it with you. Unfoturnately they do not have the complete article listed, but they do have a summarized version. You can read it here.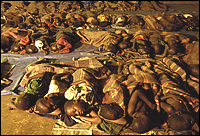 "Every evening, the children of Northern Uganda face the same choice: leave their homes to sleep in urban shelters or risk being abducted by rebels." – Exodus By Night, by Nicolette Beharie and Nigel MArsh, Photograph by Jon Warren
(This article was from the World Vision Canada website, click here for the World Vision USA website. http://www.worldvision.org/ )