This post may contain affiliate links. Read my disclosure policy here.
My project to tackle this week is My "Office" which unfortunately also happens to be Our Kitchen Table.
My Project To Tackle
Our Kitchen Table – Before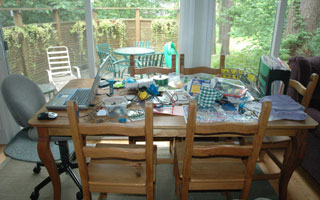 Our Kitchen Table – After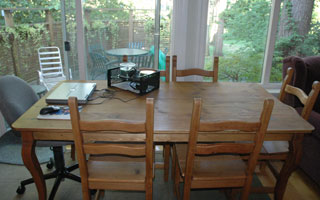 I know!!! It is terrible!
The question I can hear you are all asking, after you shudder in horror, is "How did she live like that?" Let me tell you, it wasn't easy! At meal times, I would move my computer and push the pile into the corner and make enough room for Phil, Jackson and I to eat. (Good thing my husband is easy going.) This kitchen table disaster is one of the main reasons I refuse to let anyone in my house, let alone to come over to eat! (My dining room table is next week's project – get ready!)
But the solution wasn't easy either.
You see – under all the extra stuff piled on top – was paper work and to do piles. This mess required some time to deal with. In total, I think I have spent more than ten hours organizing and filing to get this project completed.
(Isn't it interesting how a pile attracts more mess? It is like fly tape and everything gravitates towards it and then gets lost in it. Some items found on my "desk" that you might notice from the picture: Jackson's toys, some pajama's that need mending, library books and the list goes on…)
If you are wondering if I have always lived this way – the answer is yes and no. I tend to always get myself into a mess and then have to dig out. I am not a put away as you go kind of gal. I know I should. I wish I could. But I am just really bad at that. Although I am a workaholic, when it comes to paperwork and non-work related things, I am a procastinator. So, things get crazy and then I clean them up.
But since starting the blog in March, I have really let things go. While I have a "clean" house – I am sure I could win quite a prestigious award for the most cluttered, disorganized house full of piles and disaster zones. So, you will continue to be entertained and horrified by the scenes you will see in the coming weeks. Note: only a few living people have witnessed what I will show you in these entries.
Join Us For Tackle It Tuesday

Each week on Tuesday, we are posting before and after pictures of a project or trouble area that we tackled this week.

I will link to any of you who are also playing along, so add a comment and/or email me.

Find out more about Tackle It Tuesday here.

The project can be little or big – whatever you want. Basically, Tackle It Tuesday is about giving ourselves incentive, deadlines and satisfaction in getting our household tasks done.