This post may contain affiliate links. Read my disclosure policy here.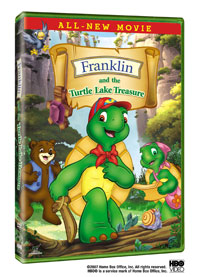 "Hey it's Franklin, coming to your house…"
You gotta love Franklin! As a parent, I can always feel confident reading or watching Franklin stories with my son Jackson and my niece Julia. The fun, friendly stories always contain valuable lessons with lovable characters. It is a "sure" thing with our kids.
A couple weeks ago I wrote about my frustration with purchasing some "new" animated superhero videos that fell far below my parenting standards. Due to the questionable content, I had to take away the three videos from my disappointed son.
So, I was thrilled to get the latest Franklin DVD for Jackson – a new full length movie, Franklin and the Turtle Lake Treasure.
For Jackson, it definitely took the sting out of having the other videos taken off the shelf and I could take a huge sigh of relief, knowing that my son was in great hands with Franklin. While Franklin isn't quite the action hero that my testosterone-filled son craves, even Jackson can't turn down good old Franklin!
In this latest adventure, Franklin is heading to Granny's for a special family reunion with his Aunt Lucy, an archaeologist. Things take a dramatic turn when Granny falls ill and Aunt Lucy takes the children on an adventure to find a treasure box that holds an old talisman that Franklin believes may save his Granny.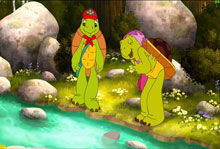 In the end, Franklin discovers it isn't the magic of a talisman that revives Granny, but the memories and love of family. Along the way, Franklin learns to value family and friendship while learning how to get along with Sam, Aunt Lucy's difficult god-daughter. Complete with lots of life lessons and a happy ending, this is another Franklin gem that your family can enjoy.
If you want to get in on this Franklin adventure, we are giving away 5 copies of Franklin and the Turtle Lake Treasure DVD. All you need to do is leave your comment and you will be entered in the draw. (If you want, you can mention the contest on your blog to let your readers know about the chance to win one of the 5 DVDs.) We will announce the winners next week. (This contest is open only to US shipping addresses.)
This contest is now closed.
The winners are…
Congratulations!