This post may contain affiliate links. Read my disclosure policy here.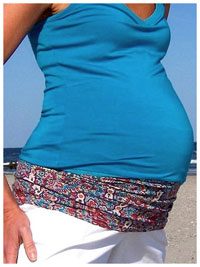 Are you pregnant? Or do you have a friend who is growing herself a new little bundle of joy?
If so, this contest is for you!
Do you (or did you) love being pregnant?
I hear lots of women say they loved being pregnant. But for me, although I'm so very thankful that this miracle is occurring inside me, it would be quite a stretch to say I love BEING pregnant. It's uncomfortable and nauseating.
And of course there is the whole issue of what to wear during those wonderful waist-expanding months. Before I went to Italy I hit the maternity shops and dropped a bunch of cash, yet still seemed to walk out with only a few different outfits.
But I am lucky to have found a secret weapon that is helping control the number of new shirts and skirts I need — the Belly Band!
The Baby Be Mine Maternity Belly Band fills in the gaps — not only does it cover the growing gap between your tops and bottoms, but it helps pull you through those awkward stages at the beginning, end and after your pregnancy. At the beginning, it helps you cover up your unbuttoned pre-pregnancy pants. Near the end it helps conceal your belly as even your maternity shirts become too short. And then it helps bring you back to your favorite pre-pregnancy clothes faster.
As with so many of the brilliant products we feature here at 5minutesformom.com, the Baby Be Mine Maternity Belly Bands are mom-created.
And since we love supporting mom-run shops and we love giving you free stuff, we've arranged to send one of you your own Belly Band. (You even get to choose the color and style.)
Simply leave your comment and you will be entered in the draw. Also please send some link love to Baby Be Mine Maternity as a thank-you for sponsoring this contest.
We will announce the winner next week. (This contest is open only to US shipping addresses. Non-bloggers are welcome to enter as well… we understand you can't link back, so if you just spread the word to your friends, that'll be great.)
This contest is now closed. The winner is…