This post may contain affiliate links. Read my disclosure policy here.
As we enter the holidays, I think more and more about all the families currently going through difficult divorces and struggling within family courts. Recently, I watched the Netflix series "Maid" and I can't stop thinking about the story.
The reality of domestic violence and emotional abuse that so many women and children have to deal with is devastating. And as we see in "Maid", once a woman has bravely left her abuser, the court system often continues to hurt her and her children.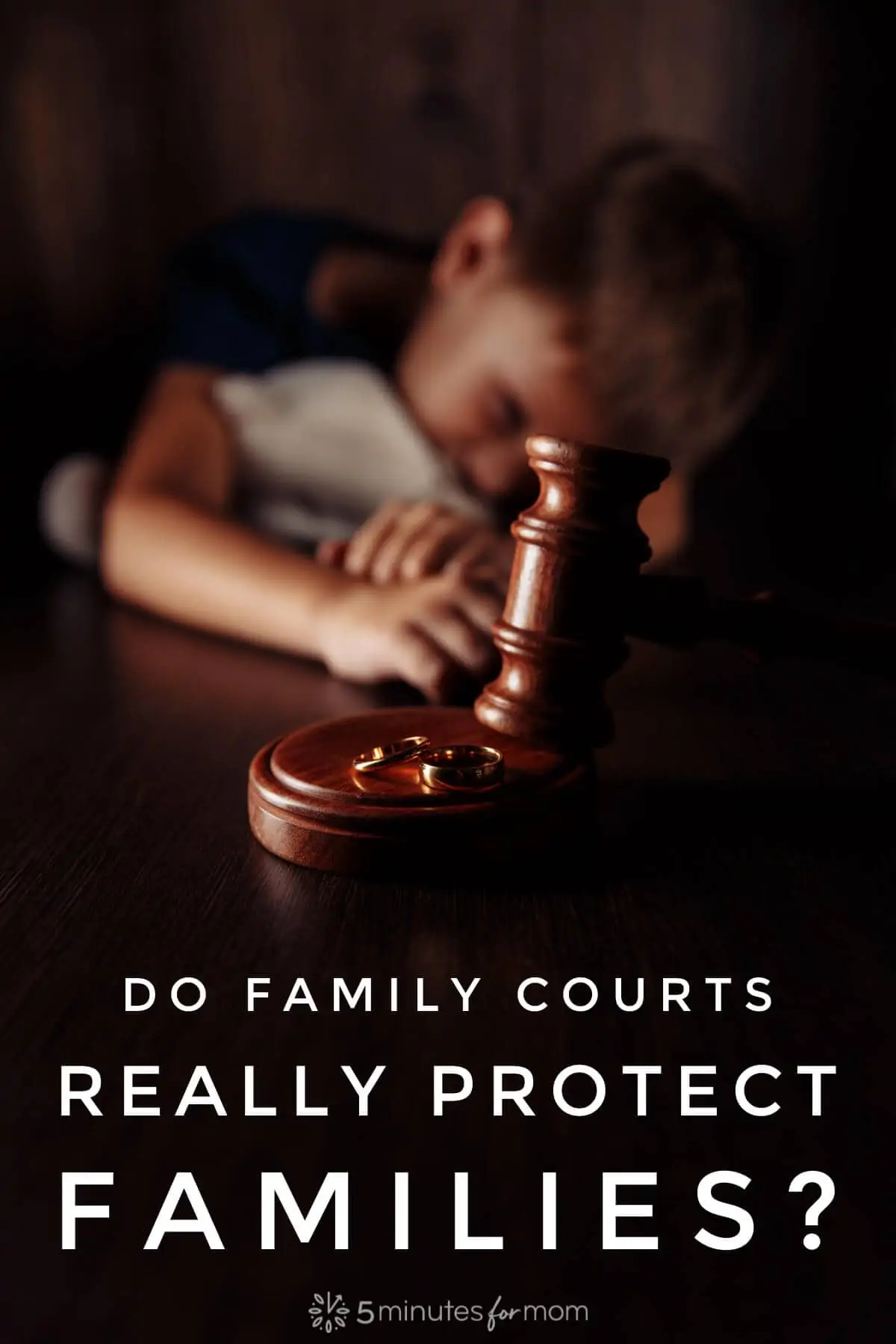 As you may know, both Janice and I are divorced, but we're both very fortunate that our kids fathers are both good men and there was never any abuse in either of our homes. We both divorced on good terms and have been co-parenting well for over 10 years.
But even with my low-conflict divorce, I got a taste of the ineffective Family Court system. I can tell you more about that later, but right now I want to help raise awareness of the broken family court and legal system that not only doesn't protect abused mothers and their children but enables further abuse.
Whether you live in Canada or the United States, the family courts and the legal process involved in divorce and abuse cases is terribly flawed.
October is widely recognized as Domestic Violence Awareness Month. Now Tina Swithin, a mom of two and domestic abuse survivor, is been pushing cities and states to have November declared Family Court Awareness Month. Too often, when a victim escapes an abusive situation, the abuse doesn't end; it transitions into post-separation abuse, which family courts in both the US and Canada not only fail to recognize but actively enable.
Family courts attempt to operate by the guiding principle of "what's in the best interest of the child." However, as Tina Swithin says, "There is an overwhelming belief that two parents are better than one, and in most cases, I believe this to be true. The exception should be when one parent is a high-conflict individual. This person is not capable of placing the child's needs above their own needs. This parent lacks the ability to love, respect boundaries, have empathy and is incapable of doing what is best for the child."
The abusive parent is not only incapable of doing what is best for the child, they are also still actively abusing the healthy parent. This makes it difficult for the healthy parent to find healing from the abuse and to parent well. Most parents know how hard it is to be a calm, patient, understanding parent when dealing with high stress; living in abuse is living with constant high stress, with the abusive parent always ready to capitalize on any mistakes made by the healthy parent.
Many women stay in abusive situations because they don't know how to get out or they are physically or financially unable to leave their abuser. Other women stay because they are told that divorce is bad for kids, and they wish to protect their children. When a woman does find the resources and the courage to get herself and her children out of the abusive situation, she hopes that the courts will then help her protect her children from further abuse. Instead, the courts are failing to recognize (and remove) the abusive parent. In some cases, the courts have awarded custody of children to the abusive parent rather than the safe parent.
In an essay for the Centre for Judicial Excellence, Barry Goldstein points out that a "recent Saunders Study found most court professionals do not have the specific DV knowledge courts need and recommended a multi-disciplinary approach that includes experts in DV and child sexual abuse when those are key subjects in the case."
When faced with two separated parents arguing over child custody, the court professionals may see the high-conflict case in front of them but not recognize the source of the conflict as an abusive individual. In this case, however, ignorance is not bliss; ignorance is deadly.
In the United States, over 800 children have been murdered by an abusive parent since 2008, according to the Centre for Judicial Excellence. The stories are brutal:
6-year-old Logan Phelon was shot and killed by his father during unsupervised visitation
11-month-old Paul Ross was strangled to death by his mother in the midst of divorce
11-year-old Anthony Lopez died by poisoning, child abuse and torture while in the care of his custodial father and his stepmother after mother lost custody
7-year-old Julissia Batties was beaten to death while in the ACS-ordered custody of her abusive mother
15-year-old Dasan Jones was killed by his stepfather a week after a judge denied a protective order requested by his estranged wife, citing stalking and abuse
The scariest part of each of those stories? The deaths of those children was completely preventable. If the judge had recognized the domestic violence in the case and not given custody to the abusive parent, or provided for supervised visits or other protective orders, those children might still be alive today.
Tina Swithin explains, "A conservative estimate is that 58,000 children are sent into abusive situations annually as a result of family court prioritizing parental rights over child safety. Domestic violence is about power and control and that doesn't dissipate when the relationship ends. It often escalates, and the family court system becomes the platform. The children because the pawns because the abuser knows this is the way to inflict the most pain. Our family court system literally holds children's lives in its hands."
Family courts in the US and Canada are thus failing to protect the most vulnerable members of society from further abuse. Yet that's not the only problem experienced by women trying to get help in abusive situations. That help may be unavailable to them because of the expense and time involved in hearing cases.
One Vancouver mom says, "My ex has filed petitions for the last 3 years. Drained all of my money to pay legal fees. He'll cancel it right before trial. So I pay 3-4k in fees, all that stress and anxiety, and then he drops it. Few months later, he'll start it up again. The court keeps allowing it. I stay in a constant state of 'I hope I can buy coffee' because I have to plan any savings go to court fees.
I asked my lawyer if we can ask that he pay it back, and lawyer says, 'Only if we get to court and the judge deems it a frivolous suit.' But … we never get to trial. Finally after 3 years, we went to trial last Friday. And the court's position was, 'Isn't it great he's a male who is actually fighting for his kids. Deemed #notfrivolous.' So, yeah. They just allow it over and over and over again."
Another local mom added, "I found that the family court only cares about immediate problems, but as it's impossible to get in front of a judge for MONTHS— nothing did ever addressed because it's old and they assume circumstances have changed.
"Second thing I found is the lawyers told me abuse can't be addressed in family court because that's criminal— but the police said abuse can't be addressed in that way because it was a husband which is family so I need to talk to my family lawyer.
Basically the family court is not helpful when dealing with a party that is a nut bar, it only seems to exist for regular people who are separating amicably."
Both of these women are facing high-conflict divorces, which author and psychologist Lundy Bancroft defines as "a divorce that is dragging on endlessly because the family court has chosen to enable a domestic abuse perpetrator instead of stopping him, and now blames the mother for the dynamics it has caused through its own negligence." Such divorces are not only costly for the parties involved, but also for the courts. And while one parent struggles with little legal assistance to protect the children from the other parent, the children are left in the middle, suffering the consequences.
Here in Canada, domestic violence cases accounted for one quarter of all violent crime in 2016, according to the Government of Canada. In 2012, nearly one-third of Canadians reported they had experienced some form of abuse before age 16. And as HealthLinkBC notes, "Abuse has a big effect on children. Children who live in a home where abuse happens see violence as a normal way of life. It also raises their chance of being in a violent relationship as adults, either as abusers or as victims. Teens are at greater risk for depression, drug and alcohol use, and unsafe behaviour."
Many men and women remain in abusive relationships because getting out is difficult. They may be experiencing financial abuse as well as other forms of abuse, and abusive partners are often controlling, suspicious, and jealous. Once a person does manage to escape an abusive relationship, the current legal system allows the abuse to continue as post-separation abuse. We need to stop this. Our children deserve better.
Family Court Awareness Month is a time to shed light on this subject and its effects in our society. No child should be forced to go home with a parent who might kill them just to spite the other parent. No child should have to live with verbal, emotional, physical or sexual abuse from the person who should be protecting them and loving them more than anyone else in the world.
For more about Tina Swithin and her work to raise awareness of domestic violence, visit her website One Mom's Battle. You can also find her on Instagram, Facebook and Twitter.
To learn more about what an abusive relationship is like, read a novel about domestic violence. Many authors have tackled this tough topic through a story, helping to bring us into the lives of those who face this terrifying reality.
If you are experiencing domestic violence in BC, visit HealthLink BC for more information and local resources.