This post may contain affiliate links. Read my disclosure policy here.
This is the seventh and FINAL contest in our Mother's Day Giveaway. To enter to win, leave a comment at this post. If you are new to the Mother's Day Giveaway, head over to read the rules in our sticky post and find out what other fantastic prizes you could win.

PLEASE NOTE: Entries for all contests will be closed Saturday night at 12am Eastern. (Okay – technically that is Sunday morning!) I will post the winners for all seven contests Mother's Day Sunday, May 13. So if you haven't checked out all the contests, make sure you do now and make your comment before Saturday night!

Amy Knapp's Family Organizing Handbook
Amy Knapp, a business woman turned stay-at-home mom, is going to help you get organized with her fabulous "Family Organizing Handbook," packed full of 314 tips to get your household running smoothly and efficiently. And of course, this Mother's Day, one of you is going to win a copy!
I am a disorganized person – a housewife disaster really. And whenever I make some progress, I quickly fall back into my disorganized habits and let the small corners of organization I established return to chaos. (This is why I started Tackle It Tuesday – so I had some accountability to keep on track getting my house organized.)
With a new baby on the way, I really need to get things under control – and fast! And since I am so busy, I don't have much time to read.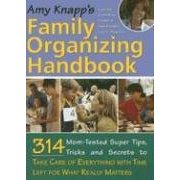 So Amy Knapp's book fits me perfectly. It is a collection of 314 tips, tricks and secrets to get your life organized. First she gets us in touch with our "inner organizer" and helps us to discover what level of organization and scheduling is right for us. Then she moves through our lives and our houses, room by room, category by category. We learn everything from how to get our calendars together, to getting our kids organized and motivated, to sharing parenting tips and encouragement.
Here is a sampling of Amy's Tips:
#182 Over-the-door shoe organizers can be a great way to organize toiletries, especially if the bathroom is shared by more than one person. Assign each person a pocket or two. Everything they need will be easy to access, ye hidden from sight.
#136 Use strings and clothespins to create a custom border in your child's room. Secure the string with small nails at regular intervals around the room. Use the clothespins to hang artwork, photos, and other important papers. They will be easy to change out and add great personality to the room.
#86 Why not pick one cabinet a week to clean out? Set a block of time each week – whatever works in your schedule – for cabinet cleaning. Choose one randomly, or choose the ones that bugs you the most or just choose the one nearest to where you happen to be at the moment! Whatever you do, do not make choosing the hardest part of your task. With fifty two weeks in a year, you can make sure that every cabinet is done at least once a year.
(Hey – #86 sounds a lot like Tackle It Tuesday! :))
So if you are looking for a book to help you get more organized, Amy Knapp's Family Organizing Handbook is a great, quick to read, easy to reference, resource. I know it will be helping me as I tackle my house and life and try to get ready for a newborn this fall.
To enter win a copy, leave a comment at this post. The winner will be announced in the Mother's Day Giveaway Sunday, May 13th, 2007.
(Open to US shipping addresses only.)