This post may contain affiliate links. Read my disclosure policy here.
Kids love to be helpful.
(I find they are most interested in being helpful before they are old enough to actually be helpful, but oh well. If it isn't truly helpful, it usually is darn cute!)
When Susan's girls were over on the weekend, Olivia spilled popcorn all over the living room floor.
When we went to get out the vacuum to clean it up, the girls raced to help.
The truth behind this tackle is really that it actually is far more of a tackle to vacuum a living room with three little "helpers" than it would be to do it yourself, but it IS darn cute to watch!
So, of course, I gave up the vacuum and picked up the camera.
(BTW, Olivia is in a party dress because she is obsessed with dresses and constantly insists on being in party dresses!)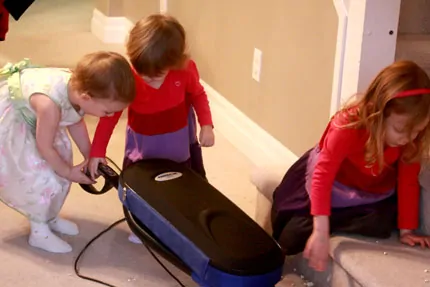 First, they had to figure out how to work the vacuum.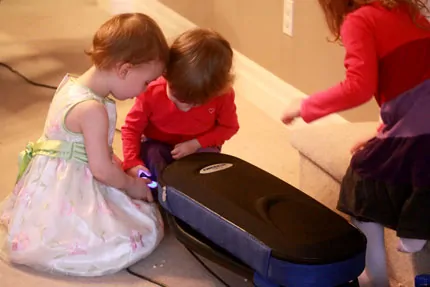 "Look — these buttons light up!" (More than a few moments were spent turning the vacuum on and off to look at the pretty lights!)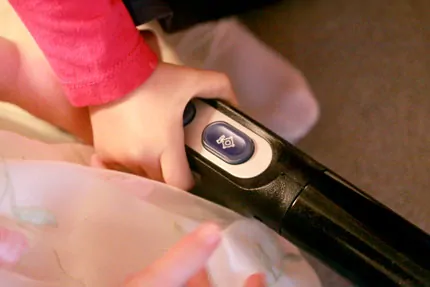 Sophia's tiny hand.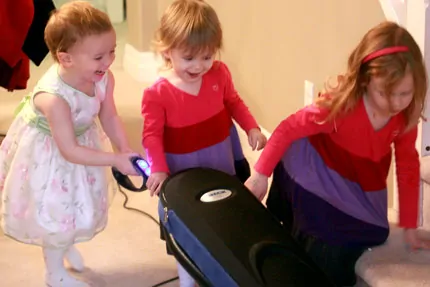 Teamwork is FUN!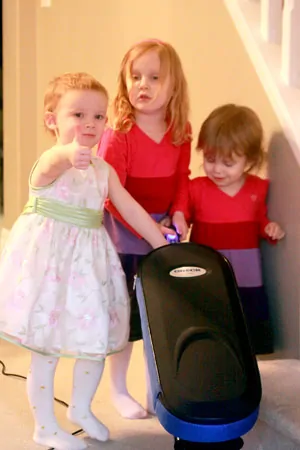 "Don't worry Mom. We have got this covered!" (Sue and I laughed so hard when Olivia spontaneously gave us a thumbs up!)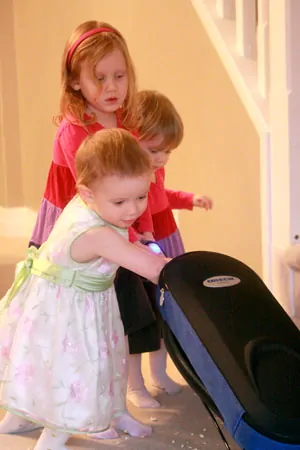 LET'S GO!
After Sue's girls tired of the game, I had to finish vacuuming with my persistent Olivia in tow, holding on to the vacuum screaming, "No… I do it!"
THANKS girls — now let's just hope your love of vacuuming continues into your teen years. 😉
Written by 5 Minutes for Mom co-founder Janice. Yes, I am a Mommy Blogger, but I really prefer the term, Mom Blogger.
Do you have our feed in your reader?