This post may contain affiliate links. Read my disclosure policy here.
Are you a parent and wondering, "What is vaping?"
You're not alone. Parents everywhere are suddenly having to learn about this new threat to their kids… teen vaping. As we said earlier, we are working with Health Canada to share the facts about vaping so that parents can help prevent their kids from starting to vape.
This post is sponsored by Health Canada.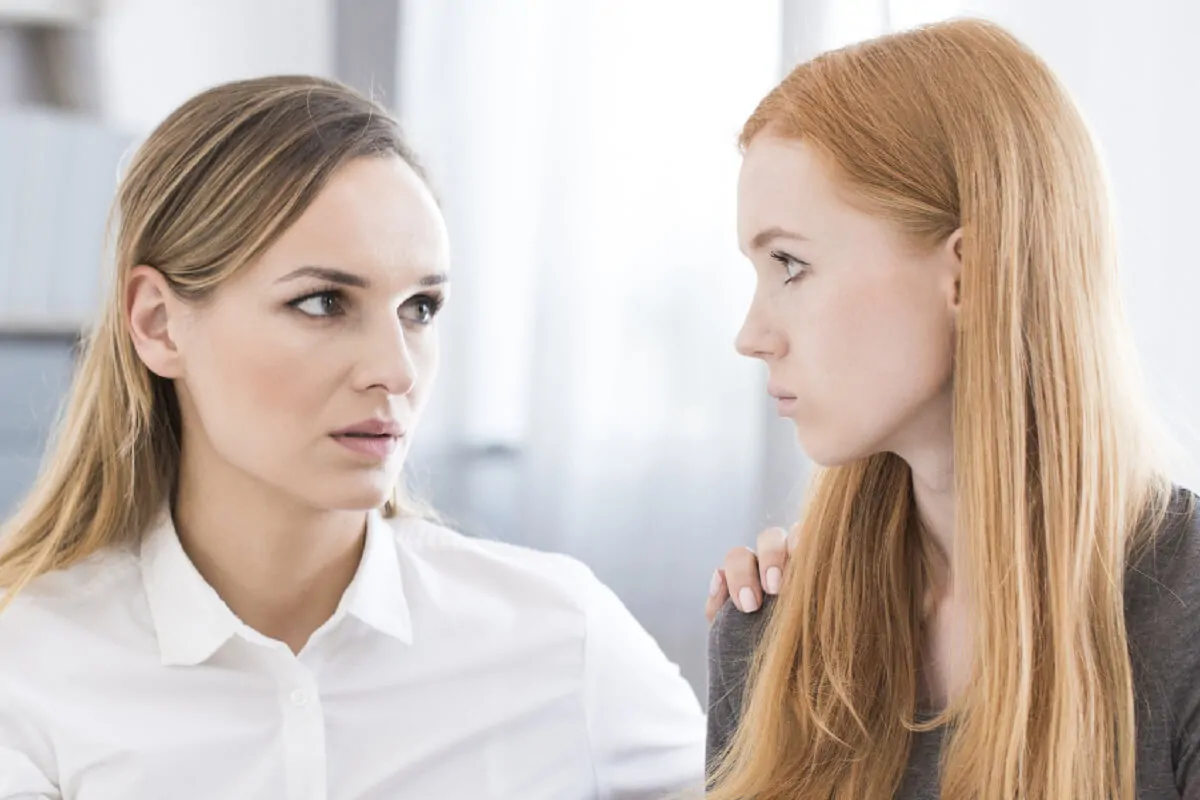 The dangerous trend of vaping is seemingly everywhere among teenagers and it's critical that parents get informed and talk to their kids about the risks of vaping.
In our first post about vaping, we shared statistics of teens vaping and tips for how to talk to your tweens and teens about it.
Now we are digging deeper into frequently asked questions about vaping.
Over the last couple of months, I have been doing a ton of research about vaping. I've found many answers on the Health Canada website. I also recently attended a vaping information session for parents at a local high school here in British Columbia.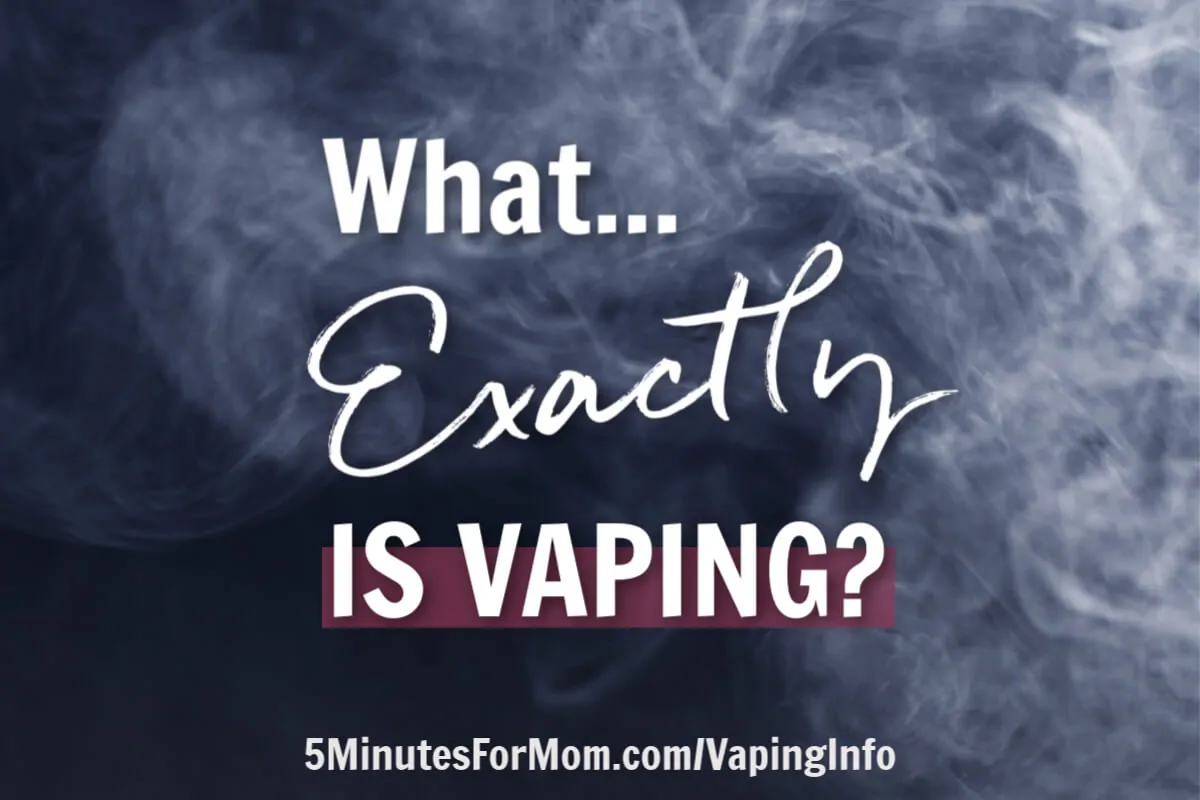 What is vaping?
Health Canada defines vaping as the act of inhaling and exhaling an aerosol produced by a vaping product, such as an electronic cigarette.
Instead of burning like a cigarette, a vaping device heats a liquid into a vapour, which turns into the aerosol that users inhale and exhale.
The vapour from vape devices is usually flavoured and may or may not contain nicotine.
It's very important for parents to note while some vapes don't contain nicotine, the majority of vapes currently sold do have nicotine.
Kids may not even realize that they are vaping a substance that contains nicotine.
What exactly is a vape?
Vaping devices are battery-powered and come in many different shapes and sizes. They may have removable parts and can be refilled, or they may be disposable.
Some other terms for vaping products include mods, vapes, sub-ohms, vape pens, e-hookahs, tank systems, electronic cigarettes/e-cigarettes or electronic nicotine delivery systems (ENDS).
Most vaping devices have these parts:
Battery
Mouthpiece
Heating Element
Tank/Cartridge, a chamber or reservoir to contain the E-Juice
Most vaping devices use electrical power from a battery to heat the vaping liquid. The heat vaporizes the solution. The vapour then condenses into an aerosol, which the user breathes through the mouthpiece.
Vaping devices are available in many shapes and sizes. Some are small and look like USB drives or pens, while others are much larger.
There are two kinds of vaping devices:
Open – Can be refilled.
Closed – Cannot be refilled. Either the whole product or the part that holds the vaping substances must be disposed of after use.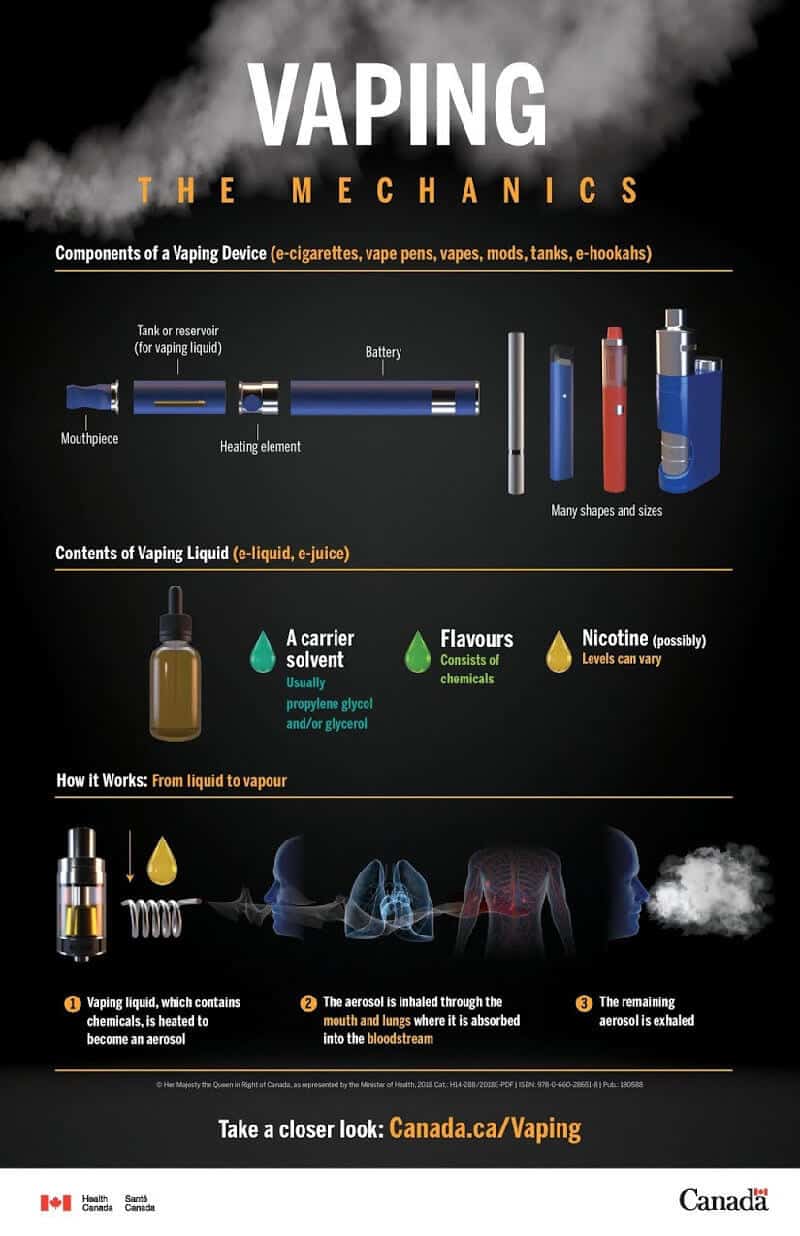 What is in vape liquid?
Vape liquid (often referred to as e-juice) is the liquid mixture that is vaporized and then condensed into aerosol and inhaled.
Most vape substances:
are flavoured
contains nicotine
are liquids, but some are offered as wax or herbs.
In vaping liquids, flavouring compounds and often nicotine are dissolved in a liquid mixture. That liquid usually contains propylene glycol and/or glycerol (vegetable glycerin). The amount of nicotine in vape substances can vary widely. Some mixtures have low levels of nicotine while others can have more nicotine in a typical cigarette.
When the vaping liquid is heated, it can cause reactions and create new chemicals, such as formaldehyde. Some contaminants, such as metals, might also get into the vaping products and then into the vapour.
Is vaping safe?
No, vaping is not safe. While the long-term risks of vaping are still unknown, it is widely accepted that vaping is NOT harmless.
If you are a smoker, vaping is less harmful than smoking. But non-smokers should not vape.
There are risks even if the vape fluid doesn't contain nicotine. Health Canada warns that vaping can expose you to metals and contaminants, such as nickel, tin and aluminum, as well as harmful chemicals like formaldehyde and acrolein.
Since many vaping devices contain nicotine, users are at risk of developing a nicotine addiction.
Nicotine is highly addictive and especially dangerous for children and youth. It can affect memory and concentration and is known to alter teen brain development.
Another risk, although not very common, is a vaping device can malfunction and cause an explosion or fire. This can happen in the case of defective batteries or defective vaping products.
We are still learning more about how vaping affects health. The long-term risks of vaping are still not known.
Is second-hand vapour dangerous?
Second-hand vapour is not as dangerous as second-hand smoke, but it is still not harmless and the health effects are still unknown.
Users should be cautious around non-users and youth.
What is the legal age of access to vaping products?
On May 23, 2018, Canada passed into law the new Tobacco and Vaping Products Act (TVPA).
The Act creates a national minimum age of access for vaping products of 18 years. Certain provinces or territories, such as Ontario, have a minimum age of 19 years.
What are schools doing to stop vaping?
I was told by the principal of a local Canadian high school that he regularly seizes vaping devices and suspends students when they are caught vaping on school property.
But he explained that it is often hard to catch kids in the act of vaping. The device only leaves behind a quick puff of vapour and a fruity scent that is hard for a teacher to use as proof.
How to talk with your kids about vaping?
The best thing you can do is talk with your kids about vaping BEFORE they go to middle school. I think around age 10 is a perfect time to start the discussion.
Refer to our earlier post with tips for parents to talk to kids about vaping.
Find out more at Canada.ca/Vaping…
How is Health Canada helping?
Health Canada has launched a campaign to help educate parents and teens about the risks of vaping for youth. It has also announced new rules.
I'm thrilled that they have started working with YouTube influencers to reach kids with the message that vaping is not cool and has risks.
Check out these YouTube videos and show them to your kids…
Molly Burke talks to her fans about following trends and ties in how she avoided smoking in high school and chooses not to vape to protect her health.
Jeffrey Chang is a singer and dancer who shares why he doesn't vape so that he keeps his voice and body in top shape.
It's important for kids to have positive role models that they can see making good decisions. Hopefully, these YouTubers will help more kids recognize the dangers of vaping.
Pin these Facts About Vaping for Later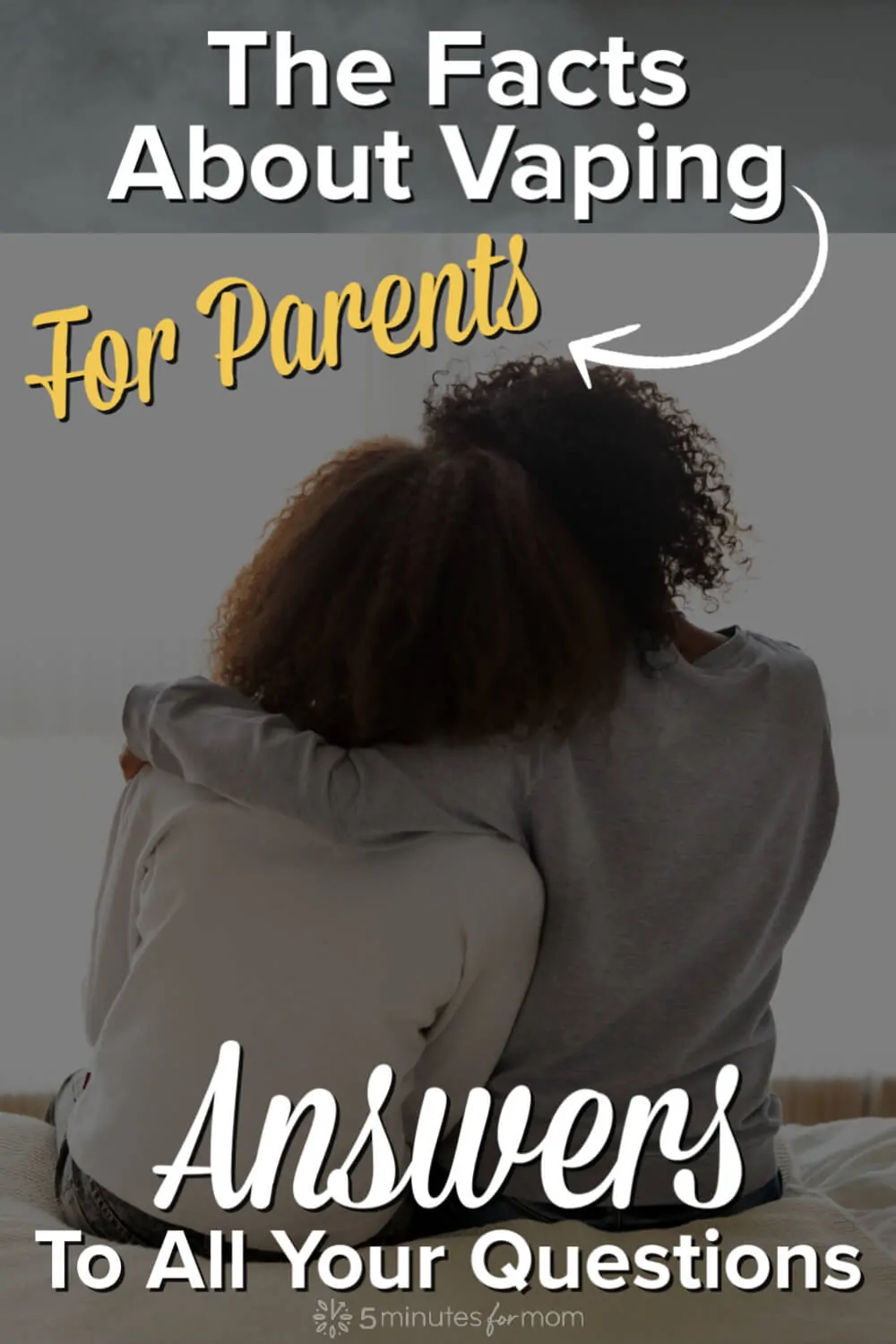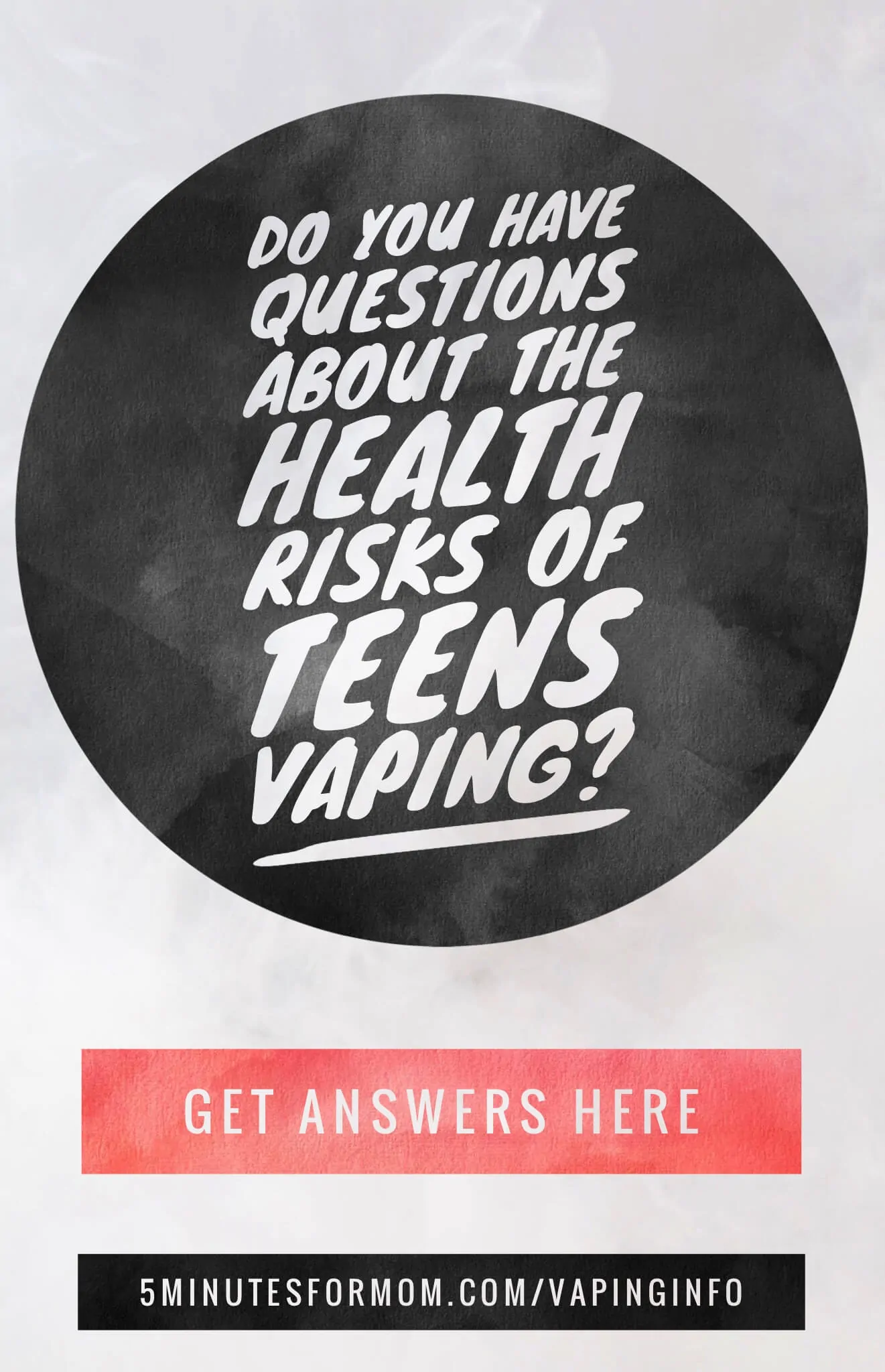 References
Find out more in our earlier post about teen vaping and on Health Canada's website.
Disclosure: This post is sponsored, so extra thanks for reading and sharing.
Written by Susan Carraretto, co-founder of 5 Minutes for Mom
Talk with me: @5minutesformom and Facebook.com/5minutesformom
Pin with me at pinterest.com/5minutesformom