This post may contain affiliate links. Read my disclosure policy here.
Cooking with preschoolers can be so much fun and a wonderful way to spend time together. Now there is a cute new way of teaching kids to cook… it's a sweet show called Butterbean's Cafe.
This post is sponsored by Nickelodeon. All opinions are our own.
This clever show actually teaches young children basic cooking skills as they join Butterbean and her friends to serve up recipes at Butterbean's Cafe.
Fairies Are Fabulous At Teaching Kids To Cook
Butterbean and her fairy friends run a magical bakery that serves up life lessons like cooking and problem-solving. This 7 show DVD, debuting July 30th, starts off on opening day as Butterbean and her friends are getting ready to open their new cafe.
As the fairies bustle around getting ready for their big day, sneaky Ms. Marmalady tries to interfere. When no one shows up for their opening, the girls go on a mission to find out what went wrong.
They discover that Ms. Marmalady's monkey friends have collected and destroyed all the invitations. But that won't get them down, the fairy friends stick together and come up with a way to save the day.
Butterbean's Cafe still opens and the friends rejoice in their new venture.
Cooking With Preschoolers
This is Amy here… I'm one of the contributors here at 5 Minutes for Mom. My daughter, August, is now 4 years old and — like many preschool girls — she LOVES fairies, friends, and helping in the kitchen.
Stirring, coming up with ideas, cracking eggs, she will take just about task whatever we throw her way.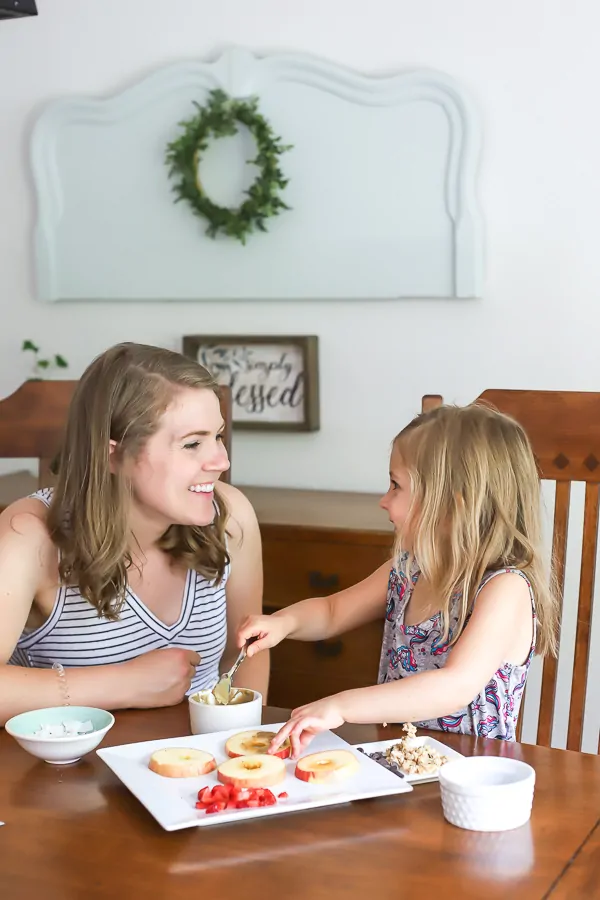 Stirring Up Inspiration
August loves coming up with new "recipes" and ideas.
Watching Butterbean's Cafe has stretched her imagination and desire to help more in the kitchen.
Today, she was thinking of recipe ideas for lunch, since she had just watched a recent episode of Butterbean's Cafe where Butterbean was making sandwiches.
After much deliberation, August decided she wanted to make grilled cheese. It was a toss-up between a meatball sandwich (an idea she came up with on her own since we've never had that in our house) and grilled cheese, but ultimately grilled cheese won.
Pulling up a chair, she placed the bread on plates while I sliced up cheese and she meticulously placed the cheese on one slice of bread. I told her how many slices of cheese to put on and she counted as she placed them.
I cooked up the grilled cheeses and she asked for each sandwich to be made into 2 triangles. We talked about how we make one sandwich into two pieces and different shapes.
Learning And Working Together
When you are cooking with preschoolers, there are so many learning opportunities. Teaching kids to cook involves everything from math when you're measuring to reading when you're following a recipe and so much more. And I love how much Butterbean and her friends learn by working together in the kitchen as well.
Of course, I had to ask August what she felt about Butterbean's Cafe. She said, "My favorite part of Butterbean's cafe is the food. I love the soup and sandwiches she made."
Sure, she may think she just loves the show for all the delicious food they are cooking up, but what she is gaining is far greater.
She is learning about working together, lending a helping hand, how to be kind, and solve problems that are thrown her way… as well as how to follow a recipe.
When you purchase the new season of Butterbean's Cafe, you also get 4 delicious and healthy kid-approved recipes that you can make together.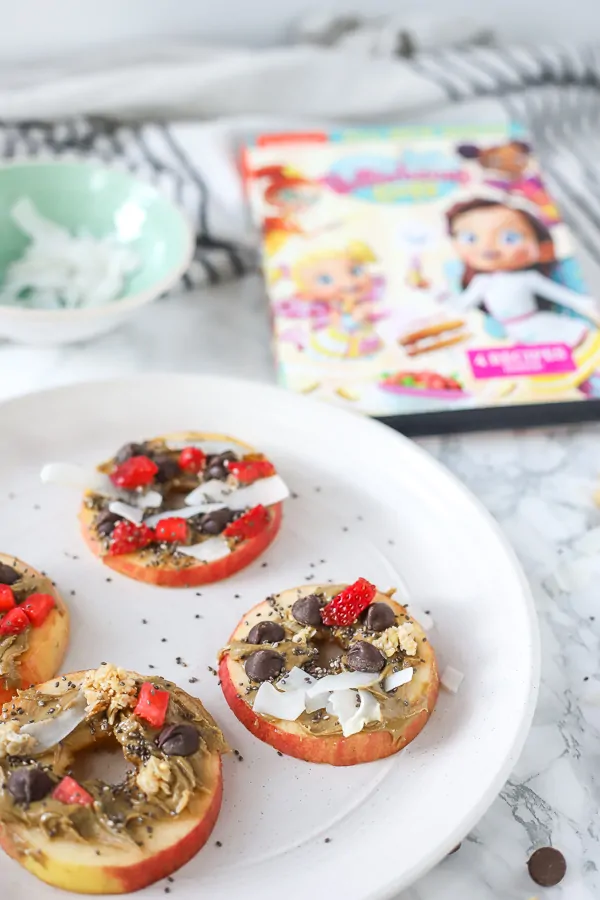 Teaching Kids Life Skills In The Kitchen
As a dietitian, I love getting kids in the kitchen since it can help them want to try new foods. Also, you are teaching them kitchen skills which are a necessity.
In today's day and age, many people don't even know basic cooking skills. So I love how Butterbean and her friends are getting young kids in the kitchen.
Cooking, baking, mixing, flipping, cutting, measuring… There are so many skills kids need to learn and master. I'm thankful that my mom taught me things and I'm excited to teach them to my kids.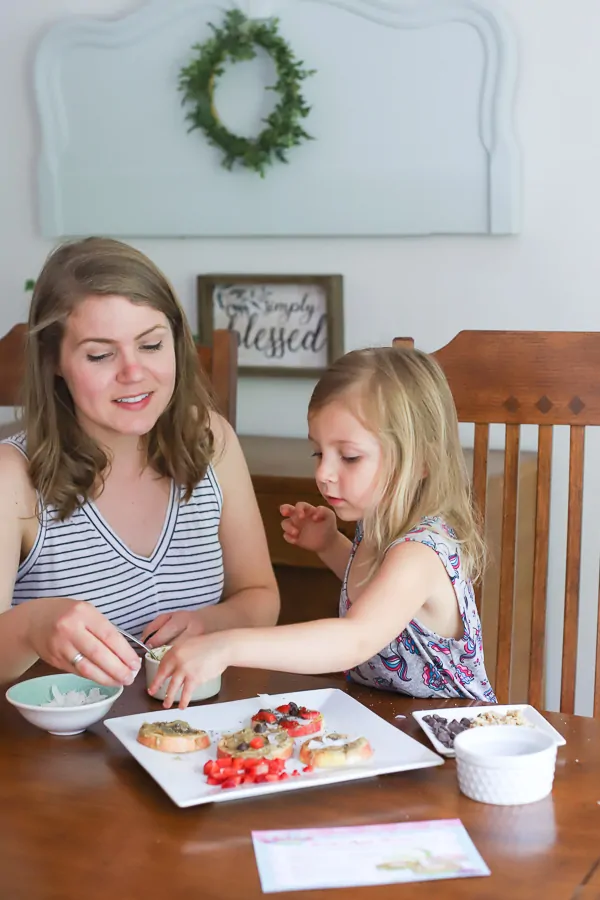 Tips For Cooking With Preschoolers
Kids can do way more than we give them credit for. Ask them what they want to do before assigning a task and then show them how to do that task.

Always teach and practice safety in the kitchen. Explain tools and show how to use them properly, the importance of safety around hot items, etc.

Things will get messy, so learn to accept the mess and have kids help clean up. I've even taught my 19-month-old to put his dishes in the dishwasher, he may not do it right but it's a skill he is learning. If my 19-month-old can do that, then certainly my 4-year-old can do harder things.

Teach safe and beginner knife skills by having kids cut bananas with butter knives.

Try to get kids involved in the kitchen as much as possible. So much fun and learning happen when we are just practicing life together. We might think we are just making a sandwich, but kids are learning what ingredients go together as well as practicing math (counting, division with slicing the sandwich into 2 or 4 pieces, etc).

Have fun. See the joy in your kids when they are so pumped about creating a delicious recipe and being part of preparing a meal.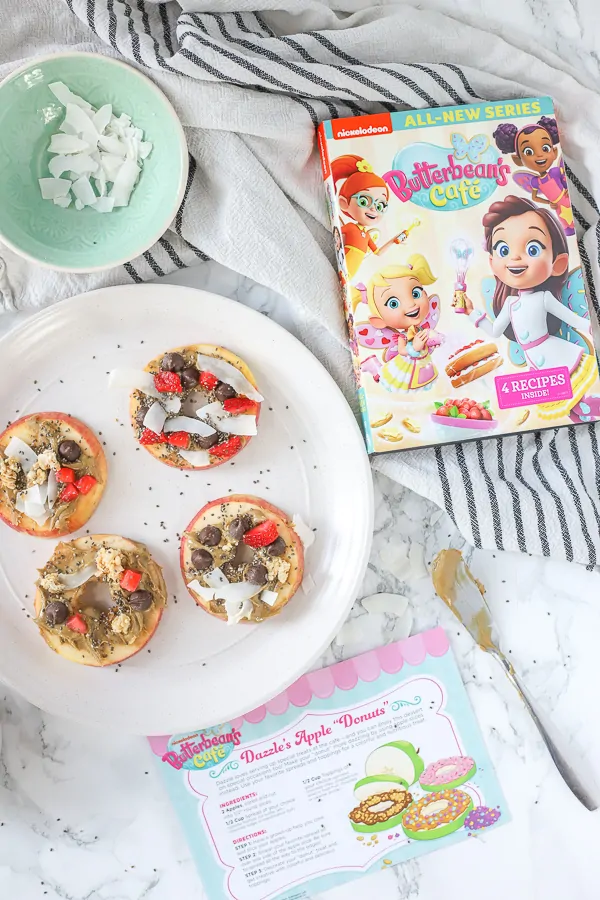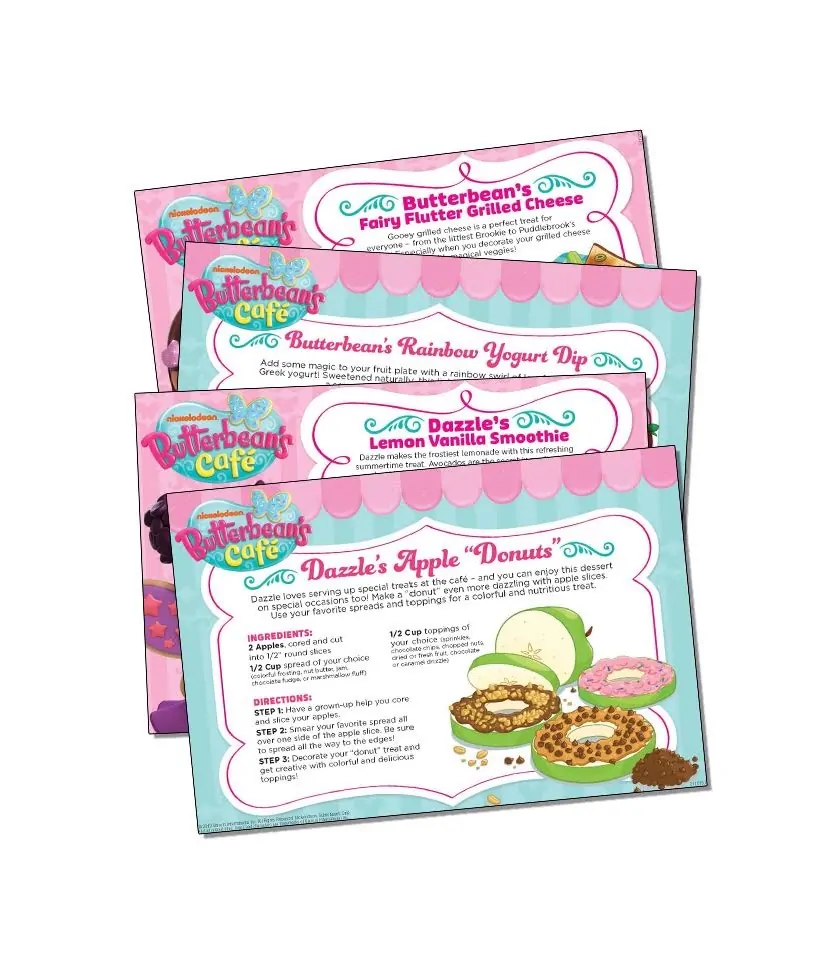 Dazzle's Apple "Donuts"
For today's recipe, we made Dazzle's Apple "Donuts".
I cored and sliced the apples into circles, aka "donuts".
August smeared the donuts with sunflower seed butter using a butter knife.
And then she decorated them with chia seeds, diced fruit, and chocolate chips.
She was so proud of her creations and even shared them with her little brother.
Then we clinked our apple donuts together, said "cheers" and gobbled them up. It was such a fun and easy recipe for the whole family. You can also make these apple donuts that are still healthy because they are baked not fried like traditional donuts.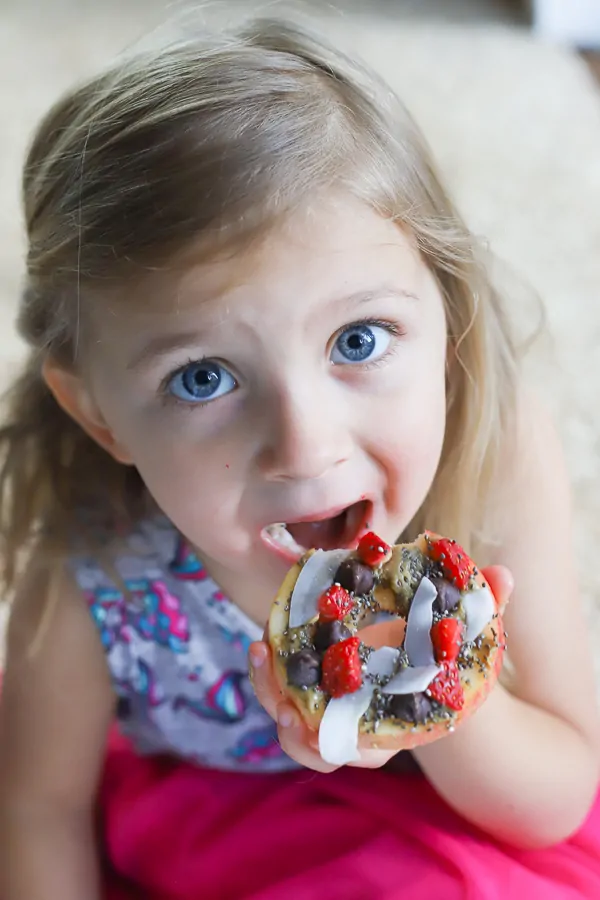 Grab the new season of Butterbean's cafe and enjoy 4 easy and fun recipes that are perfect for cooking with preschoolers.
The DVD is available on July 30, but you can preorder on Amazon now…
Your kids will get inspired by these joyful friends as they cook their way through problem-solving together.