This post may contain affiliate links. Read my disclosure policy here.
Here's a little celebrity news fix for you from our friends at Celebrity Baby Scoop…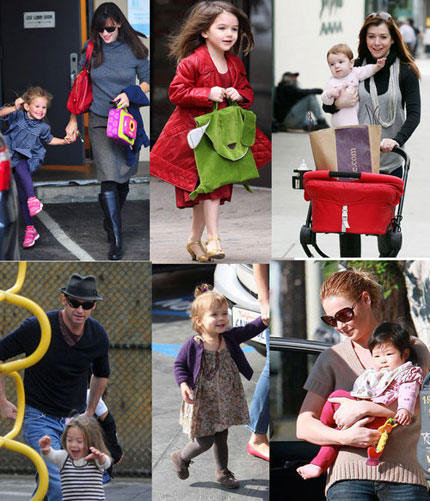 What better way to ring in the New Year than to stop to appreciate another year gone by?! Over 18,000 of you voted and we've compiled the results of the 2009 Celebrity Baby Scoop 2nd Annual Readers' Choice Awards.
What a year it has been in celebrity news and pictures! From the Gosselin's split that turned from bad to worse before you could recite all 8 kids' names, to Michael Jackson's shocking death, to Honor Warren's funky fashion statements, to the best pictures of 2009, there was no shortage in headlines last year. We watched Katherine Heigl transform as she fulfilled a lifelong dream and adopted baby Naleigh from Korea. We shook our heads at Suri Cruise's high heels and couldn't believe it when M.I.A. named her firstborn child Ikhyd Edgar Arular, while we cheered for joy when first-time parents Sarah Michelle Gellar and Freddie Prinze Jr. named their daughter Charlotte Grace.
Votes came pouring in for some tried-and-true favorites including the lovable Garner-Affleck family, sexy doting daddy Hugh Jackman, and the always-adorable Sasha Schreiber. And topping the list as some of our new favorites include sweet baby Satyana Denisof and the newly crowned prettiest family in Tinseltown: the Berry-Aubrys.
From your favorite new baby, to the best and worse baby names, to your favorite celebrity family, our 2nd Annual Readers' Choice Awards doesn't miss a thing. Read on!
Best Baby Name of 2009:
1. Charlotte Grace Prinze
2. Everleigh Rae Gigandet
3. Seraphina Rose Elizabeth Affleck

Worst Baby Name of 2009:
1. Ikhyd Edgar Arular Bronfman
2. Sparrow James Midnight Madden
3. Bandit Lee Way
Click Here to Finish Reading and see the full list of results from our 2nd Annual Readers' Choice Awards at Celebrity Baby Scoop.