This post may contain affiliate links. Read my disclosure policy here.
Are you happy? Would you like to be happier?
I've always been a fairly optimistic, roll-with-the-punches, glass half-full kind of person. I'm happy. But even before reading Gretchen Rubin's yearlong exploration of happiness The Happiness Project, I knew that there were choices I made and habits that I have that interfered with the goal of happiness — not only my own, but also the people who share life with me.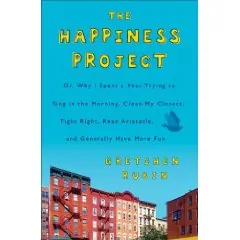 This is the time of year that people reevaluate their lives and examine the changes that they should make to make it better.
Gretchen Rubin felt like she was a happy person, but she wanted to know why, and wanted to know what she could do to maintain or increase that happiness. As a journalist, she read works by Aristotle and other social scientists concerning the whys and hows of happiness. She decided that she would devote each month to exploring one particular area of her life that she hoped to improve, such as health, marriage, parenting, spirituality, hobbies etc.
I loved this book (so much so that I've added it to our best of the best 5 Star Reads list at 5 Minutes for Books). While the areas that I would choose to explore would differ slightly from Rubin's, I laughed as she shared her personal journey. For example, while focusing on her marriage, she treated her husband (without telling him) to a "week of extreme nice." But by the end of the week, she found herself irritated that he was not more appreciative and observant of how she was going out of her way to please him — thus defeating the happiness project.
The book was a great balance of personal experience, journalistic research and facts, with plenty of humor thrown in. It's quite readable and interesting, and it definitely inspired me to work harder at being happy and appearing happy to those around me.
Want more info? Check out The Happiness Project Blog where you can even sign the petition to make 2010 a happier year. But this is a book I strongly recommend that you buy.
What's even better — two of you (U.S. or Canadian shipping addresses) will win a copy of The Happiness Project. Just leave a comment. If you'd like to tell me one area of your life you want to work on in 2010, please do. You can check out my goals, inspired or solidified by The Happiness Project, check out my blog entry where I talk about my own Happiness Project.
We will announce the winners in next week's column.
The winner of the Simon and Schuster big book giveaway is #88 Amy.

Book blogger Jennifer Donovan manages 5 Minutes for Books and blogs at Snapshot. She thanks Harper Collins for the review and giveaway copies of the book.