This post may contain affiliate links. Read my disclosure policy here.
Come on over and find out how to make this adorable fall and camping themed DIY felt board activity. This DIY craft is easy to make and your young children will play with it for hours and hours! They'll love how fun it is and you'll love that it's helping grow their imaginations.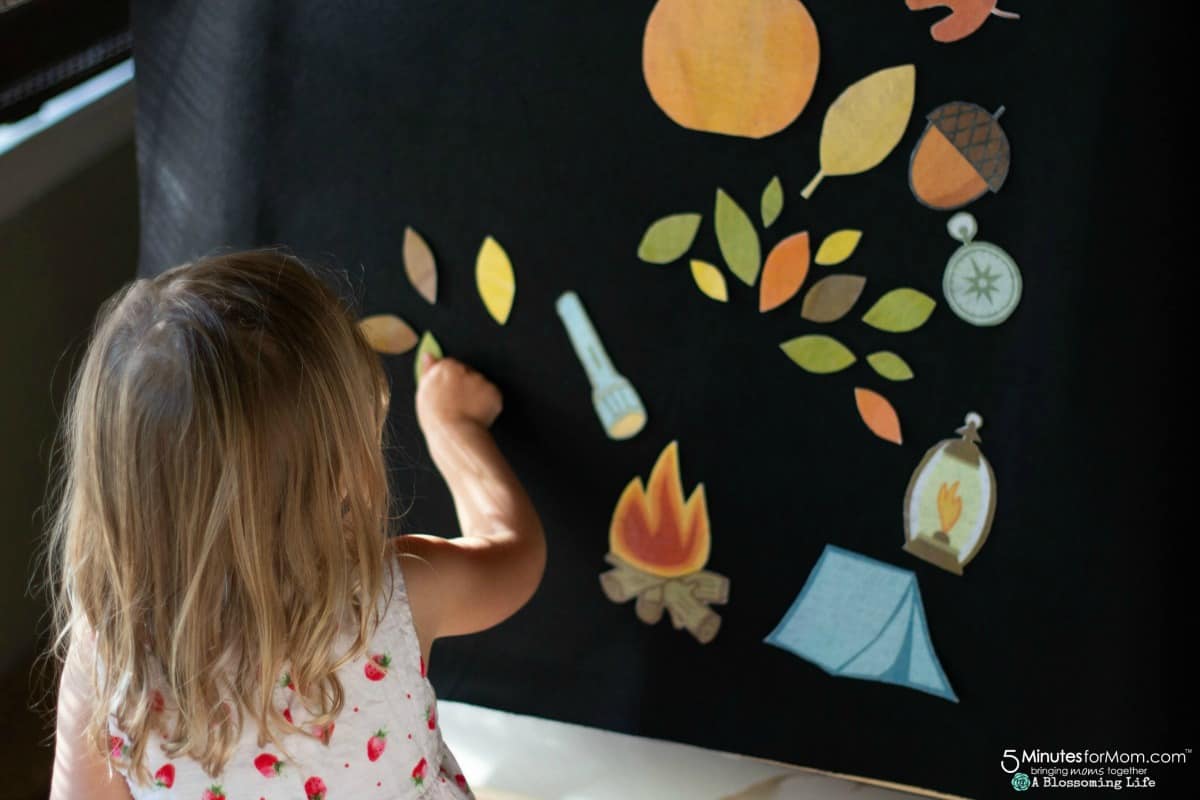 Hey all, it's Amy from A Blossoming Life, I'm really excited to share this adorable camping and fall themed DIY felt board with you today. I have been planning to make August, my 3 year old, a felt board for some time now, as I knew this is right up alley. She loves to create, imagine, build scenes, and create stories out of objects. Felt boards can also be great learning tools.
Looking at this camping and fall themed DIY felt board might feel daunting, but I promise it is not that hard. This is perfect for someone who wants to be crafty, but is afraid to craft or doesn't think they have the skills required.  As long as you can use scissors and an iron, you can make these fun fall themed felt pieces.
While I was making the play felt pieces, I placed a large piece of felt (found it at Michael's) onto our inexpensive easel to let her start playing while I was still cutting out the pieces. It worked so well that I decided not to make a board and just do this. It is much easier to fold up a piece of felt than it is to store an entire board.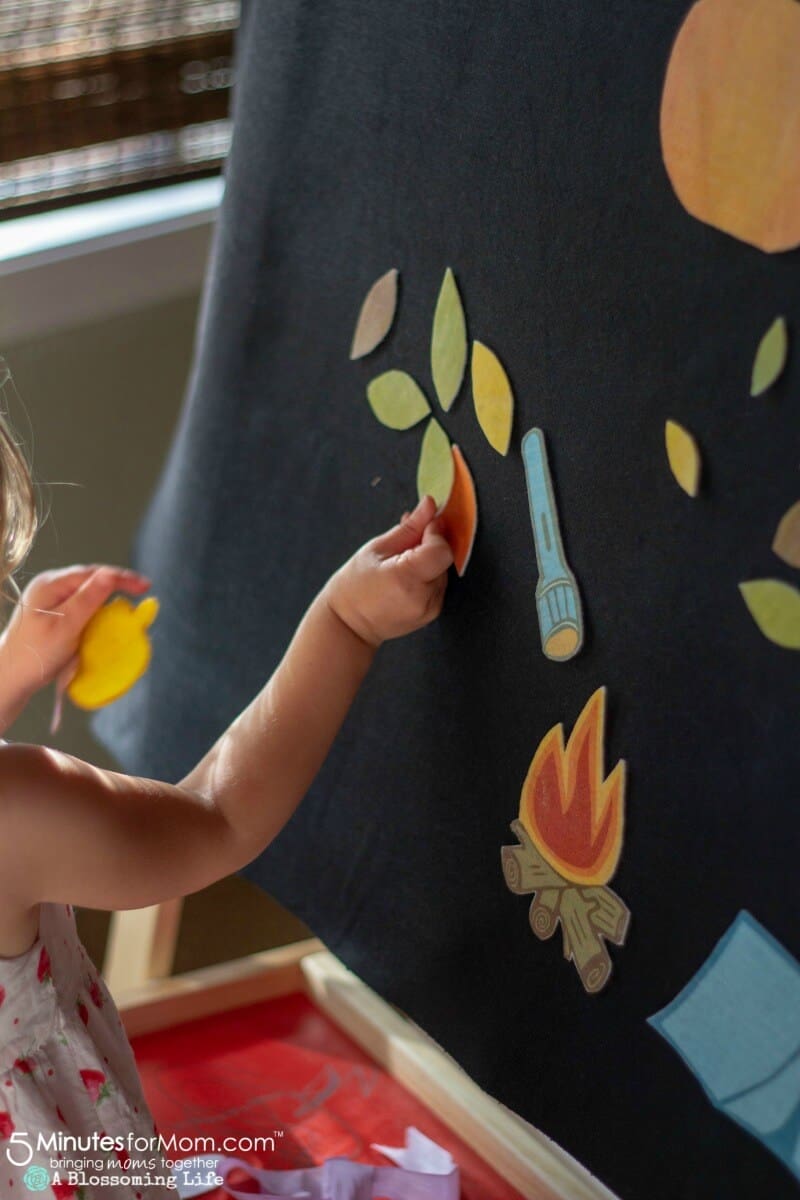 If you want to create a felt board, you just simply need to lay a large piece of felt on the ground and place a board (thin plywood would work) that is slightly smaller in size, on top. Fold the felt over the board, and hot glue or staple the edges of the felt down making sure to slightly pull the fabric. Do this all the way around until all the edges have secured.
Now lets get into making the fall and camping themed felt board.
How To Make A Fall & Camping DIY Felt Board
Materials:
White felt sheets
Iron on transfer paper
Fall & Camping Theme Printable
Printer
Scissors
Iron
Felt Board or piece of felt placed on the ground or over an easel.
Some of these items can be a little on the pricey side like the transfer paper, but use coupons! Michael's and Hobby Lobby almost always have a 40% off coupon.
Directions:
Click Here to Download the printable Fall Felt Board Icons
Print the fall camping themed printable onto iron on transfer paper (according to the company's directions).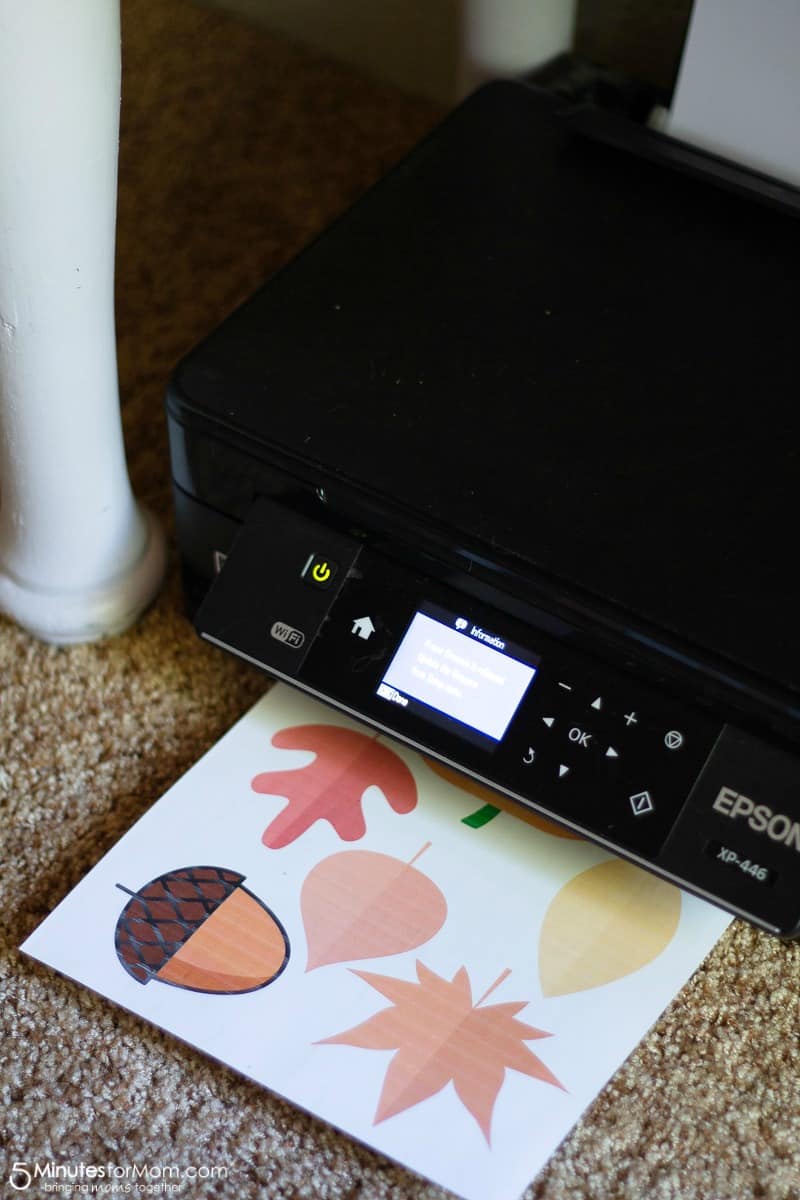 Iron the transfer paper, according to the company's directions, onto the felt. Peel off the transfer paper. I found it easiest to peel off the transfer paper while it was still warm. I would start to peel it off and if it was still sticking I would apply more heat to it until it came off easy.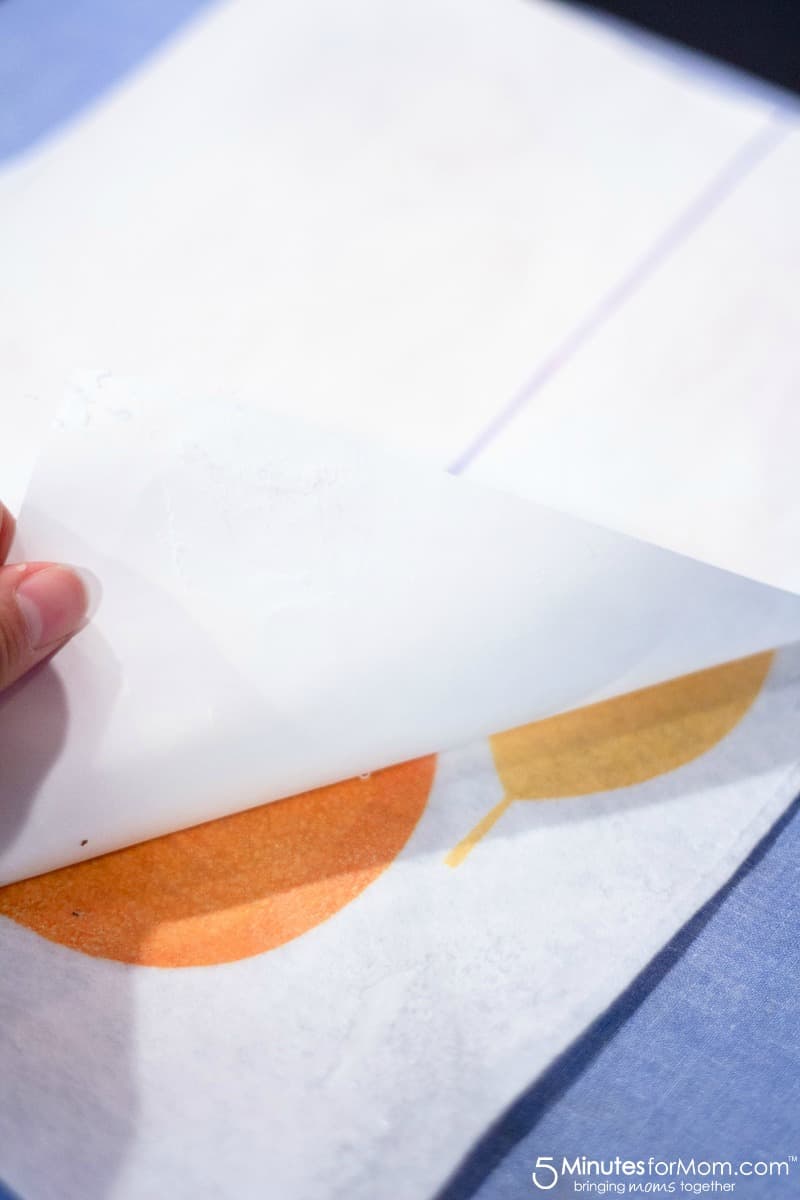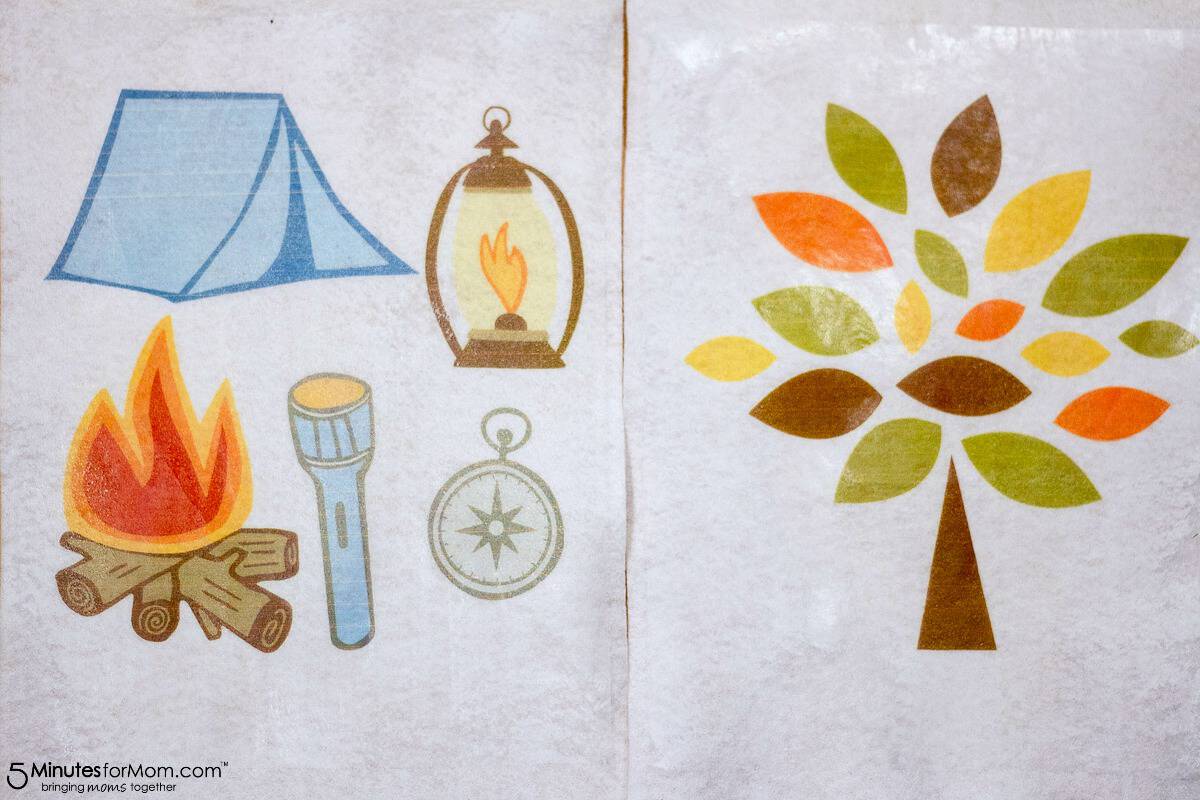 Cut out the felt pieces and have fun placing them all over your felt board.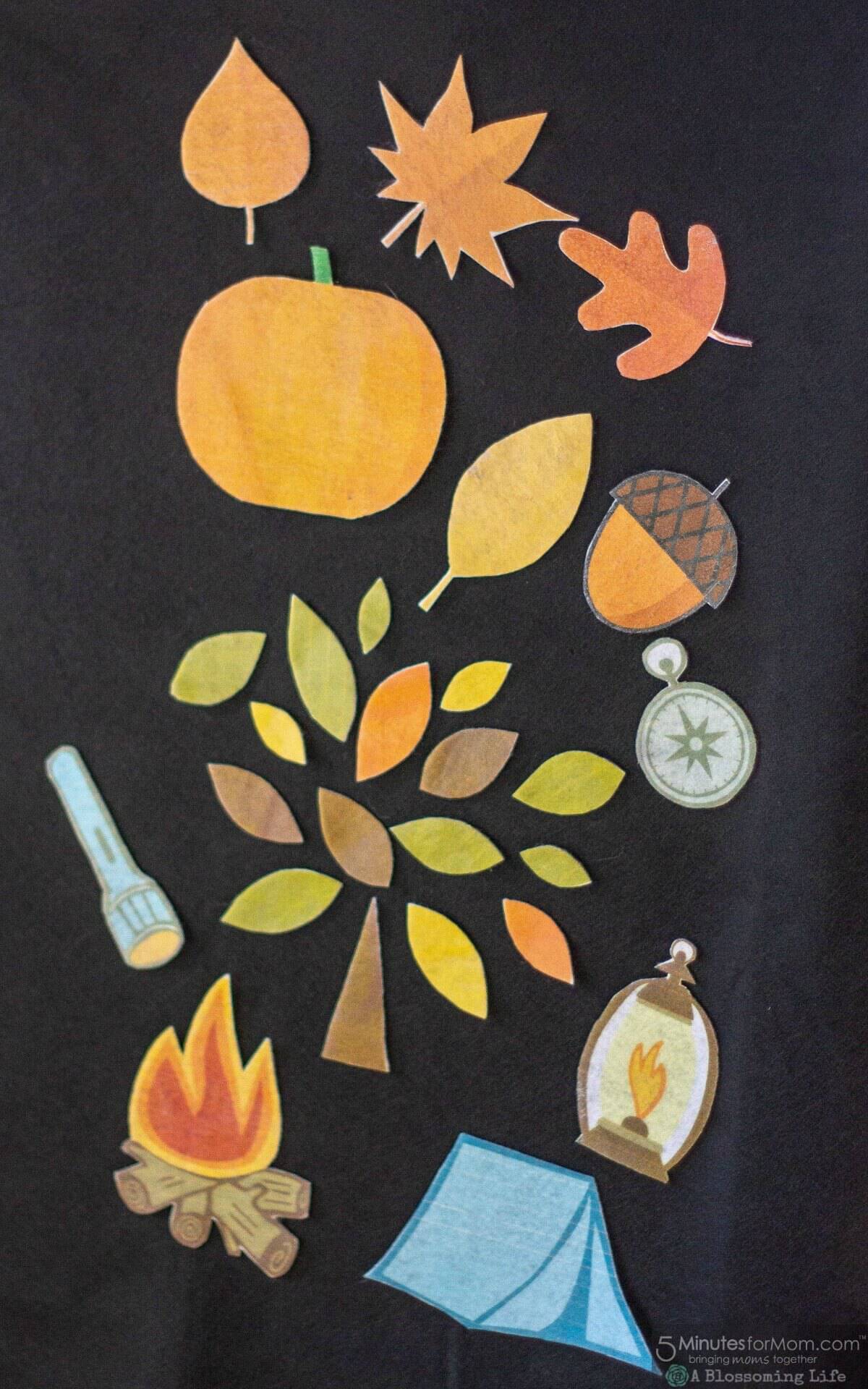 This was such a fun craft to do. I spent my afternoon nap-time break cutting out and ironing the pieces and watching Nailed It on Netflix. If you haven't seen that show yet, you should. It's so funny. I promise this will turn out way better than the contestants cakes do on that show.
I just love how this fall and camping themed felt board came out and have received so many compliments on it. Have you tried to create felt pieces before?
More Craft Ideas…