This post may contain affiliate links. Read my disclosure policy here.
When thinking of a backyard BBQ, I envision children playing, the aromas of the grill and relaxing with family and friends. I also realize that with a limited number of summer days to enjoy a backyard BBQ, stress begins as I want every BBQ to be a complete success.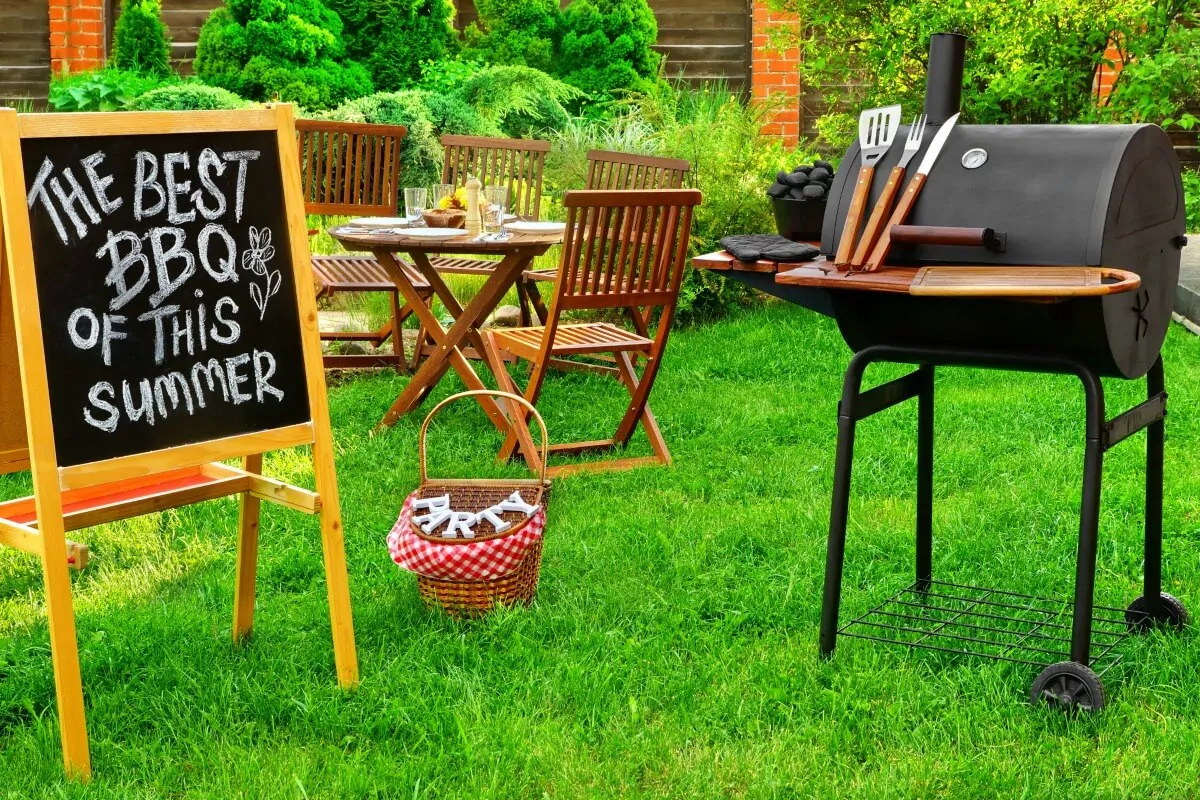 Once the date is chosen and people invited for a BBQ I start thinking… will there be enough food? Will there be too much food? When should we start the grill? What if it rains? Will people be entertained? And the list keeps going of things that need to be figured out to avoid disaster.
The reality is that sometimes there will be disasters. A dish will get overturned onto the grass, a steak will be dropped or an unexpected downpour will join the party. Those are things you cannot control. But there are things you can do to prepare for your backyard BBQ that will reduce your stress and ensure everyone, including you, enjoys the party.
10 Tips For Hosting A Stress-Free Backyard BBQ
Be Prepared

The idea is to stay one step ahead of any problems. In the days leading up to the event take a moment to sit and think about all the things that need to get done, what could go wrong or what has gone wrong in the past.

If having too much food leftover has been a problem, get a head count so you can ensure you don't prepare too much food. This will also help ensure you have enough seating for everyone. If the tablecloth hasn't stayed on the table before, buy some plastic clips to clip them to the table, or weight attachments to the ends. You can't always control everything but learning from your past experiences and being prepared is a great way to start your backyard BBQ.


Plan Your Menu

Create a menu that fits the size and style of your guests. A basic buffet-style menu works best for larger groups and more personalized/intricate dishes are better for smaller gatherings.

Don't go overboard with food. Remember sometimes simple is best. If you are having grilled meat as the main dish, a tasty homemade BBQ sauce, a few appetizers and salads to go with the meat and fresh fruits or simple desserts may be all you need. A great side dish is corn on the cob. Don't forget the beverages too. Try making something unique for your guests like homemade limoncello or lemonade. Make sure you provide plenty of water for everyone so they don't get dehydrated.


The Grill is the Main Event

A BBQ wouldn't be much without the grill. To avoid any day-of mishaps check that the BBQ is working correctly a few days before so you have time to take care of any problems. Make sure you have enough propane or charcoal on-hand and remember: three pounds of charcoal for every six guests.

The day-of ensure all grilling tools are in close reach of the BBQ, this includes cooking spray, platters, and grilling tools. If you are enlisting the help of guests to man the grill, remember not everyone is a pro. Keep a spray bottle of water to help with any flames. If the grill master wants to maintain total control of the grill provide them with someone to help transport food and assist with whatever they may need, including a cold beverage.


Prep in advance

This may be the most logical thing and goes back to the planning stage. Try to choose dishes that can be easily prepared in advance. If you choose salads, make sure they are greens that are less likely to welt (like kale, watercress or coleslaw) and serve the dressing on the side. If you are going with a simple dessert like ice cream or pie, pre-prepare them by scooping the ice cream into cupcake wrappers or pre-cutting the pie.

I am a strong believer in preparing everything you can in advance. There is no greater feeling when guests arrive and all you have to do is grab trays and bowls from the fridge, cut the plastic wrap off and place it on the table.

If you have food allergies, prepare small labels on toothpicks in advance so you can identify each dish. This saves a lot of time and confusion the day-of. I like to list a few ingredients in salads and sides because I know I will be asked during the meal. This can also be done to tell whether steaks are rare, medium or well done.


Let Your Guests Help

Many times, family and close friends want to help. Correction. They are going to bring something anyway, so why not let them provide what you need. You provide the yard, the grill and the meat and let guests bring a bag of chips, homemade treats, paper plates or cool beverages.

Assign dishes or make sure to keep track of who is bring what so you don't end up with all pasta salads and no dessert. A great way to manage this is through an evite or facebook event page where everyone can let all the attendees know what they are bringing.


Keep Guests Comfortable

Create inviting and comfortable places for all your guests to sit and have a conversation or take part in a fun activity. That includes making sure there is enough places to sit and eat. It's a good idea to set up small tables where guests can place their drinks and plates. If your party will go late prepare in advance torches, table candles or lighting for your area.

Think about the weather for your guests. Depending on the time of year and where you are located it may be very hot, unbearably cold or raining. Pay attention to the weather in the days leading up to the event and plan for what may happen. For blistering heat provide tents for shade (especially for older guests), water sprinklers for younger ones and extra water for everyone. For colder weather have extra blankets or sweaters on hand. If there is a chance or rain, again tents are good, as are umbrellas and the ability to move the party inside.


Games Aren't Just for kids

It's always best to have something to keep little ones busy having fun and out of trouble. Try having a kid-friendly area where kids can play with skipping ropes, frisbees, sidewalk chalk, water guns, bubbles or paddle ball.

The ideal solution is to find a few games that guests of all ages will be able to enjoy before or after the meal. Classic games like limbo, horseshoes, badminton, corn hole and washer toss will get everyone's competitive spirit going. Take into consideration the size of your yard when planning your backyard BBQ and make sure activities are away from the grilling area.


Think of your guests

Most times when I leave the house going with my children I am lucky to make it there on time, let alone with everything I need. Many of your guests are the same.

To avoid being asked for something while you are entertaining, plan ahead and have a basket full of party essentials they may need. Some essentials to include are sunblock, bug spray, baby wipes, tissues and handheld fans.


Make Clean-up Easy

Place extra garbage and recycling bins in main traffic areas so that guests don't have to guess where to put their plates and cans.

If using non-recyclable items, grab a large plastic Tupperware and label it cutlery, plates, etc. Then simply collect everything and easily carry it to the dishwasher.


Have Fun

The goal is to have a stress-free backyard BBQ where you can enjoy yourself. If you are having fun and enjoying the company of your guests they will too. Take time to interact with everyone at the party and remember they are there to see you.

If a mishap happens, and it likely will, don't let it ruin the day. If nothing else, it will give you all a great memory or something to laugh at one day.
Written by Paige McEachren.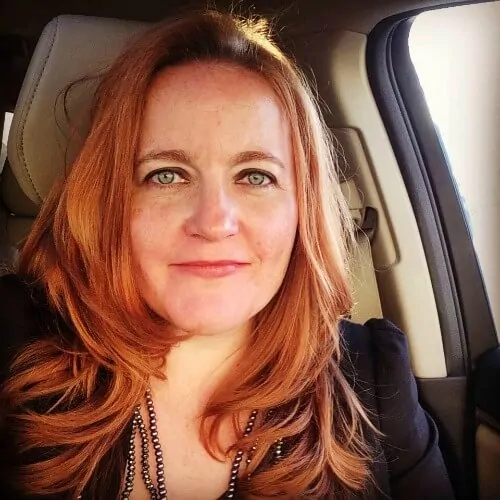 Paige spent over 20 years working in corporate communications for world-leading technology, health care and pharmaceutical companies. In 2015, she decided to leave the professional workplace to stay home and help her young kids navigate life with ADHD and dyslexia. When not taking care of her kids (3 including her husband), she loves to plan family vacations, struggles with the love of baking and wanting to be healthy, challenges herself to try new things and if lucky, finds a bit of quiet time. She shares her tales of a disordered life on her blog www.pieceofpie.ca.
Pin it for Later