This post may contain affiliate links. Read my disclosure policy here.
Here it is — the ultimate guide for how to make perfect chocolate chip cookies! In this comprehensive baking lesson, we explain the science behind making chocolate chip cookies including tips, tricks, and recipe variations so you can customize and discover how to make cookies that meet your own definition of perfection.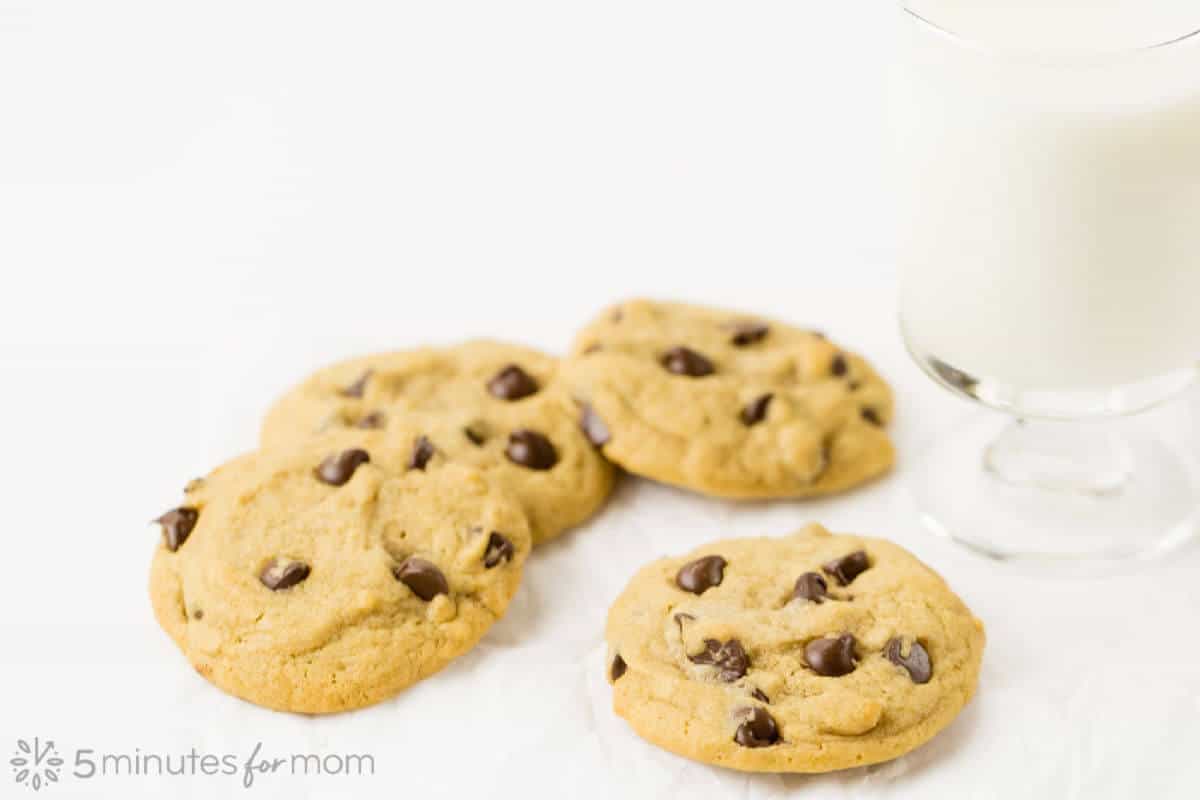 Are you wondering how to make PERFECT chocolate chip cookies?
If you have searched on Google or on Pinterest, you might be overwhelmed — there are so many chocolate chip cookie recipes! How do you choose?
Which chocolate chip recipe is the best???
Over the years, I have made (literally) thousands of chocolate chip cookies, both with and without gluten. If you haven't seen them yet, here is my Gluten Free Oatmeal Chocolate Chip Cookies recipe and my Gluten Free, Coconut, Chocolate Chip Cookies recipe. I also shared a recipe for my homemade gluten free flour mix.
While you can make tasty cookies without gluten, in my opinion, if we're talking about how to make cookies that taste the absolute best, they definitely have good old gluten in them.
The Science Behind The Perfect Chocolate Chip Cookies
In my quest to learn how to make perfect chocolate chip cookies, I have tested countless cookie recipe variations. I have researched and tested the science of chocolate chip cookies by adjusting the ingredients including using cornstarch, using baking powder, using melted butter, using margarine, using varying amounts of flour, sugar, etc. The list goes on.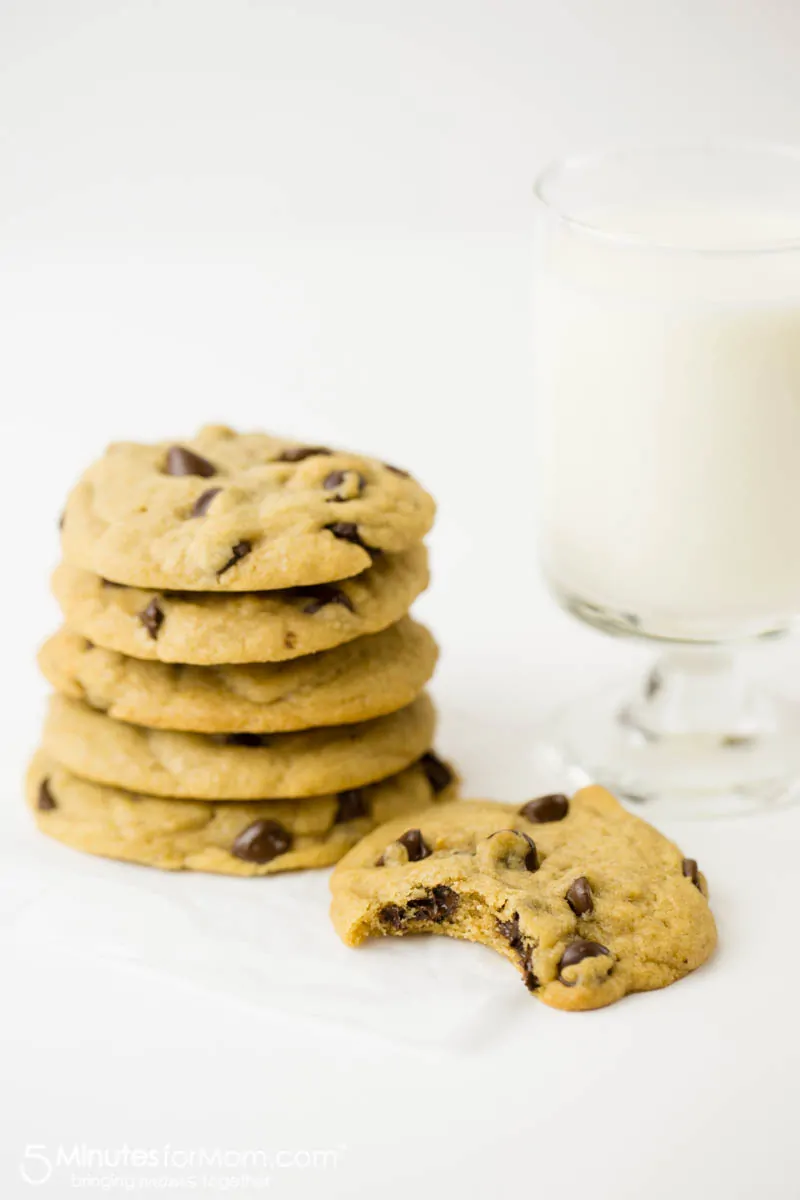 Over all the years and all the batches of cookies I've baked, I have learned two important lessons:
First, almost every cookie I have made, despite its variation, was still yummy and gobbled up by a member of my household. So don't fear — if you are learning how to make cookies for the first time, it is really hard to make a bad chocolate chip cookie! Yes, you can make a zillion different chocolate chip cookies, but most likely, your cookie will still be delicious.

Second, there is simple science and basic facts that will determine how your cookies will turn out. If you understand the WHY behind cookie ingredients, you will be able to create YOUR perfect chocolate chip cookie recipe.
So, the key to the perfect chocolate chip cookie recipe is to decide what YOU think makes the best chocolate chip cookie and then make sure your recipe will make THAT cookie.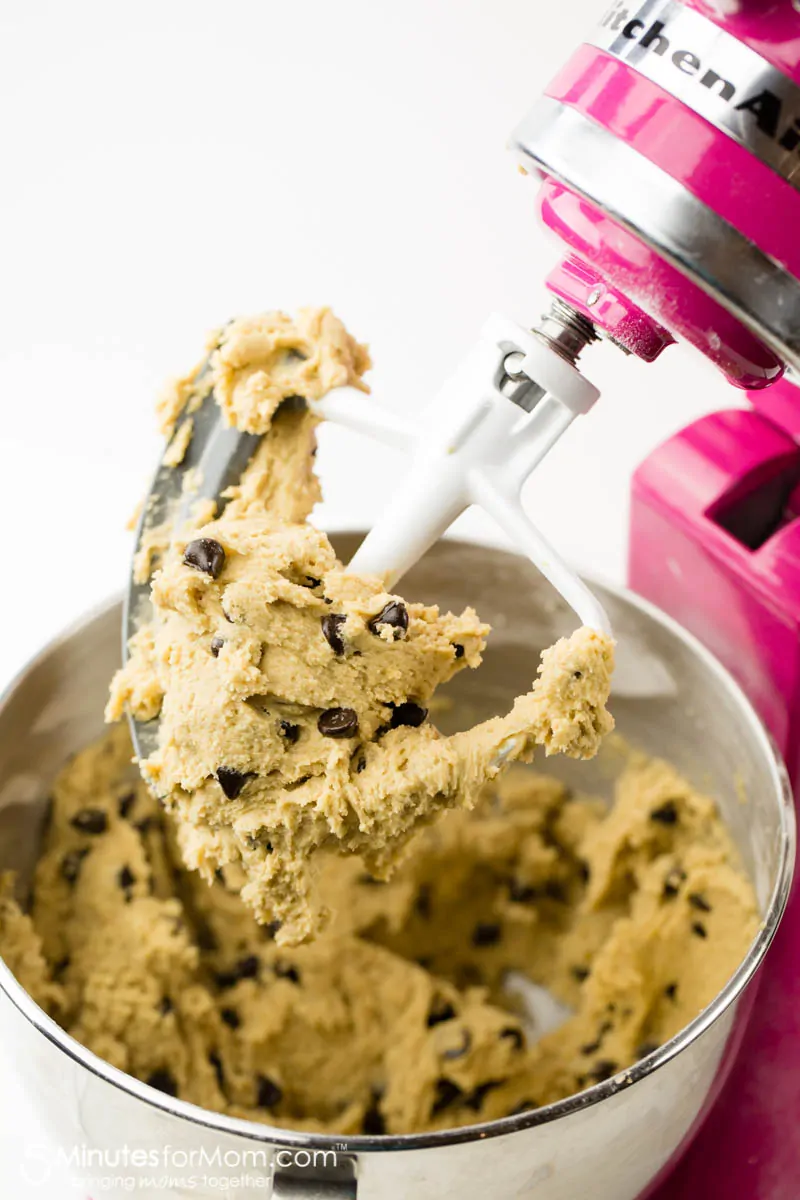 Universal Rules for Baking Perfect Chocolate Chip Cookies
Most, if not all, of the basic chocolate chip cookie recipes, will give you a good cookie. But if you want to know how to make GREAT cookies, here are some universal baking rules that will help you get the best out of ALL chocolate chip cookie recipes:
Do Not Over-Bake — You should remove your cookies from the oven before they look "done", unless you are trying for a crispy, well-cooked cookie.

Cookies continue to cook after they have been removed from the oven, especially if you leave them on the hot cookie sheet while they cool.

For soft and chewy cookies, this "carryover cooking" is critical. So, don't be fooled and think your cookies are undercooked. Pull them out of the oven and let them firm up as they cool (and continue cooking) on the cookie sheet.


Do Not Over-Mix — A key to learning how to make cookies is not overmixing. Creaming your sugar and butter together creates little pockets of air in your dough which makes fluffier cookies — this process is "mechanical leavening."

However, overmixing your cookie dough once you have added your eggs and flour will add too much air and may make your cookies tough or cause them to be spread too much and be flat.


Measure Flour by Spooning not Scooping — When I am in a hurry, I am guilty of grabbing my dry measuring cup, reaching down into the bag of flour and scooping out a cup full.

But, a cup of scooped flour is NOT equal to a cup of flour that has been spooned into the measuring cup and then leveled off with a flat implement, such as a knife. Scooping compacts the flour and so you have more flour than the recipe intends.

Also note, that before spooning to measure your flour, you should stir up the flour to loosen and fluff it.

If you want to ensure you have the right amount of flour, the BEST method is to weigh your flour on a kitchen scale.


Pack Brown Sugar — While flour should be spooned, and white granulated sugar can be scooped because it doesn't pack, when measuring brown sugar, you need to firmly pack it into the dry measuring cup and then level off the top to get an accurate measurement.

Use the Right Cookie Sheets — Decades ago, I bought two insulated cookie sheets. I adore those cookie sheets so much that if I want to make perfect chocolate chip cookies somewhere else, I bring my cookie sheets with me.

Personally, I hate dark, over-cooked bottoms on cookies. So I love the way the insulated cookie sheets bake cookies.

But insulated sheets can tend to produce paler cookies. So, if you want to add a bit more color to your cookies, use a heavy dull aluminum cookie sheet. If you use a dark cookie sheet, your cookies will be darker and the bottoms may burn. I found it fun to test different cookie sheets when I was learning how to make cookies.


Line Your Cookie Sheets — You can line your cookie sheets with parchment paper or a silicone baking mat.

I always line my cookie sheets with parchment paper. I never have to worry about cookies sticking to the cookie sheet and clean up is simple. You can reuse the sheets too, so don't throw them out after one trip into the oven.

If you don't have parchment paper or a silicone baking mat, you can grease your cookie sheets. But if you are greasing your cookie sheets instead of lining, please note that your cookies may brown faster on the bottom and spread more.


Cool Cookie Sheets Between Batches — If you are reusing a cookie sheet, allow it to completely cool before you add the next round of cookie dough.

A warm or hot cookie sheet will heat up the butter/fat in your cookie dough and cause them to spread too soon.


Check Oven Temperature — If your cookies are not baking in the amount of time the recipe calls for, your oven temperature may be off.

You can check your oven temperature with an oven thermometer.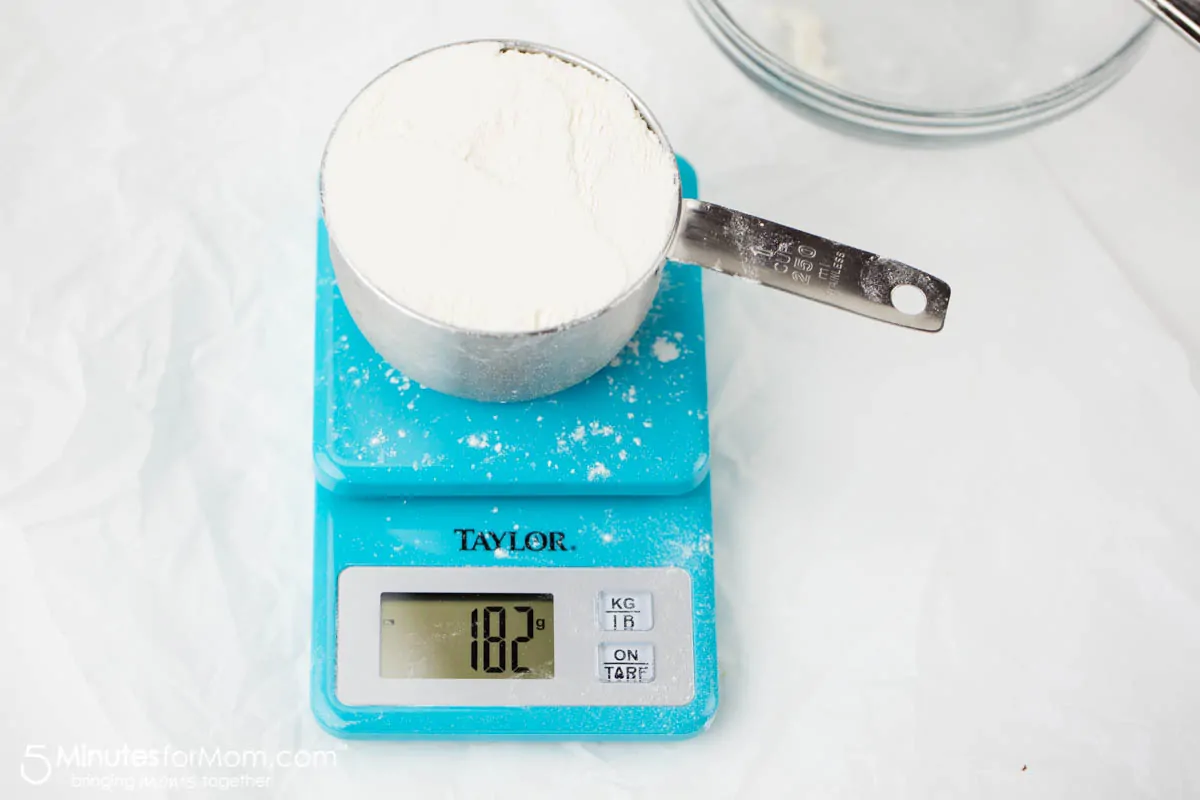 How to Make Cookies The Way YOU Want
Knowledge really is power.
When it comes to a cookie recipe, you do not have to rely on someone else telling you their recipe is the best. YOU can look at the ingredients, tinker with them and develop your OWN best cookie recipe.
I rarely follow any recipe to the letter. I tend to analyze a recipe and add/subtract according to my personal preferences before I even start out.
Then, I make notes on the recipe about what worked and what didn't, what changes I made or should make, etc. I think most of us do that, right?
Therefore, to get you ready to take over your cookie recipe, let's cover some baking facts and cookie recipe variations.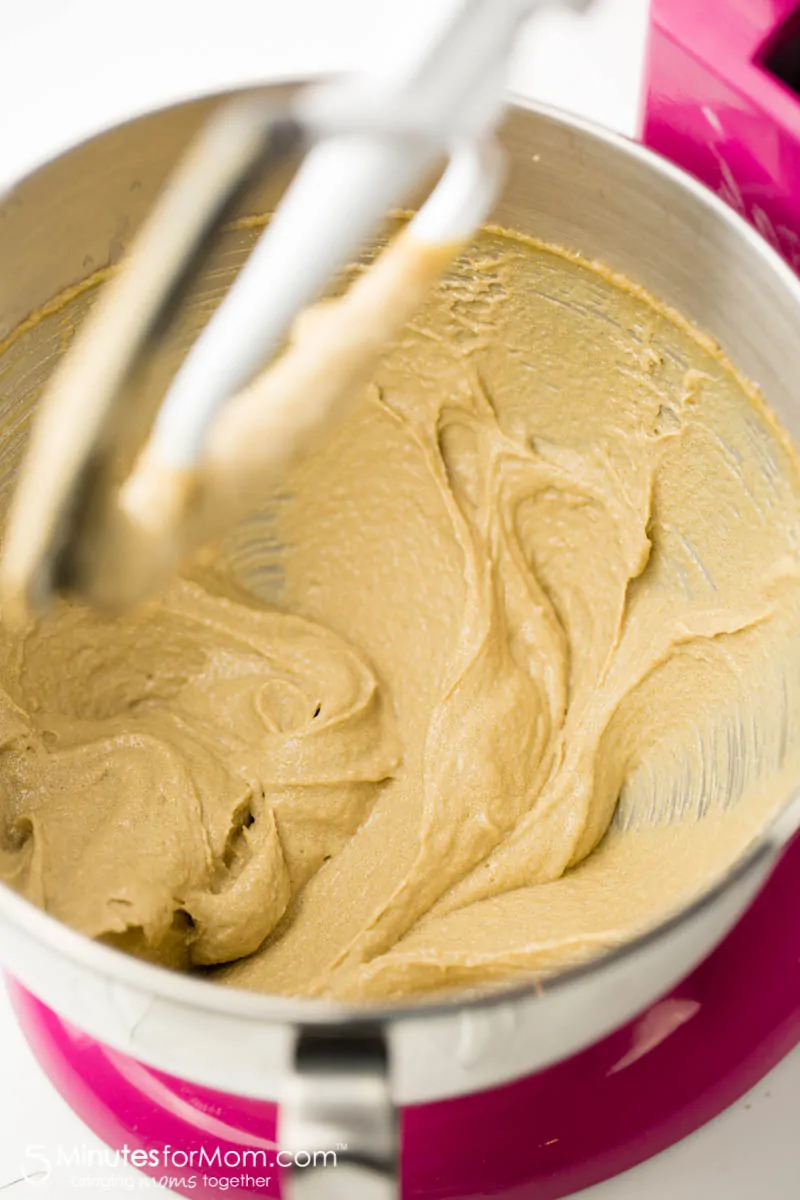 What You Need To Know About Butter and Fat for Baking
You might be surprised how much we could talk about butter, margarine, shortening, creaming, etc. It is actually a huge topic when it comes to baking.
But to keep things brief for this blog post, here are the key facts about fats for baking.
Butter is yummy. Okay, you know that. But let's delve a bit deeper.
Can you substitute margarine for butter in cookies?
Since butter is made from cream, while margarine and vegetable oil shortening (such as Crisco) is made from vegetable oils, butter has more flavor — which helps butter win major points as the fat of choice when baking cookies.
Butter is about 80% butterfat and 16% water while shortening (such as Crisco) is 100% fat and the fat/water content in margarine can vary widely. Some kinds of margarine have a fat content as low as 35% and some stick margarine, which has a higher fat content, can include trans-fat.
Margarine is usually not recommended for baking unless a recipe specifically calls for it.
If you are going to use margarine, choose one with a high-fat content, as margarine with low-fat content may not work well. However, you want to be careful and not choose a stick margarine that has trans-fat.
Thus, when it comes to baking cookies, the battle is usually between butter and shortening.
Is it better to use butter or shortening for cookies?
When baking with butter, the combination of fat and water affects the baking process. According to The Kitchn, "This combination of fat and water is what makes butter unique: The heat from the oven during baking turns that water into steam, which can cause more gluten formation, resulting in crisper cookies if baked long enough."
Another big difference between butter and shortening is their melting points.
Butter has a lower melting point than shortening so the fat melts sooner in the baking process, resulting in cookies that spread more.
On the other hand, because shortening has a higher melting point, shortening allows cookies to hold their form better and creates taller/fluffier cookies.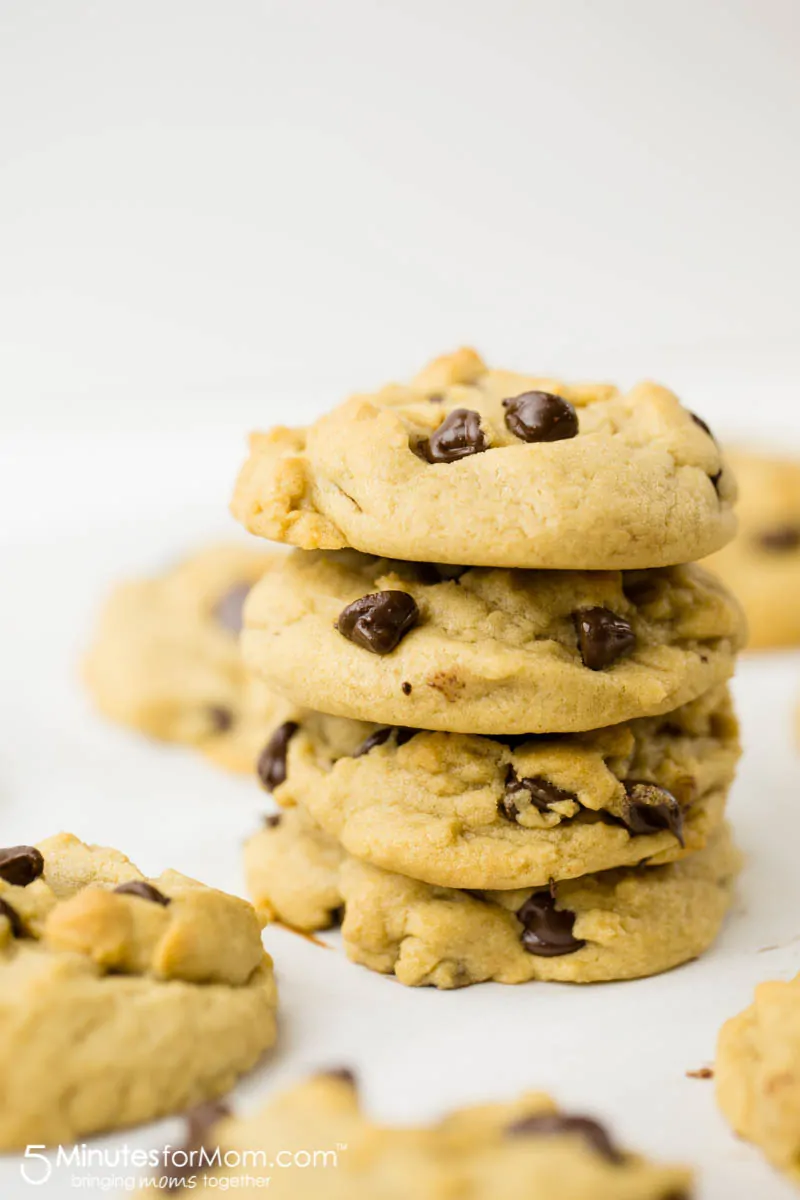 If you are trying to get your cookies to turn out like cookies from your favorite store or bakery, you may find that shortening produces the cookies you are looking for as many stores and bakeries use shortening in their cookies.
But remember, if you do choose shortening, it does not have the flavor that butter has. So what you may gain in the texture or shape of your cookie, you may lose in the taste of your cookie.
One solution that many bakers choose is to use half butter and half shortening.
But if you want to use all butter in your cookies, which is what I do, there are some tricks you can do to keep your cookies from spreading too much and to keep them fluffier and taller.
Add 1/2 teaspoon of baking powder to your recipe
Chill your cookie dough
Lower the amount of butter in your recipe or increase the amount of flour
How To Make Cookies With Melted Butter vs Softened Butter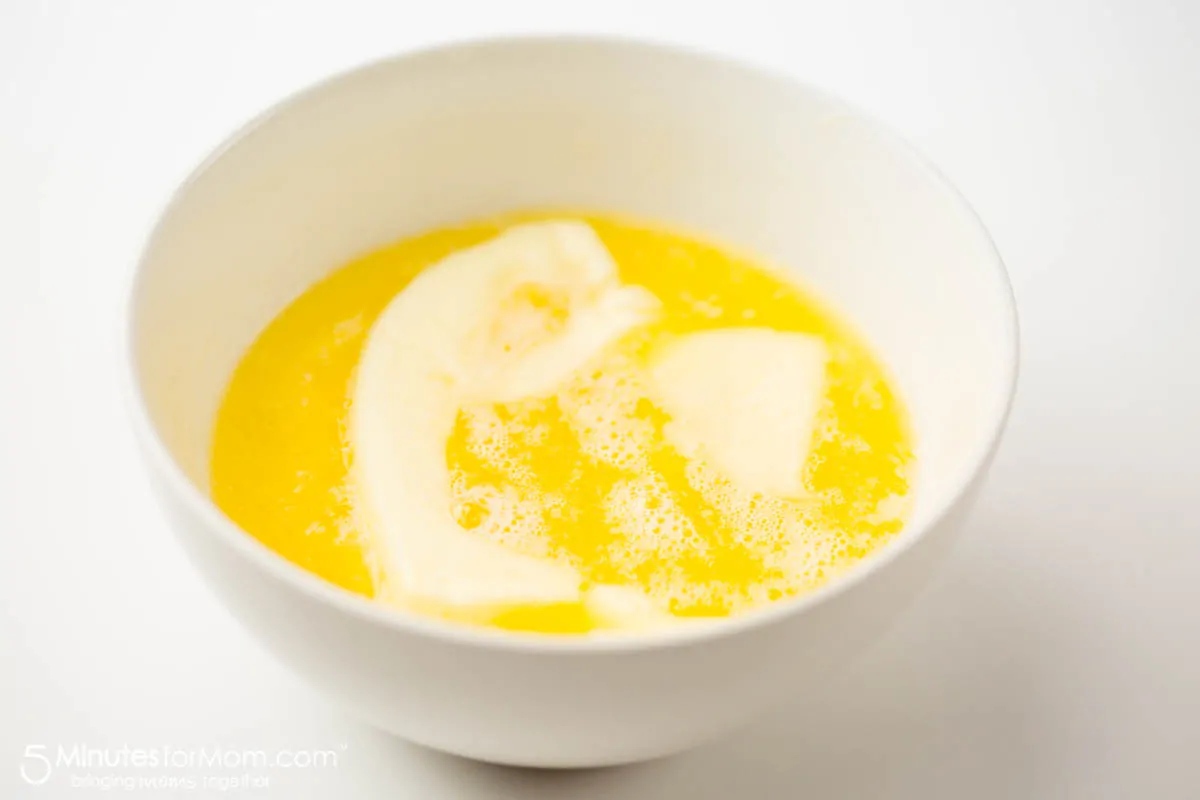 While we are discussing butter, we can't skip over the critical role the temperature of butter makes in your baking.
Generally, cookie recipes will tell you to use softened butter (room temperature) and to cream your sugar with your butter, for about 2-4 minutes, until light and fluffy. This creaming process adds air to your dough which makes fluffier cookies, the "mechanical leavening" I mentioned earlier.
Then, the cookie recipe will usually suggest you chill your cookie dough for up to 24 hours before baking. This chilling process has a couple effects: One, it allows the flavors to blend and enhance the longer the dough chills.
Two, bringing the temperature of the butter down allows the cookies to hold their shape longer as they bake, resulting in taller, less spread out cookies.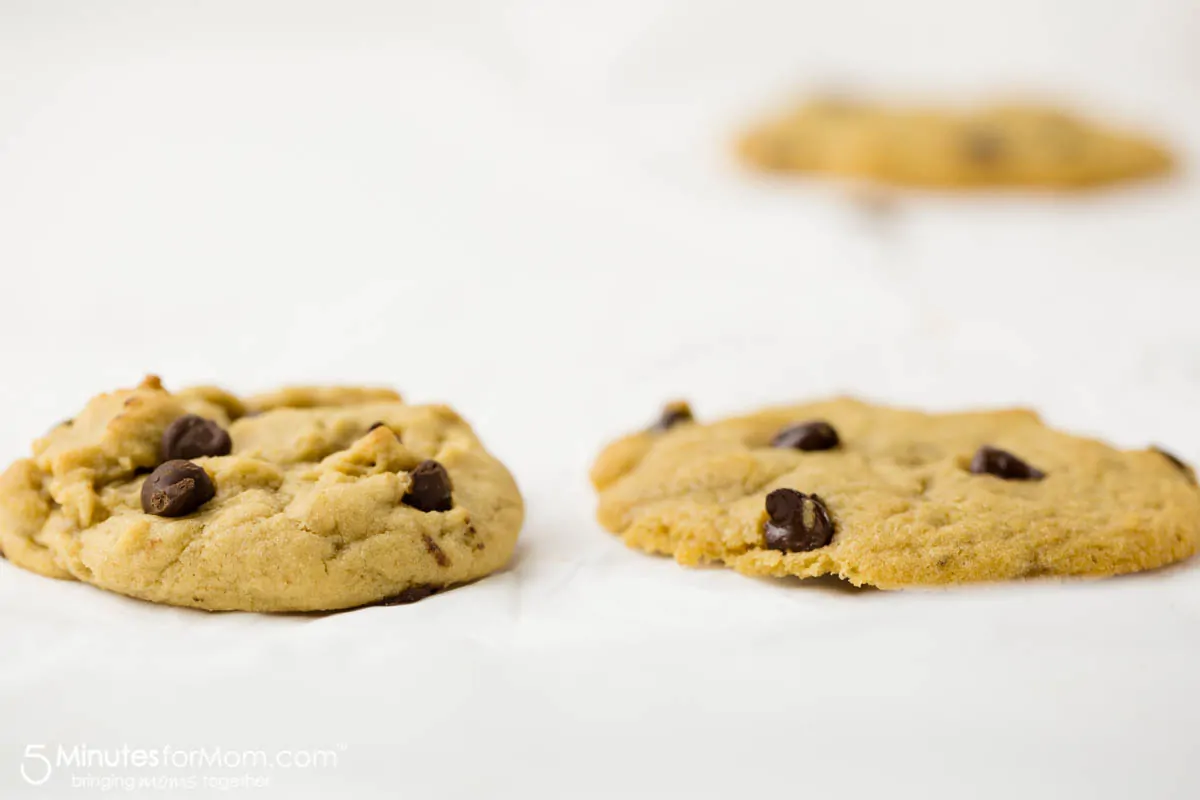 Alternatively, some cookie recipes call for melted butter. The melted butter creates a softer, chewier cookie, especially if you don't cream the melted butter with the sugar but merely whisk until the sugar is dissolved and the mixture is smooth.
If you use melted butter, you will have chewier, flatter cookies — especially if you don't chill the cookies before baking.
Unless you want very flat cookies, you will probably need to use more flour if you use melted butter. If you are using a recipe that calls for melted butter, the recipe probably accounts for this and calls for a higher flour to butter ratio than a traditional cookie recipe.
Chocolate Chip Cookie Recipe Variations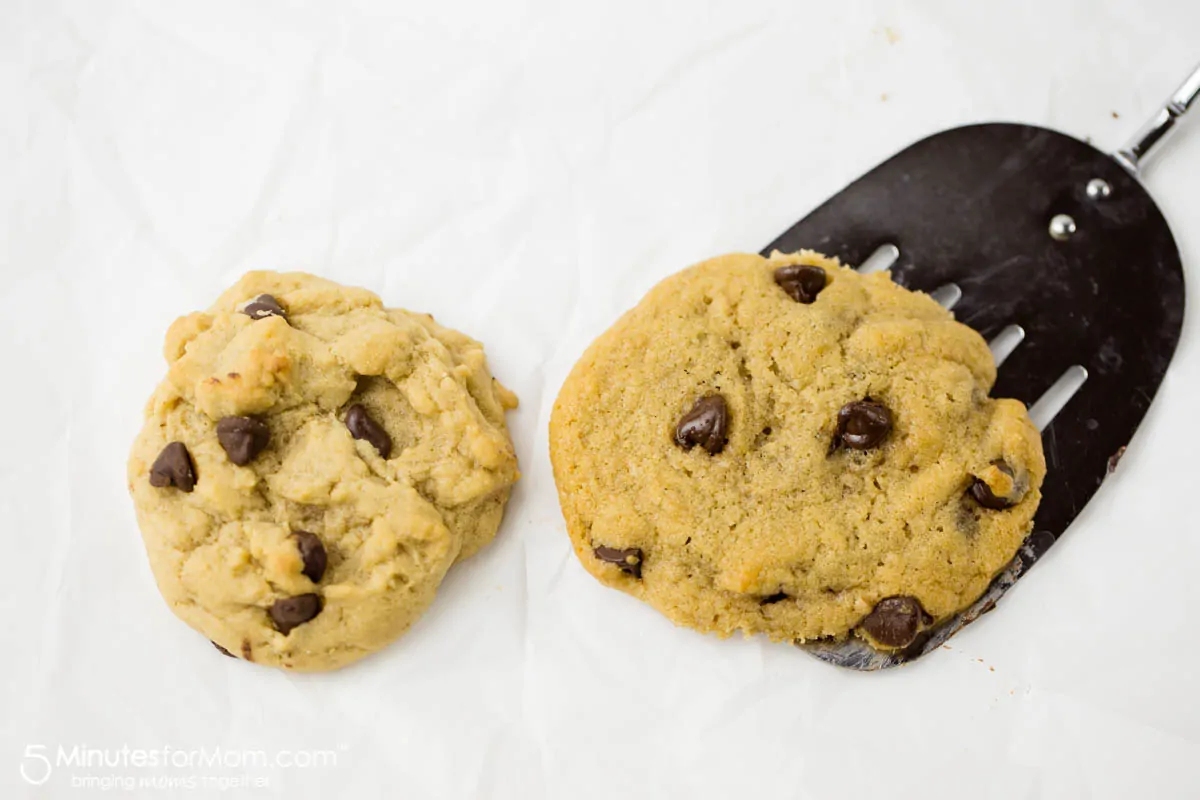 If you have read this far in this extensive cookie baking tutorial, way to go! If you didn't know before, now you know the science behind how and why certain changes to your cookie recipe will affect your cookies. Now you can start customizing your cookie recipes.
Here is a list covering some basic tweaks and variations you can use to adjust your cookie recipe to give you different results:
How To Make Soft and Chewy Cookies
What makes a cookie chewy?
Melted Butter — If you want to make soft and chew chocolate chip cookies, use melted butter instead of softened butter. For even more chewiness and more spreading, do not fully cream the melted butter with the sugar, just whisk until it is smooth and the sugar has dissolved.

Do not chill before baking.

NOTE: when using melted butter, you will probably need more flour than a recipe that calls for softened butter.

Brown Sugar — Another way to make your chocolate chip cookies soft and chewy is to use brown sugar.

Brown sugar is basically sugar with added molasses. Molasses is 10% water. Since more moisture creates a chewier cookie, the additional liquid of the molasses helps create a chewier cookie. For a soft and chewy cookie use at least an equal, if not a greater amount, of brown sugar to white sugar.

Bake Less — When you want to ensure you have a soft and chewy cookie, you must remove cookies before they are fully cooked.

Remove while centers are still pale and puffy and edges are just beginning to turn golden. Allow cookies to cool for at least 3-5 minutes on baking sheet.

Bake Bigger Cookies — Another trick for softer and chewier cookies is making larger cookies.

The bigger cookie shape helps the dough retain moisture and keep cookies softer and chewier

Bread Flour — Bread flour has more protein than all-purpose flour. To increase the gluten in cookies, and thus create a chewier cookie, you can replace some of the all-purpose flour with bread flour. But don't worry if you don't have bread flour, you can definitely achieve chewy cookies without using bread flour.
How To Make Crispy Cookies
What makes cookies hard instead of soft?
Less Moisture — If you want to achieve crispier cookies, you want less moisture in your cookies.

According to Sunset.com, "Reducing the amount of ingredients that hold moisture–flour, egg, and brown sugar–makes it easy for liquid to evaporate, producing crisp cookies. The fat, which goes up proportionately when other ingredients are cut back, gets hotter than the water in the dough and drives out the moisture."

White Sugar — Another way to make crispy cookies is to use more white sugar than brown in your cookie, or even completely remove the brown sugar.
Less Flour — To make cookies crispy, you want to allow your cookies to spread more. So you need to use less flour in your recipe.
Lower Temperature — If you bake your cookies at 325F versus the usual 350F, the cookies can spread more and cook longer until cookies are golden and toasted.
Egg Yolks — If your idea of perfect chocolate chip cookies means crispy, use egg yolks without the egg white to cut down on the moisture in the cookie.
How To Make Cookies Fluffy
How do I make my cookies not flat?
Baking Powder — If you're wondering how you can make your cookies more fluffy, you can add 1/2 teaspoon of baking powder to your recipe or use half baking powder and half baking soda
Cornstarch — Another trick for fluffy cookies is to add a teaspoon of cornstarch to your recipe.
Shortening — Use shortening instead of butter or use a combination of half butter and half shortening to make fluffy chocolate chip cookies.
How To Make Cookies Tall (Cookies that Spread Less)
How do you keep cookies from spreading?
You can use baking powder, cornstarch, and/or shortening in your recipe to keep your cookies from spreading before they firm.
Chill Dough — One of the most important ways to keep cookies from spreading too quickly is to chill your dough before baking.
More Flour — A cookie with less flour will be flatter. If you want a cookie with some height and substance, increase the amount of flour.
Bake at 350F — ensure your oven is preheated so that cookies do not spread while the oven comes to the full temperature.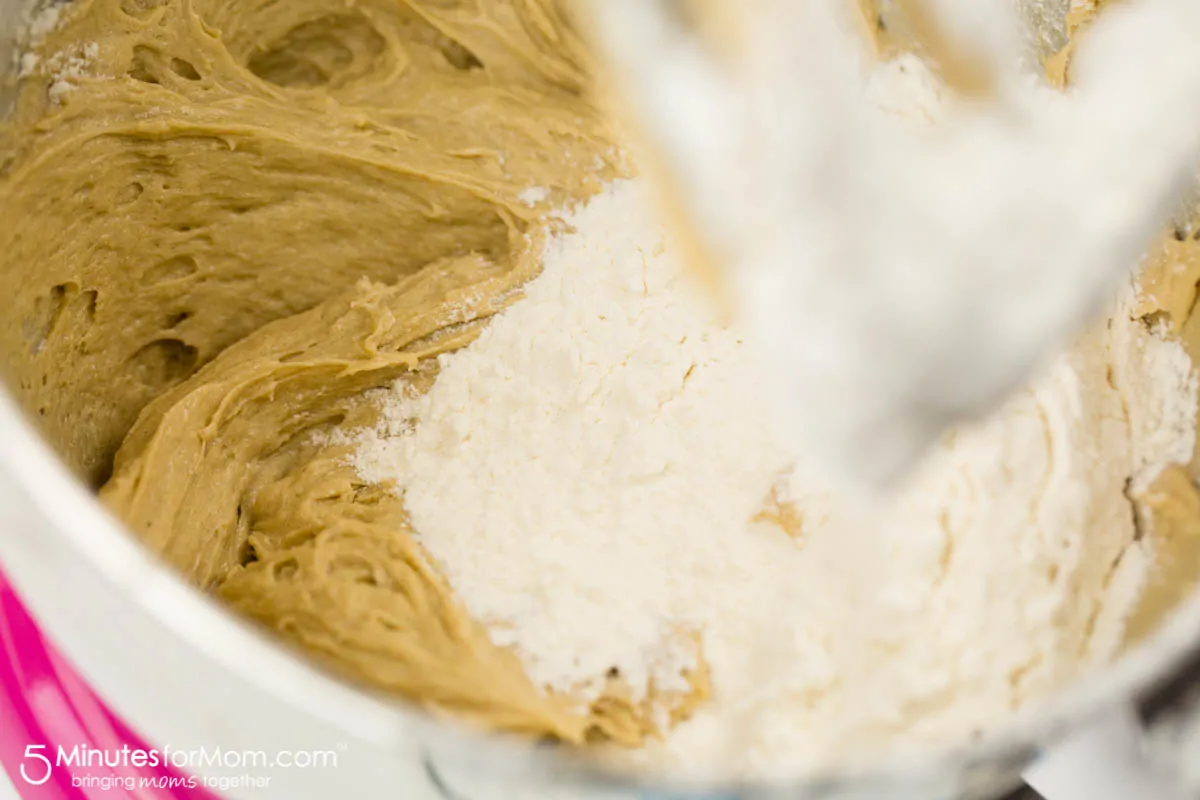 How To Make Cakey Cookies
What causes cookies to be cakey?
Cornstarch — If you want to create a fluffier, more cake-like texture in your cookie, add 1-2 teaspoons of cornstarch
Baking Powder — You can make a more "cakey" cookie by using half baking powder and half baking soda
Egg — Adding an extra egg or an extra egg yolk can help create a cake-like chocolate chip cookie that many people love.
Pastry Flour — Pastry flour has less protein and produces a less glutinous cookie.
More Flour — Use more flour to keep the cookies from spreading and allow the cookies to retain their form while baking.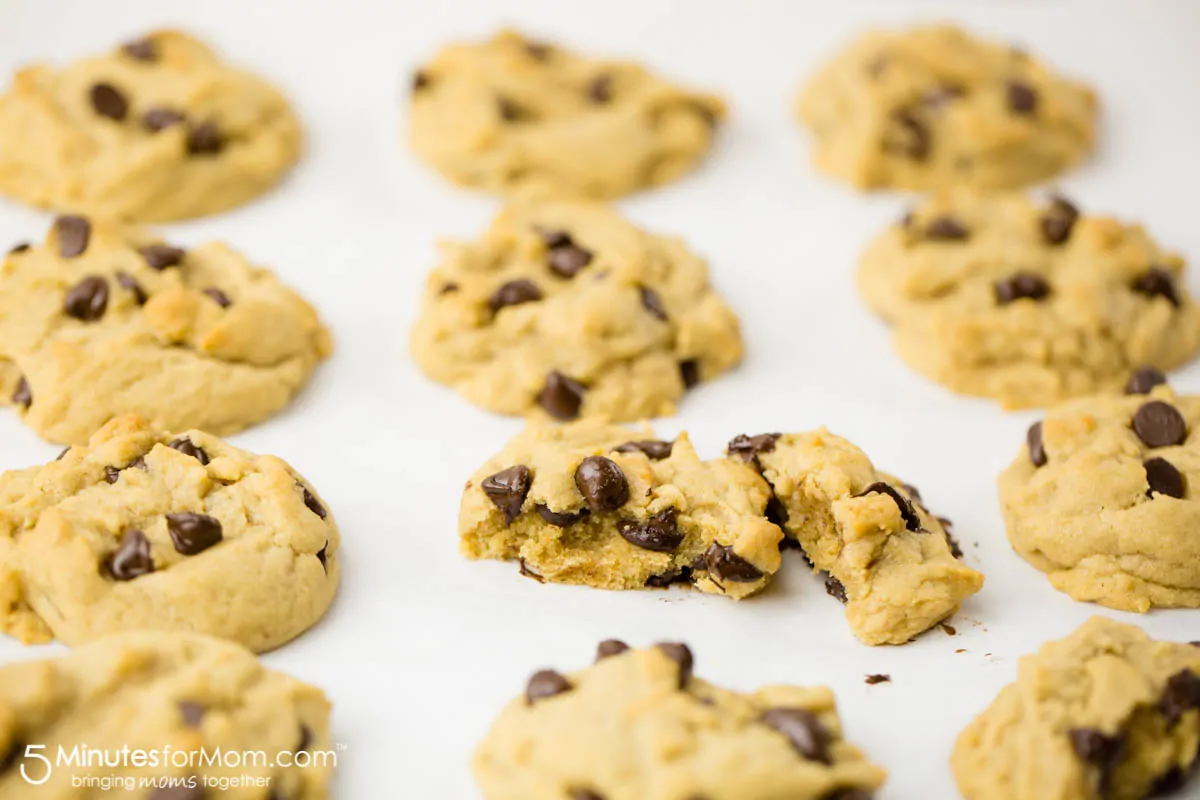 How To Make Cookies Flat
What causes cookies to spread? Here's what to do if you want a flat chocolate chip cookie…
Use Butter — If your idea of perfect chocolate chip cookies are flat, then use butter. Because of the lower melting point of butter vs shortening, using butter makes cookies spread more before they bake through.
Less Flour — Using less flour will create flatter cookies.
Flatten Dough — To get flat cookies, after rolling or dropping your dough, flatten each drop of cookie dough slightly to help the dough spread more quickly.

Bake at 325F — bake at 325F instead of 350F to have cookies spread further
Do Not Chill — do not chill dough before baking or, if chilled or frozen, allow to come to room temperature before baking
How To Make Crinkled Top Cookies
How do I make crinkles in the tops of my cookies?
Drop Dough — To create crinkled, textured cookies, drop dough in balls or break balls of dough in half and stick together with jagged edges facing outward.
How To Make Cookies Round and Smooth
Do you have to flatten cookies? How can I make my cookies perfect circles?
Roll Dough — To make smooth, perfect circle cookies, use a cookie scoop or measuring spoon and roll the dough with your hands. Place at least two inches apart to prevent cookies from spreading into one another.
Final Tips and Finishing Touches
As you create your personal chocolate chip cookie masterpiece, here are some final tips for cookie perfection:
Chop Your Own Chocolate — I have used all kinds of chocolate for my cookies over the years. To up your cookie game, consider buying fine dark or milk chocolate and chopping it up yourself.
Chunks, Slivers, and Chips — Whether you are chopping your chocolate yourself or purchasing chunks or chips, a variety of sizes and shapes of chocolate can create delicious effects in your cookies.
Add Final Chocolate Pieces — If you want to have a few chocolate chips perfectly poised on the top of your cookies, add some chips or chunks of chocolate to the top of the cookie balls before baking.
Top with Salt — I love the combination of sweet and salty, so I am all about sprinkling the tops of my chocolate chip cookies with some coarse salt, especially if the cookies are made with dark chocolate.
Soft and Chewy Chocolate Chip Cookies
Ready to start baking?
Here is my go to recipe for Soft and Chewy Chocolate Chip Cookies. Use it as written or customize it with your own tweaks to make your own PERFECT chocolate chip cookies. And please let us know the tips and tweaks you use to make your favorite cookies.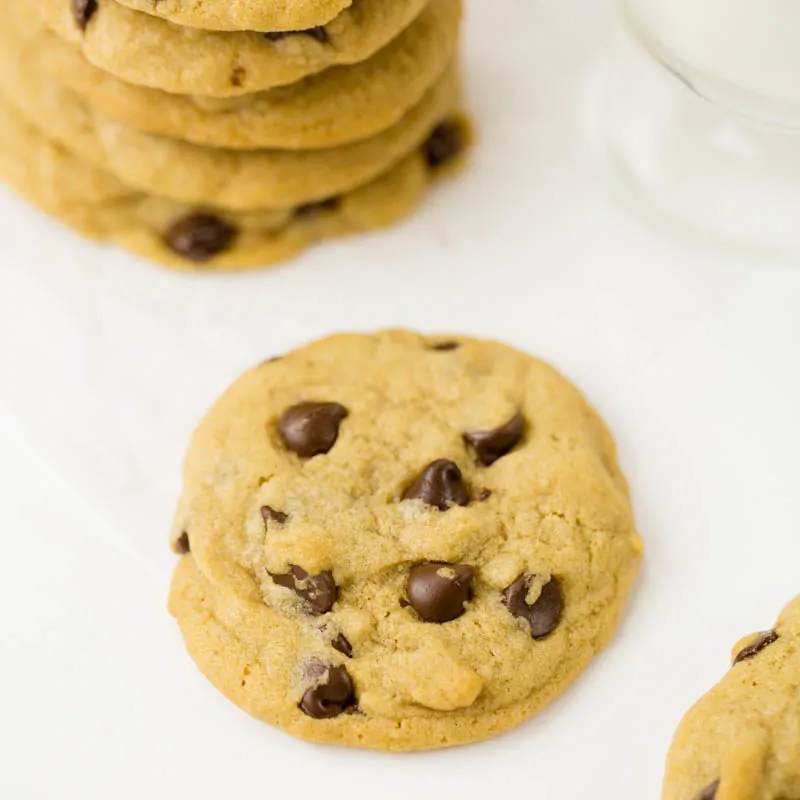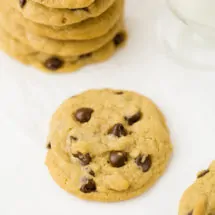 Soft and Chewy Chocolate Chip Cookies
My ultimate soft and chewy chocolate chip cookie recipe.
Print
Pin
Rate
Servings: 36
Calories: 142kcal
Ingredients
1 cup butter lightly melted but not hot
3/4 cup brown sugar packed
1/2 cup granulated sugar
1 tablespoon Maple Syrup optional, but enhances softness and flavor
2 teaspoons vanilla extract
2 eggs
3 cups all-purpose flour plus an extra 2 tablespoons for a total of 390 grams
1 teaspoon baking soda or 1/2 teaspoon baking soda and 1/2 teaspoon baking powder if you want fluffier/puffier cookies
1 tsp salt if using salted butter, cut to 1/2 teaspoon salt
1-2 cups chocolate chips or chocolate chunks
Instructions
Preheat oven to 350F

In a large bowl, whisk together flour, baking soda, and salt and set aside

Microwave butter until lightly melted, with some parts still soft and not completely melted - about 35-45 seconds depending on your microwave

With an electric mixer or by hand, beat together butter and sugars until light and creamy - about 2-3 minutes

Add vanilla and maple syrup, and on a low speed, beat in one egg at a time, about 10 seconds per egg

Add roughly half of the flour mixture and mix until mostly incorporated then add the rest of the flour mixture, and mix until dough forms. Do not overmix.

Add the chocolate chips and stir until evenly distributed

Scoop dough with a spoon or cookie dough scooper roughly 1 1/2 to 2 tablespoons in size

Drop on parchment lined cookie sheet and bake for 9-12 minutes

Do not overbake! Cookies should be slightly golden around the edges and still pale and puffy in the center

Allow to cool on cookie sheet for at least 3-5 minutes and then transfer to a cooling rack
Nutrition
Calories: 142kcal | Carbohydrates: 19g | Protein: 1g | Fat: 6g | Saturated Fat: 4g | Cholesterol: 23mg | Sodium: 148mg | Potassium: 23mg | Sugar: 10g | Vitamin A: 180IU | Calcium: 15mg | Iron: 0.6mg
Pin it for Later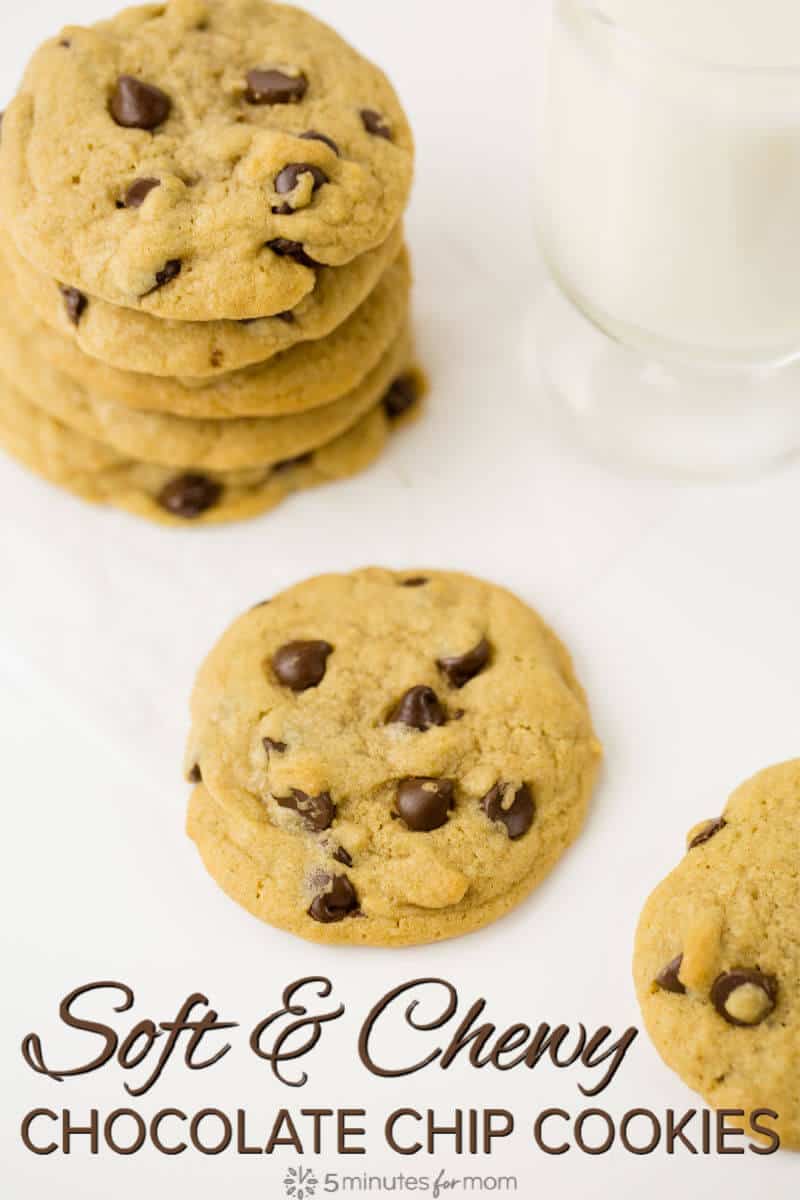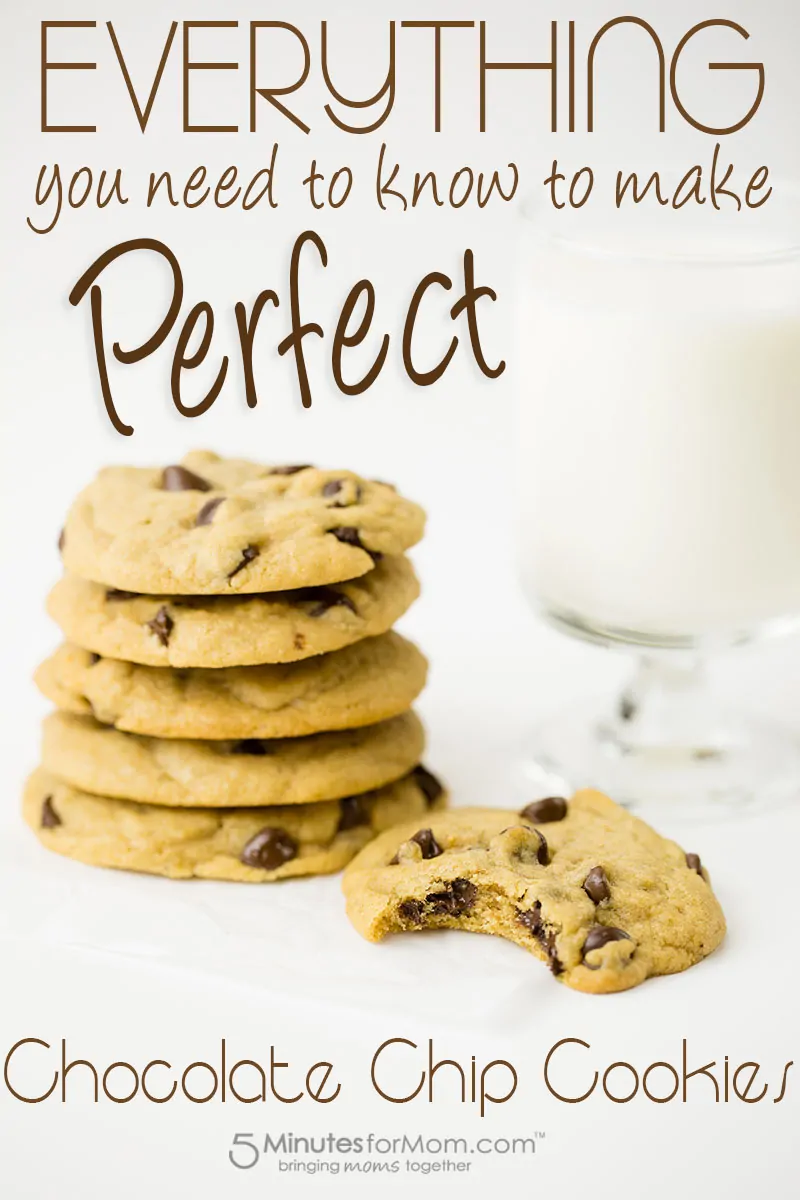 Written by Janice Croze, co-founder of 5 Minutes for Mom
Talk with me: @5minutesformom and Facebook.com/5minutesformom
Pin with me at pinterest.com/5minutesformom