This post may contain affiliate links. Read my disclosure policy here.
Do you love to garden? Whether you have a big or small garden, whether you've been gardening for years, or you are a beginner looking for spring gardening tips, you'll want to check out these ways to get your garden ready for spring… especially the one gardening product you can't start this season without! This post is sponsored, so extra thanks for reading and sharing.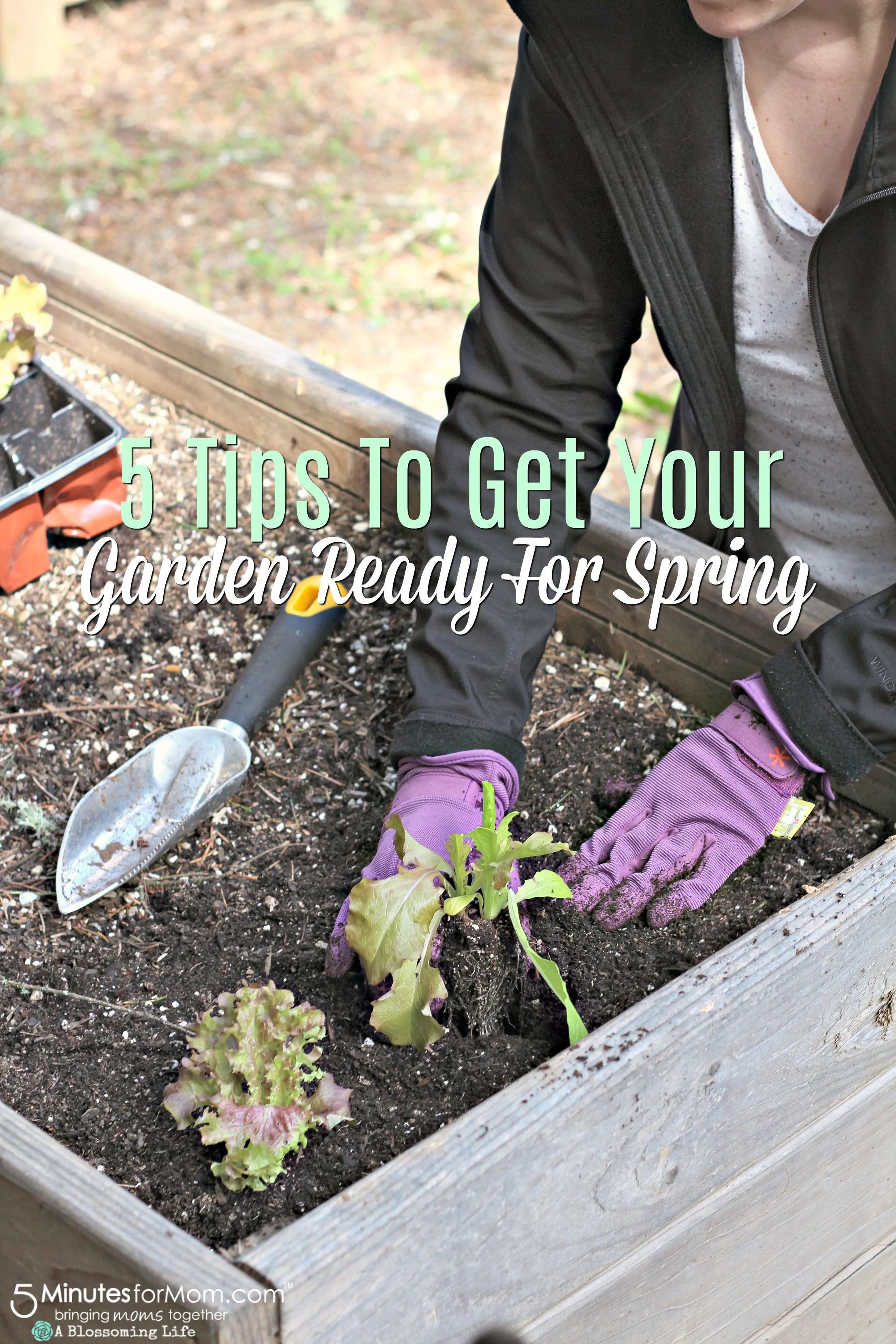 Hey, I'm Amy! A work at home mom to two young kids, with a master's in nutrition, and a self-proclaimed urban homesteader wannabe. I love getting in the garden and growing our own food. Something about it is so refreshing and the hard work is gratifying. Since it is springtime you will find me out in the yard gardening, getting ready my garden ready for spring, preparing the garden to plant veggies, and sprucing up the yard.
You need great gloves for gardening and these gardening gloves from Dig It® couldn't have come at a better time.
A few weeks back we shared this DIY Mini Garden because our new home didn't have a dedicated gardening space yet and we've been working hard on creating one. Which is just that… HARD work! We have so many big plans for our yard, and all of them require a lot of work. Hello, chicken coop (and maybe a goat barn, if I could just convince my husband).
Spring Gardening Tips
Since spring is here, it's time to start thinking about your spring garden! Here are a few spring gardening tips to get you started.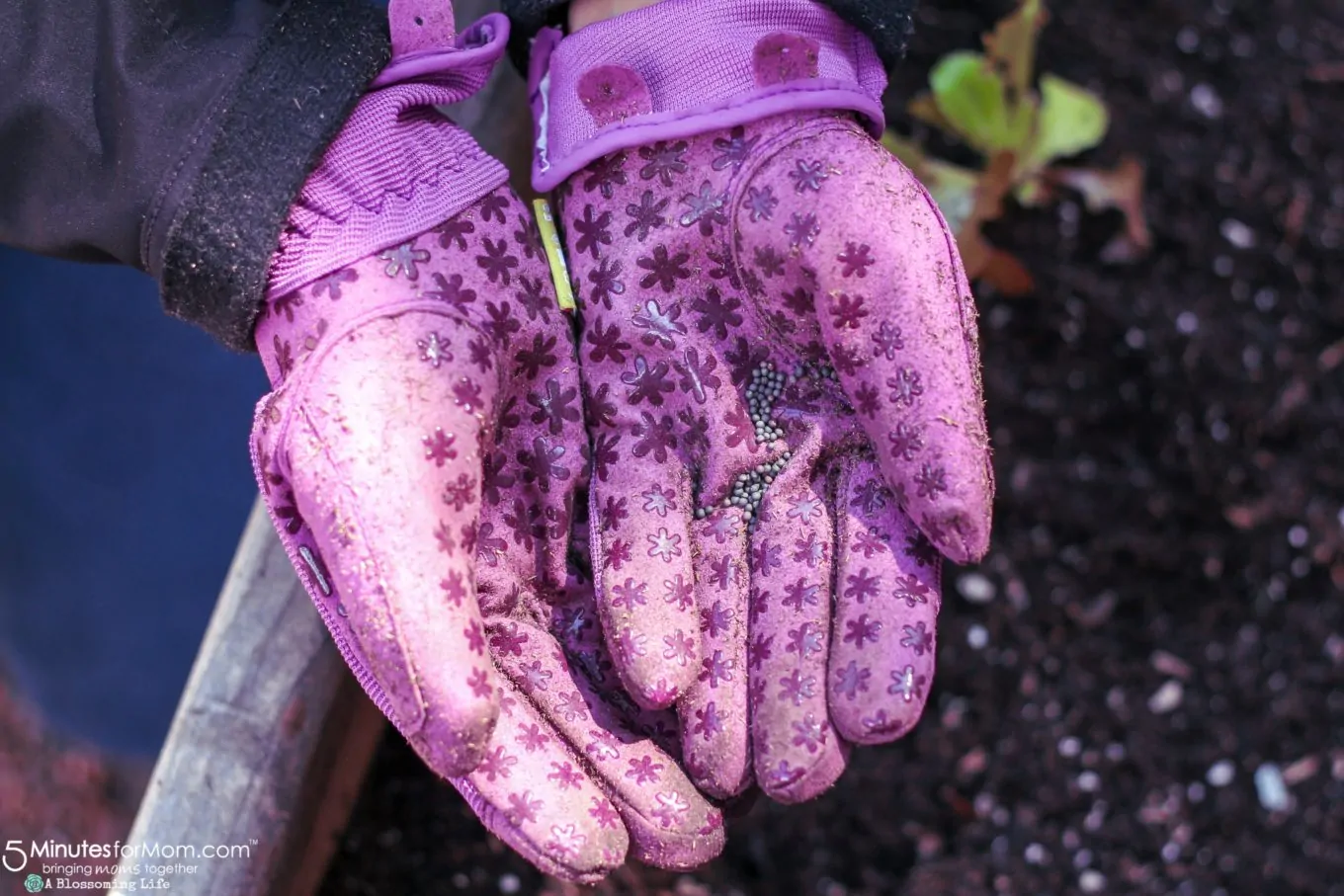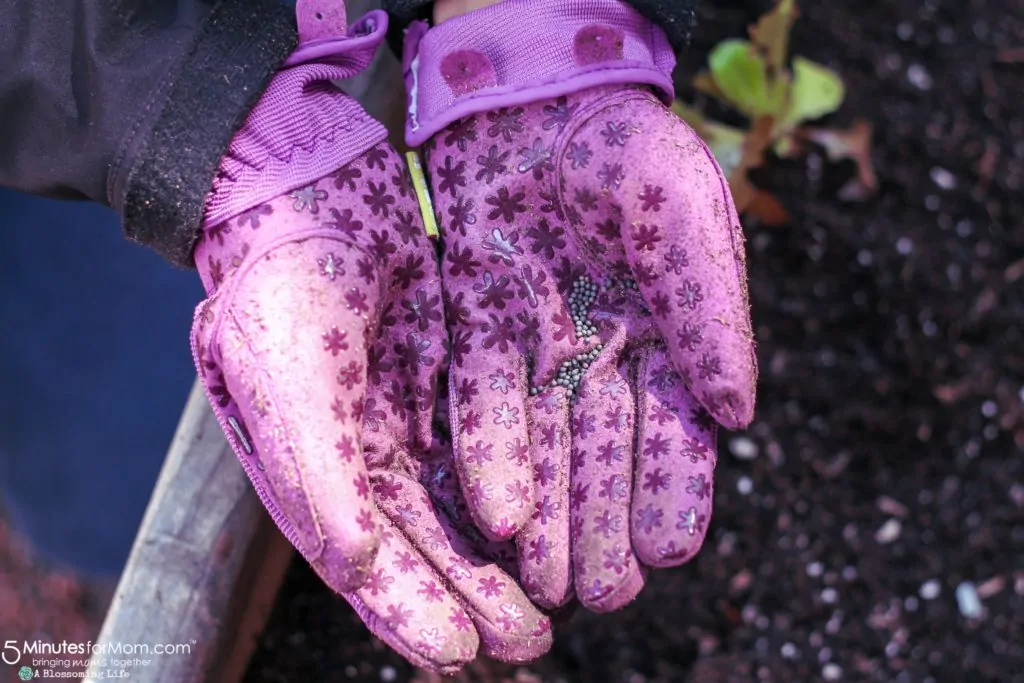 5 Ways To Get Your Garden Ready For Spring:
Prepare your garden tools: It's important to clean tools with soap and water, oil wooden handles and squeaky trimmers, and fix or replace any broken tools. If metal tools are rusty and/or muddy scrub them with a wire brush. Stubborn rust can usually be removed with steel wool or fine sandpaper. The worst is when you go to use something only to find it not working. Save yourself a headache and get all your tools ready ahead of time.

Prepare the ground: Good soil is important for a healthy garden. Healthy soil produces more productive plants. Preparing your soil is one of the most essential spring gardening tips. To get your soil ready for spring clear out weeds, turn over the soil (I like to use a small gardening fork) to loosen it up and add oxygen, and mix in some fresh manure or compost to add nutrients. Your plants will thank you.

Create a plan: Figure out what you plan to grow, where each plant will go and check the farmers' Almanac to see which plants work well together and which ones don't. Create a layout of your garden and draw in each plant where you want it to go. Check out square foot gardening to see how much space is needed for each plant. You can really fit a lot of plants in a small space.

Start planting: Find out what zone you are in and the last frost date to figure out when to start seeds indoors when you can transfer those plants outdoors, and which plants can be directly sown outside. Start seeds indoors like peppers, tomatoes, melons, etc. You can start some cold tolerant plants straight in the ground like lettuces, peas, broccoli, spinach, and kale in the spring. Spring is also a great time to plant trees and shrubs.

Maintain it: I've been known to overplant things and then leave them for the birds because I just can't keep up. This is may be one of the most basic, but important, spring gardening tips… maintain your plants, pick fruits and veggies as they ripen, and weed frequently. If you have kids, get them to help. My two year old loves to help in the garden, especially picking the vegetables, and even picking weeds. Just keep an eye on children or else they may pick plants you want to keep. I couldn't tell you how many unripe tomatoes my two-year-old accidentally picked last year.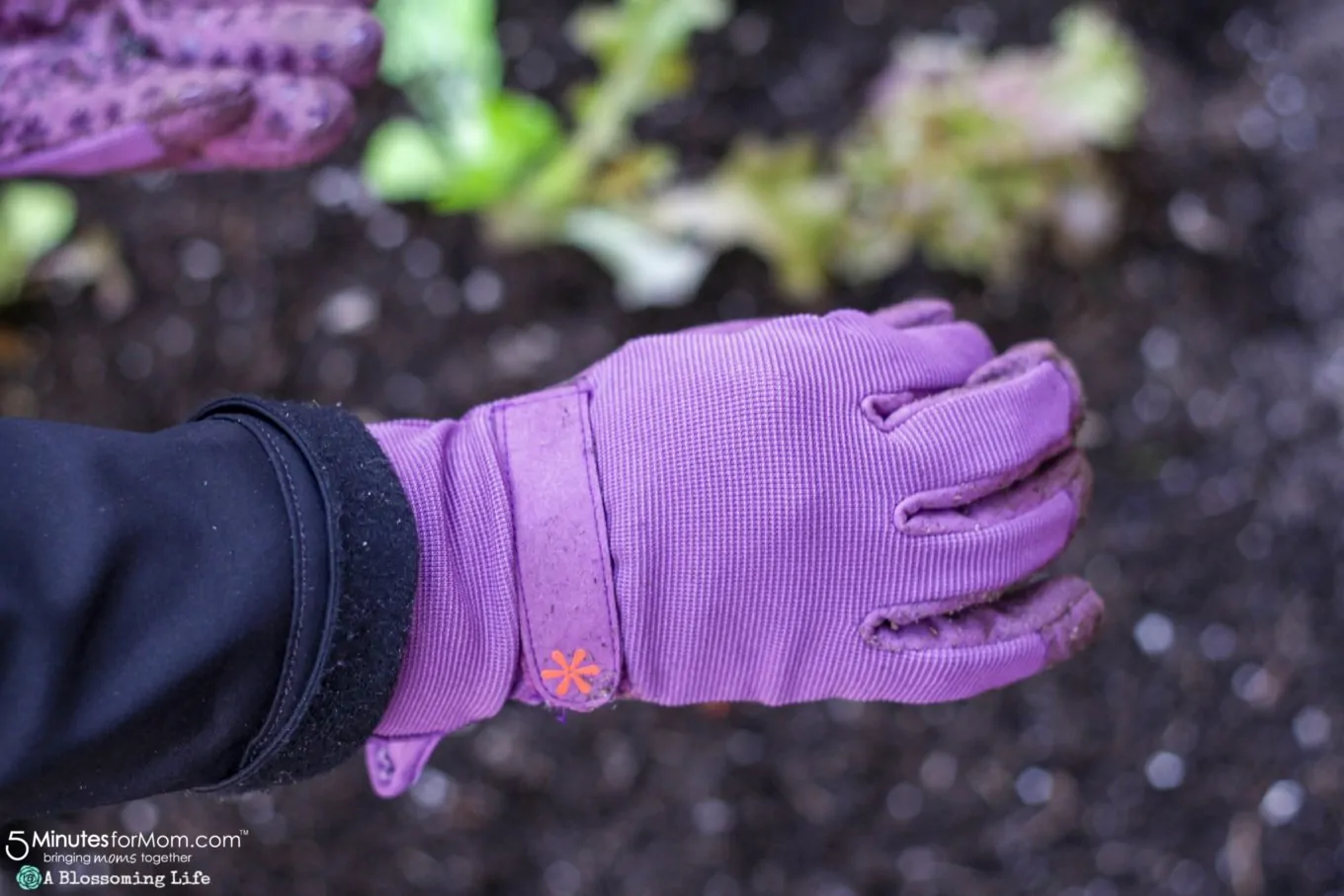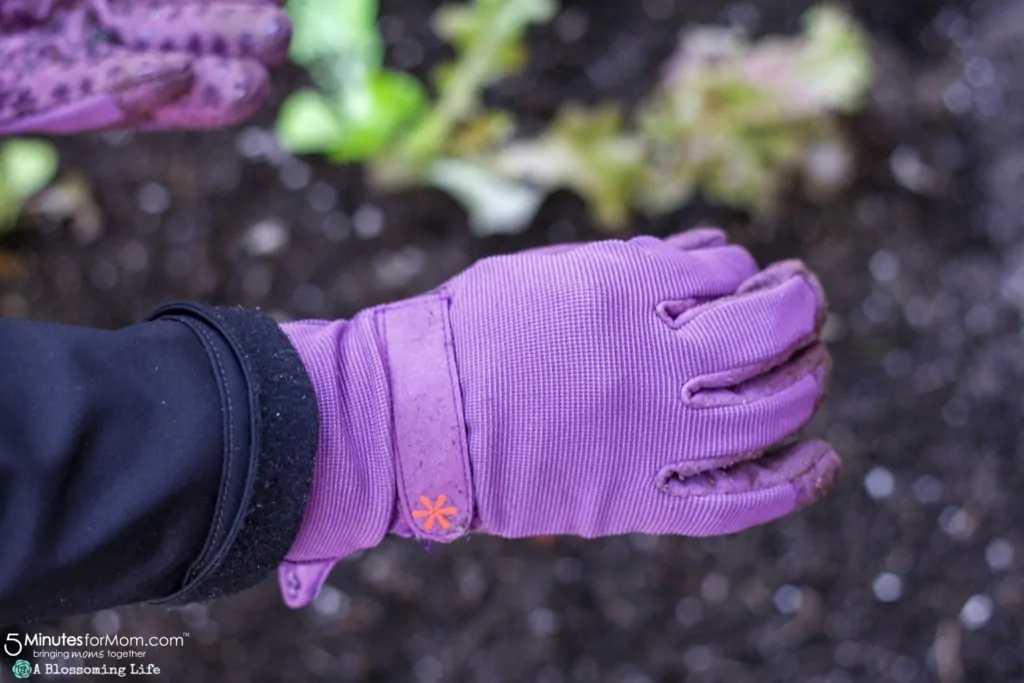 Top Spring Gardening Tip: Get The Best Gloves!
Having the right gardening gloves makes the job so much easier.
Through the years I have tried many, and I mean MANY, gardening gloves. A few years back, my husband bought me these really nice leather gloves hoping they would outlast all the other ones that lasted less than one season before falling apart. But I continued to have the same problem. The tips of the fingers continue to wear out easily and dirt gets into the seam leaving you with dirty, chipped fingernails. Which is no good.
Any gardener will tell you what gardening does to one's hands and nails. It doesn't take long for your hands and nails to become dry and cracked. I wore those leather gloves not that long ago and kept getting thorns in my fingers…ugh. Talk about a painful situation.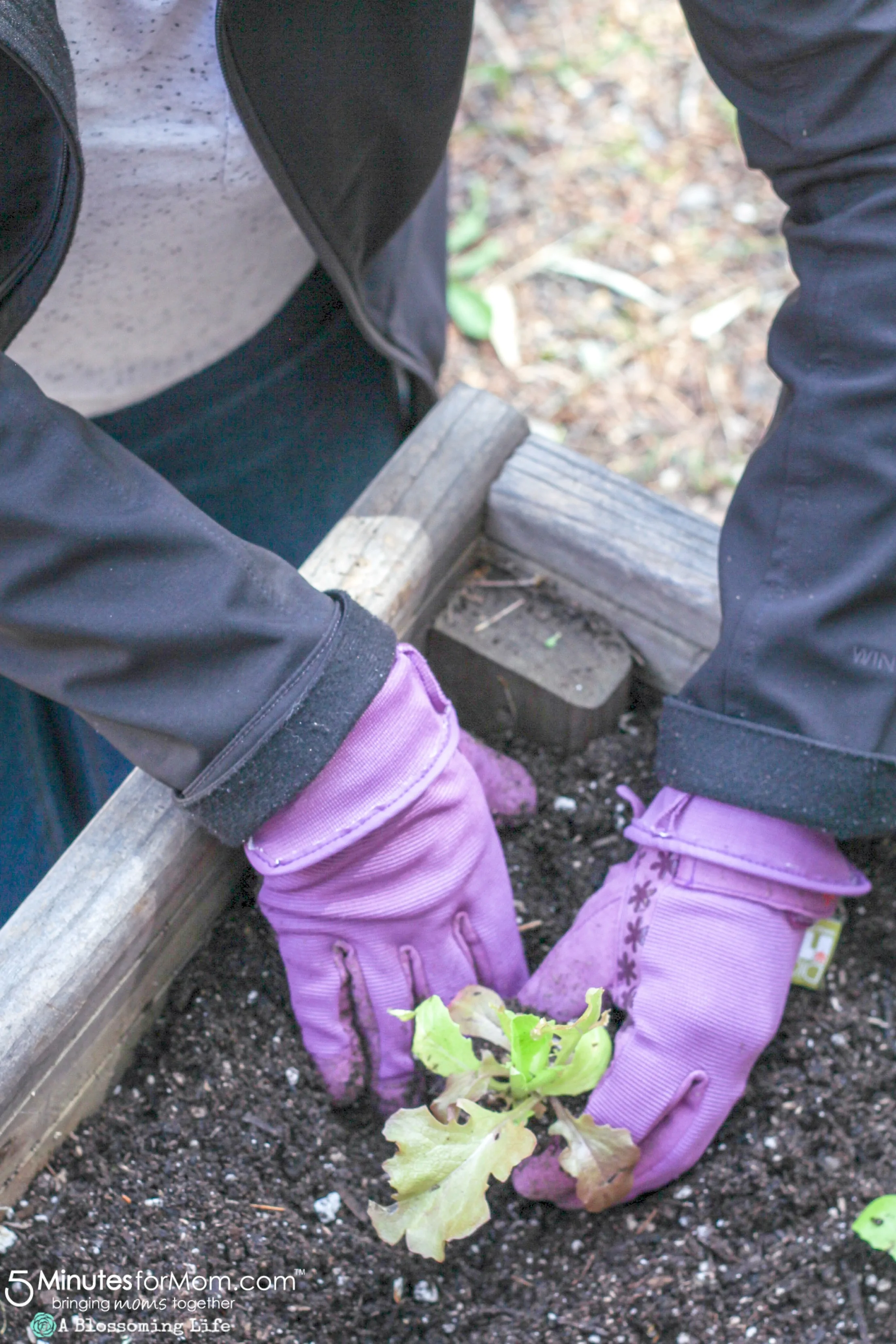 That's why I love the Dig It® Handwear utility gloves. They have pillow top padded finger tips saving your fingernails and manicure. They help protect your hands from the dreaded gardener hands. When I first tried them out, I was expecting the same problems as that of all the gloves in the past. However, I was amazed that my fingers and hands were safe from the dirt.
Yes, I think my best gardening tip is to protect your hands with these gloves.
Dig It gloves are really comfy, snug and form-fitting (the good kind of tight-fitting, not the I-can't-button-my-jeans kind of tight), and I love the non-slip silicone texture added to the palms that make working in the yard easier. And with the extended wristband and velcro closure, it helps keep dirt from sliding into the wristband and into the gloves. Which, by the way, is the WORST. Anyone else hate when that happens?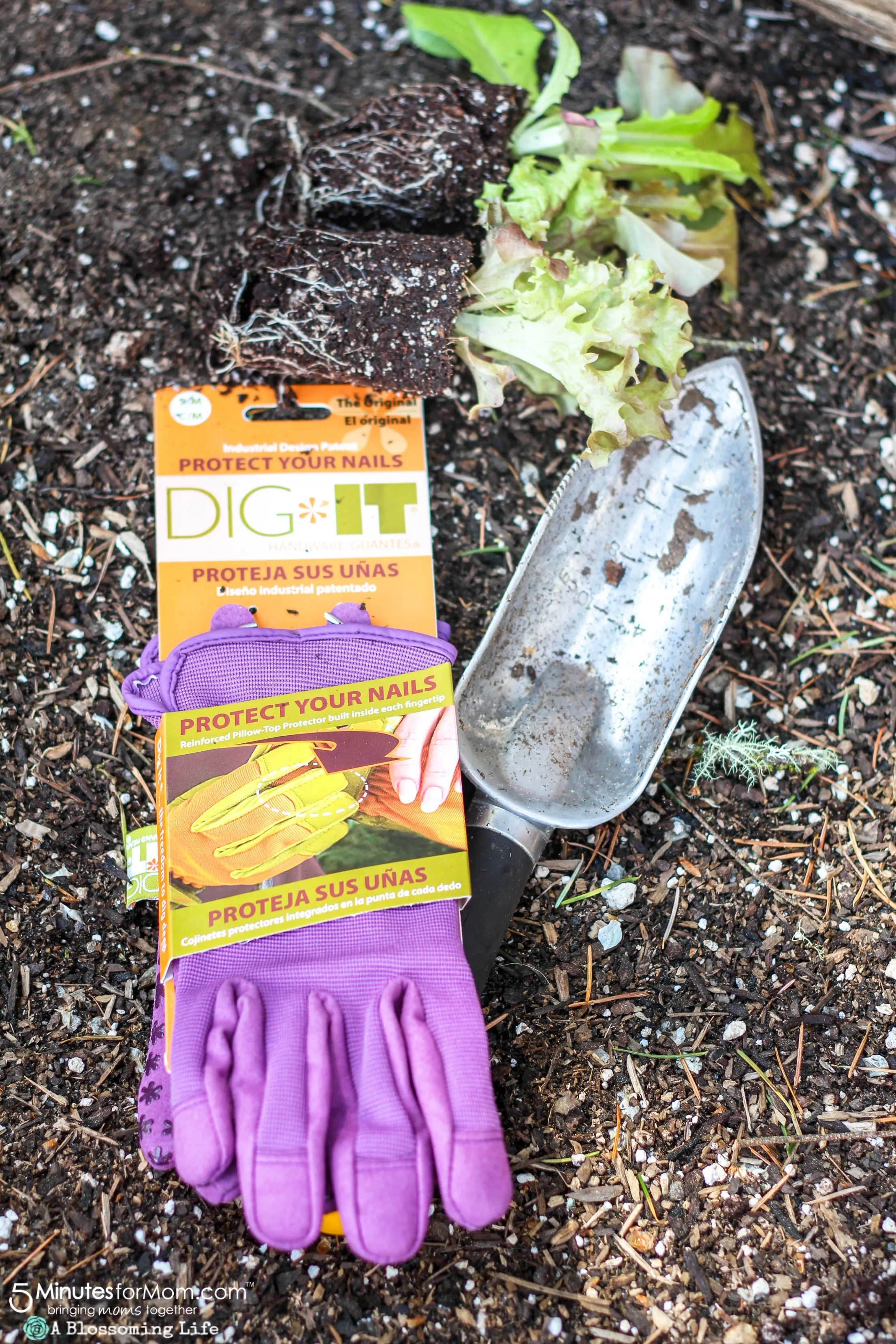 I was very pleasantly surprised by how clean my hands were when I took the gloves off. Gardening win! Clean hands and perfect nails!
These Dig It gloves are definitely my new gardening glove of choice and, trust me, I've tried every kind of glove. These are the winners. Now, on to building that chicken and goat area…
DEAL ALERT: You can get 10% off your order, when you sign up for the Dig It newsletter.
Disclosure: This post is sponsored and Amy received a sample to review.
Written by 5 Minutes for Mom contributor, Amy Knight. Amy blogs about crafts, gardening, all things frugal, real food recipes (usually healthy :), and random things from her crazy life at A Blossoming Life.
Talk with us: @5minutesformom and Facebook.com/5minutesformom
Pin with us at pinterest.com/5minutesformom