This post may contain affiliate links. Read my disclosure policy here.
Are you a blogger? Whether you have just started a new blog or you've been blogging for over a decade, you are going to want to get on Mix!
Mix is a new site where you can discover, collect and share content. Everyone can use mix, but if you're a blogger, you especially want to get started with it right now!
If you used to use StumbleUpon, that site has now closed and merged with Mix.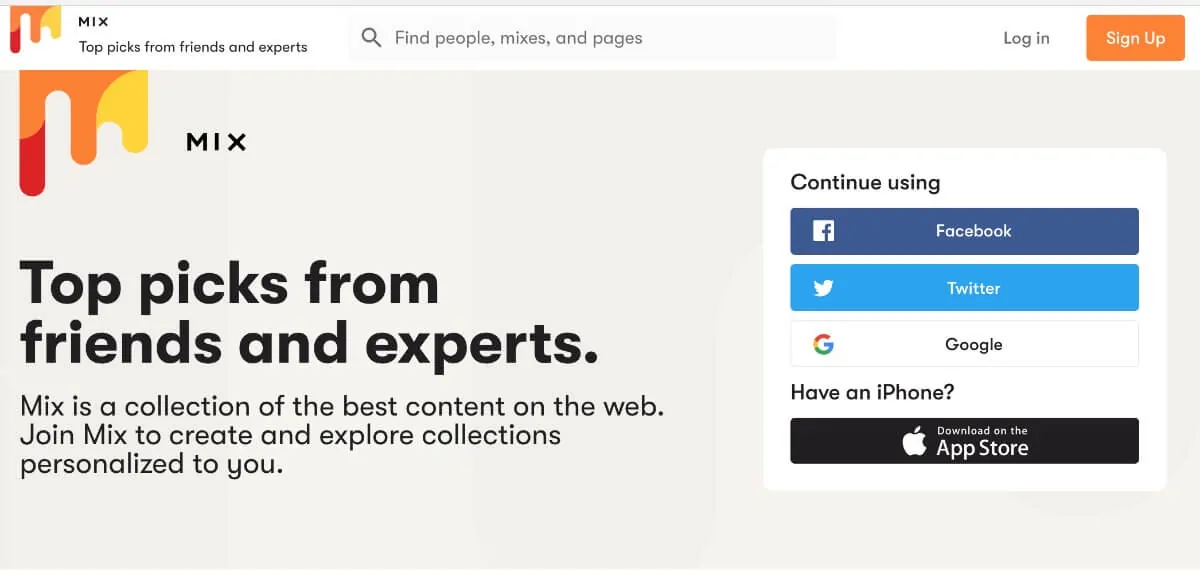 As bloggers, ultimately we want traffic. Social media channels are critical for networking and growing your influence, but what we all want more than anything is traffic to our websites.
So which social media channel sends you the most traffic?
Pinterest, right? The reason Pinterest brings us all so much traffic is because it's NOT a social networking platform… it is a content discovery platform. They call actually call it a visual discovery platform.
People spend time on Twitter and Facebook talking (and fighting) but they aren't clicking through to very many websites and more importantly they aren't saving website links to visit later. And people spend hours scrolling through photos on Instagram, but for most bloggers, Instagram doesn't send much referral traffic to their blogs.
When people started saying Snapchat was going to be huge and important for bloggers and businesses, I groaned.
I did NOT have time to build another social network. And I did not want or need another social channel. (And I'm relieved that the hype didn't turn out to matter.)
But when I recently heard about Mix… I was THRILLED.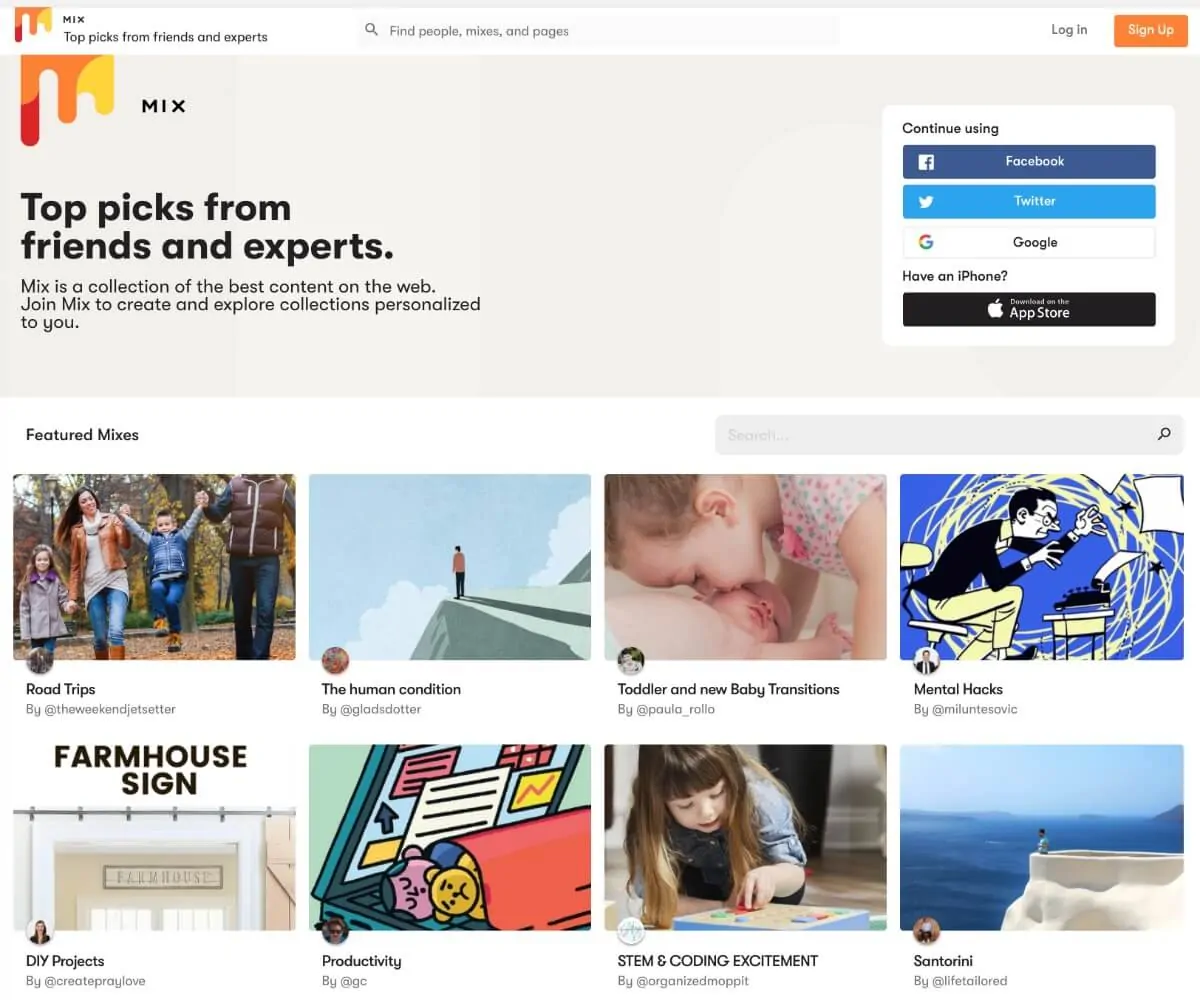 Bloggers, Meet Mix – Your New Traffic Source
While I don't want another site to chat with friends, I do absolutely want another source of traffic to my blog.
I can't handle more streams of conversation, but I definitely can handle another place to save and share awesome content with more people.
Pinterest is our blog's best source of traffic and I don't expect anything to replace that in the near future… but if there is another pie that tastes even a little like Pinterest, I want a slice!
I realize that are many sites out there that have tried to copy Pinterest or offer something similar. I have an account on Flipboard for instance, but I almost never use it.
When I heard that the folks behind StumbleUpon launched Mix, I knew I wanted to be one of the first and most active accounts on their new platform.
I've used StumbleUpon for years and it does consistently bring our blog some traffic. And since they are a longstanding company with the infrastructure to make a new platform work, I'm betting on them.
I'm betting on Mix by taking a few minutes everyday to consistently add content to my Mix boards and follow other boards. I mostly add other people's content to my boards and I add some of my own.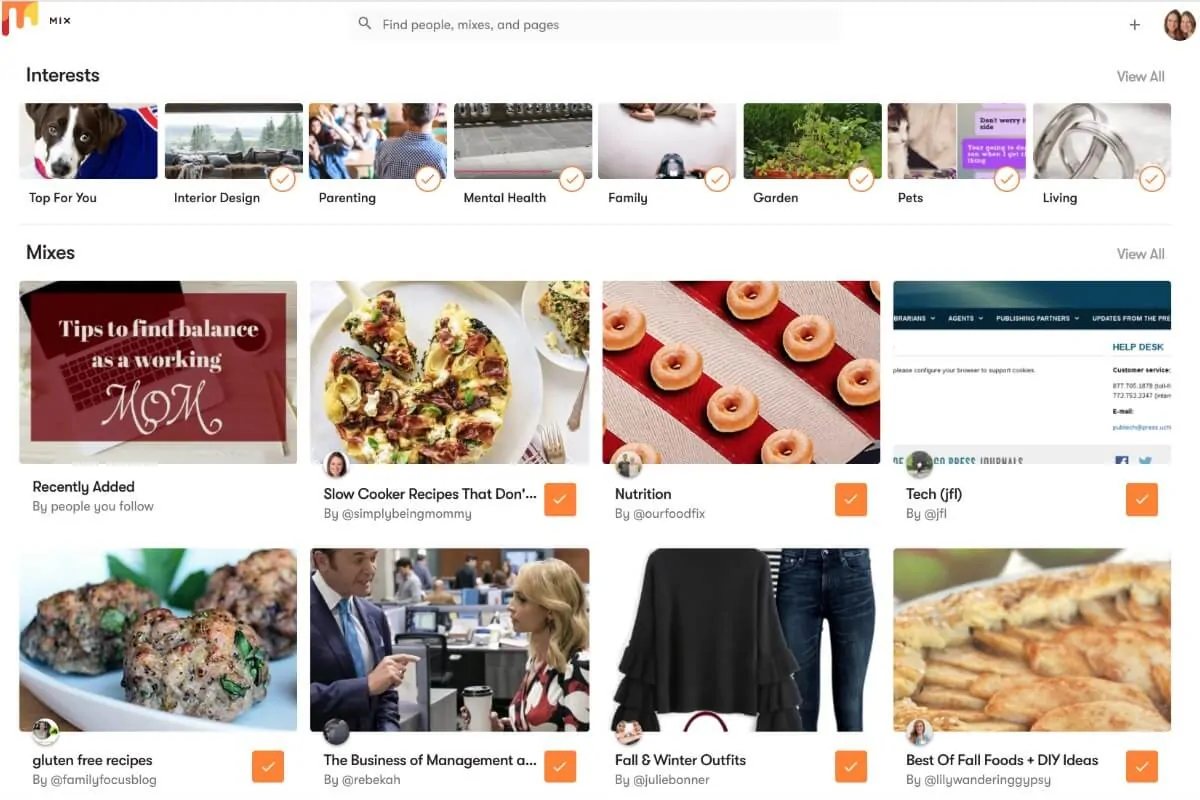 As I do on Pinterest, I ensure that every single article I add to Mix is high quality.
Most of the content I add comes from other bloggers, but I also add interesting articles from news and other large media sites.
I like that Mix isn't a copy of Pinterest.
Images are important on Mix, but I think the headlines of articles are just as important. Mix uses more traditional horizontal images and shows the headline of each article prominently. As a result, I tend to read the headline as well as look at the image to judge whether I want to click through and/or Mix the article. Whereas on Pinterest, I judge the image far more than the headline.
Another positive side effect of the horizontal images and headline prominence is that you can share strong articles that don't have "pinnable images".
For those of us who are bloggers, we carefully craft vertical images often with a headline right on the photo so that our posts can be pinned and will perform well on Pinterest.
But there are millions of quality articles online that I'd like to save and share that don't have "pinnable images".
Mix allows me to save and share every type of webpage.
Check out our Mix boards to see what I mean.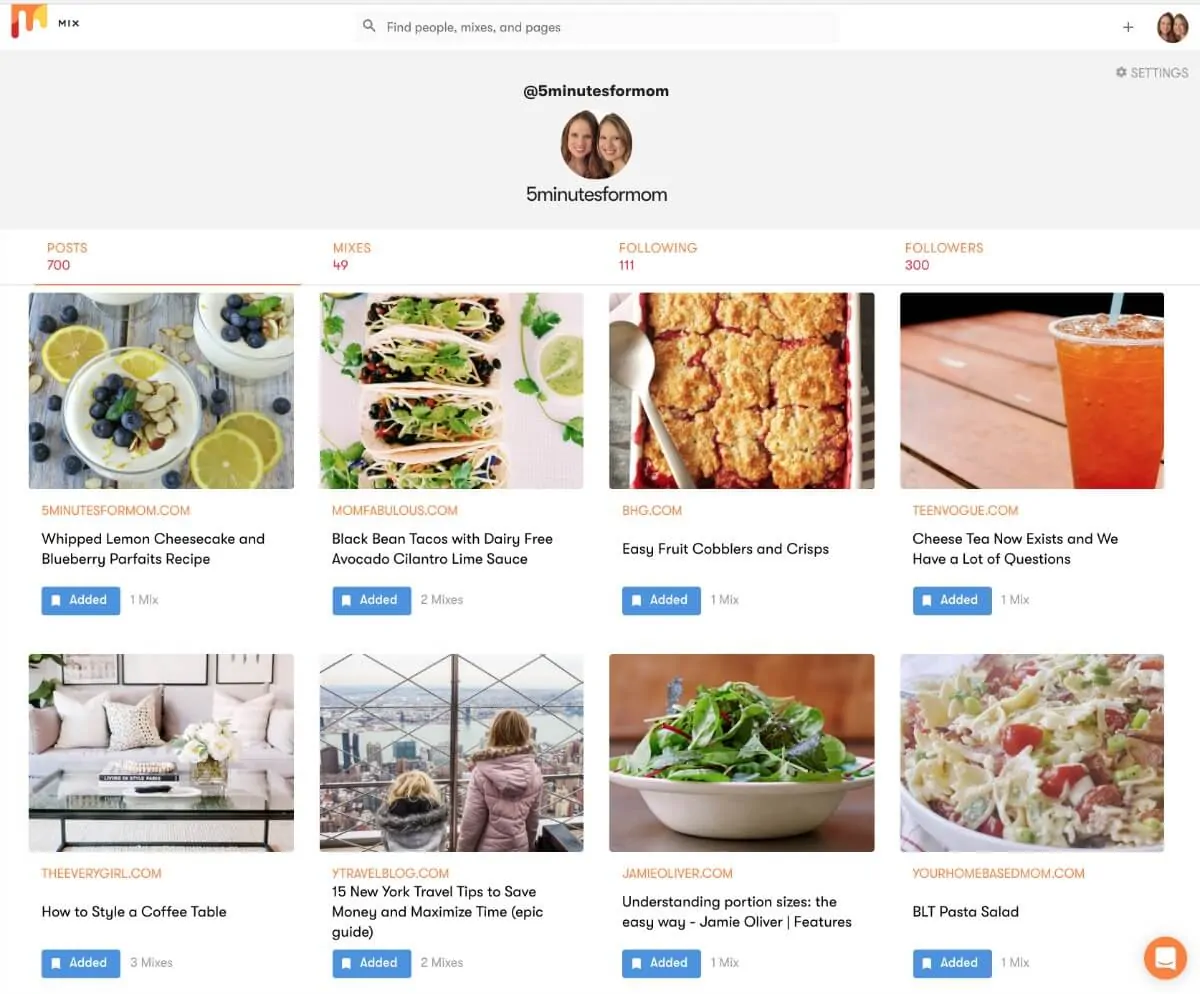 Mix Referral Program
If you're a blogger who wants more traffic, then Mix is for you.
Mix is going to grow and be an awesome source of traffic to your blog.
But in the meantime, while it's getting going, you have a way to earn extra income right now!
Since Mix is in its early days, they are offering incentives to bloggers like us to help their platform grow with quality users and top-notch content.
So they are offering incentives Mix Referral Program.
The Mix Referral Program is actually a Win/Win/Win.
Win #1 – Building A New Following
I get that it can feel overwhelming to sign up for a new platform and start at 0 followers. We've spent years earning 84K+ followers on Twitter, 40K+ followers on Pinterest, and 27+ followers on Facebook. So I can feel the pain of joining a new site and starting at 0 followers.

But, if that new site is going to grow, you're better getting started today than waiting until tomorrow.

I beat myself up every day for procrastinating getting started on Pinterest. If I'd started when I first heard about it, I could have had a million followers by now.

I have confidence that Mix is going to grow and I'm going to be one of those who was there from the start.

Win #2 – Getting Your Own Content On A New Platform

On Twitter or Facebook when you share a link it goes away pretty fast.

But when you add your content to your Mix boards, it becomes part of something bigger. Your blog post can then discovered by more people and added to other boards.

Just like on Pinterest, when you add one of your blog posts to Mix, you are investing in future page views.

Win #3 – Earn Extra Income

And in the short term, you earn income from referrals.

You work hard to create fantastic content, so it's always great when new people discover your blog.
Go here to receive full details on the Mix Referral Program.
For any questions or additional info email [email protected].
We Want To Follow You On Mix
We definitely want to follow you on Mix. So once you sign up for an account (it's free of course), leave us a comment with your Mix profile name.
You can follow us at mix.com/5minutesformom.
Pin it for Later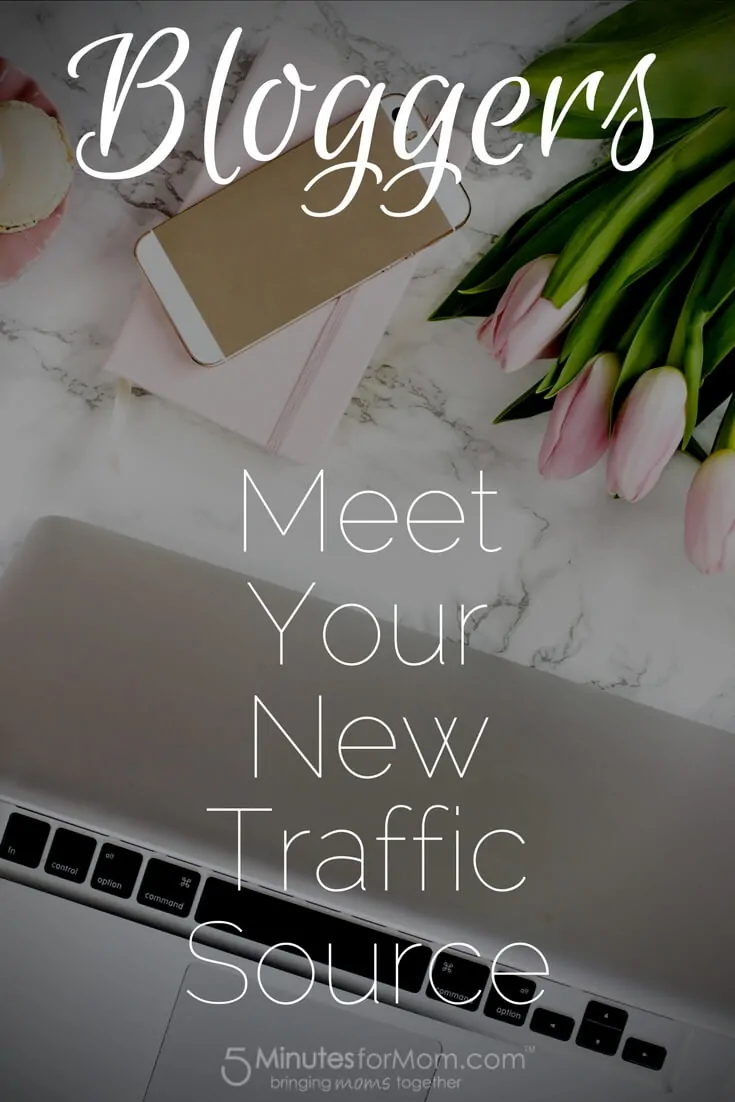 Disclosure: The folks at Mix provided us with StumbleUpon ad credits to thank us for sharing about their platform and we are part of the Mix Referral Program.
Written by Susan Carraretto, co-founder of 5 Minutes for Mom
Talk with me: @5minutesformom and Facebook.com/5minutesformom
Pin with me at pinterest.com/5minutesformom