This post may contain affiliate links. Read my disclosure policy here.
Does your dog let you brush his teeth? Did you know that your dog's dental health, including brushing your dog's teeth, is crucial to your pet's overall well-being?
Poor dental hygiene doesn't just cause bad breath for your pooch, it can cause plaque build up, tartar, gingivitis, periodontitis, and tooth root abscesses. Dental problems can even contribute to critical health problems such as bacterial infections that can affect organs such as the heart and kidneys with extreme cases resulting in death. So for National Pet Dental Health Month, our sponsor Petcurean wants to help us help our pets clean their teeth!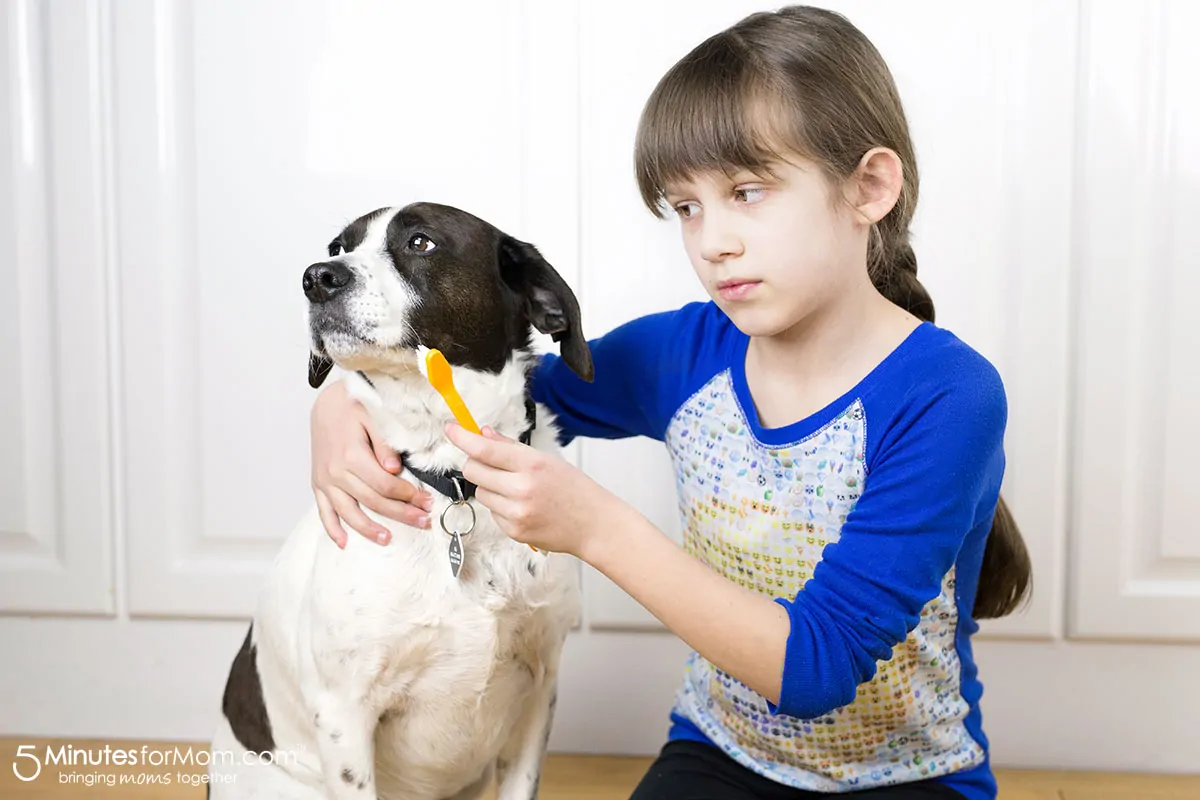 You feed him, brush him, wash him, walk him. You pick up his poop in little compostable bags. You take him to the vet for check-ups, vaccinations, and whenever he is not feeling quite like himself.
But, when was the last time you brushed your dog's teeth???
If you face just flushed with a rush of pet parent guilt, you are not alone!
Apparently, about 95% of pet owners don't regularly brush their pet's teeth.
It makes sense why most of us struggle with brushing our pet's teeth.
It is not like any of us has extra time on our hands. I feel like a parenting hero when my kids brush and floss their teeth before bed.
The last thing on my mind at 9 pm while I tear around the house, cleaning up the dinner dishes, scooping up dirty laundry and corralling kids into their rooms, is trying to convince our dog to let me stick a toothbrush in his mouth!
Yes, I have to confess, AJ's toothbrush doesn't see much action.
AJ will put pretty much anything in his mouth. I won't even begin to list the foul and crazy things that beagle mutt has chewed on or ingested.
And yet having a toothbrush in his mouth is totally unacceptable to him.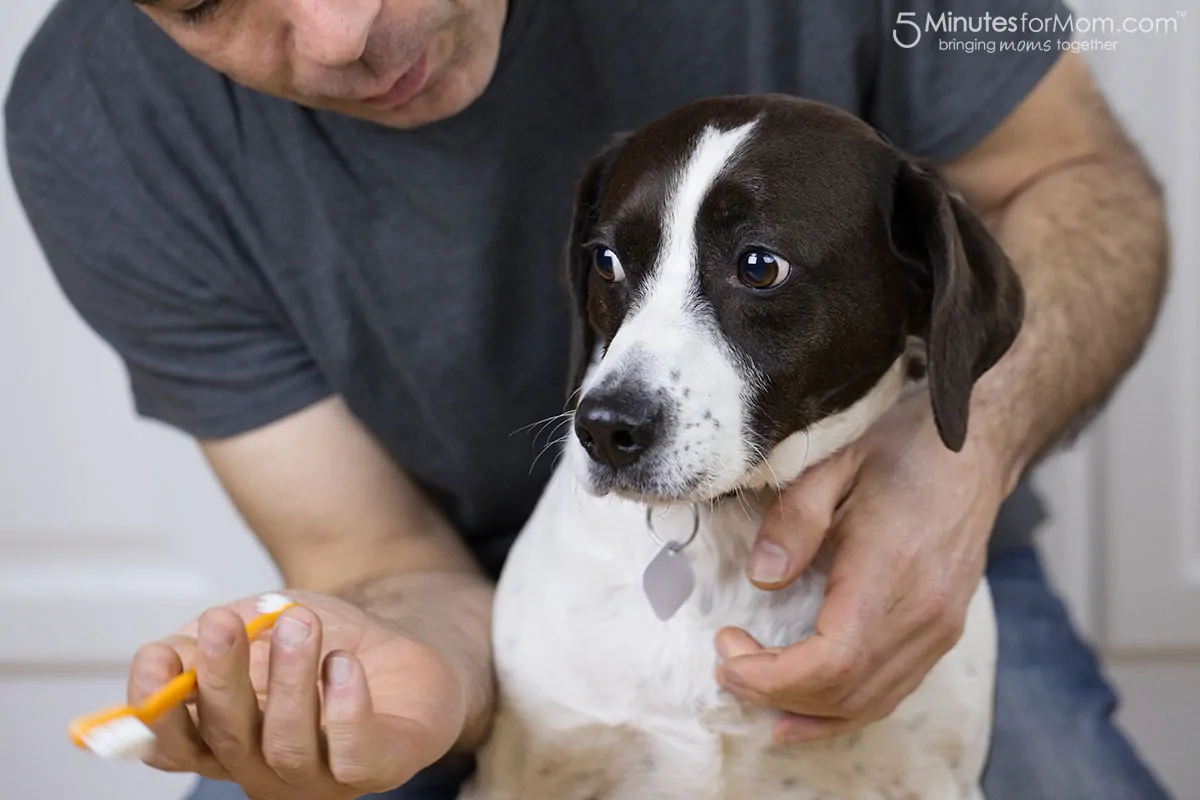 But I know how critical it is that a dog's teeth are cleaned and well tended.
So what do we do if we have a pet who is less than enthused about having his teeth brushed? How can we ensure our pet's teeth are healthy?
Tips to Clean And Care for Your Pet's Teeth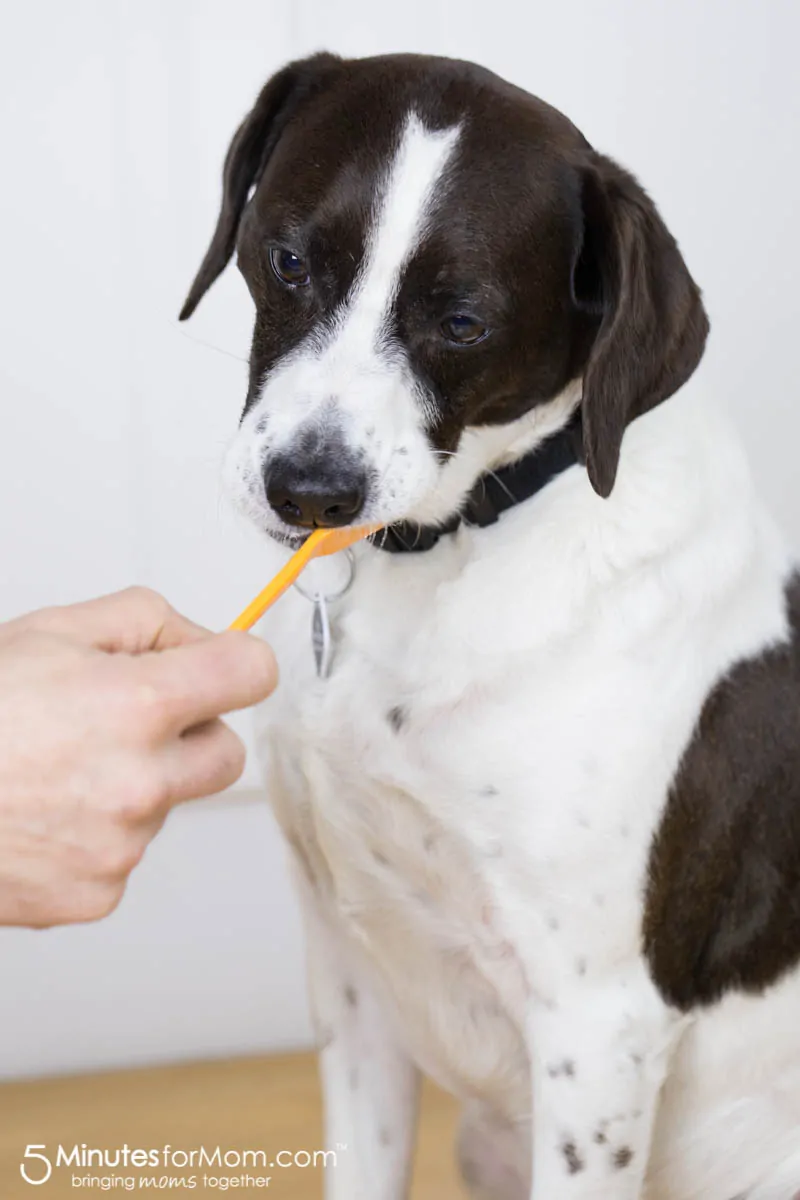 1. Start Them Young
Ideally, as soon as your new pet becomes part of your family, you can begin to introduce him to the idea of having her teeth brushed.
You can start by letting your pet get used to having you touch her mouth and teeth. You can use a small finger brush to begin short brushing sessions, allowing her to taste the toothpaste and get comfortable with the process.
On our first visit to the pet store after we picked out our rescue pup, AJ, we bought a toothbrush kit. From my experience with our dogs growing up and with the Sheltie, Jacob, I had in my twenties, I know that dental care is critical.
Jacob had terrible trouble with his teeth and we regularly had to have him put under anesthetic to have his teeth cleaned at the vet.
So, I wanted to make sure our new puppy grew up comfortable with having his teeth brushed.
Unfortunately, when we got AJ I was also an overstretched work at home mom with a two-year-old, a six-year-old, and too much on my plate. I feel terrible admitting it, but I soon fell out of the routine of brushing AJ's teeth.
Thankfully, AJ loves to chew. Our vet routinely checks his teeth and he always passes with flying colours. Phew. After going through so many dental issues with Jacob, at eight years old, AJ's teeth haven't caused him any trouble — yet.
2. Take it Step by Step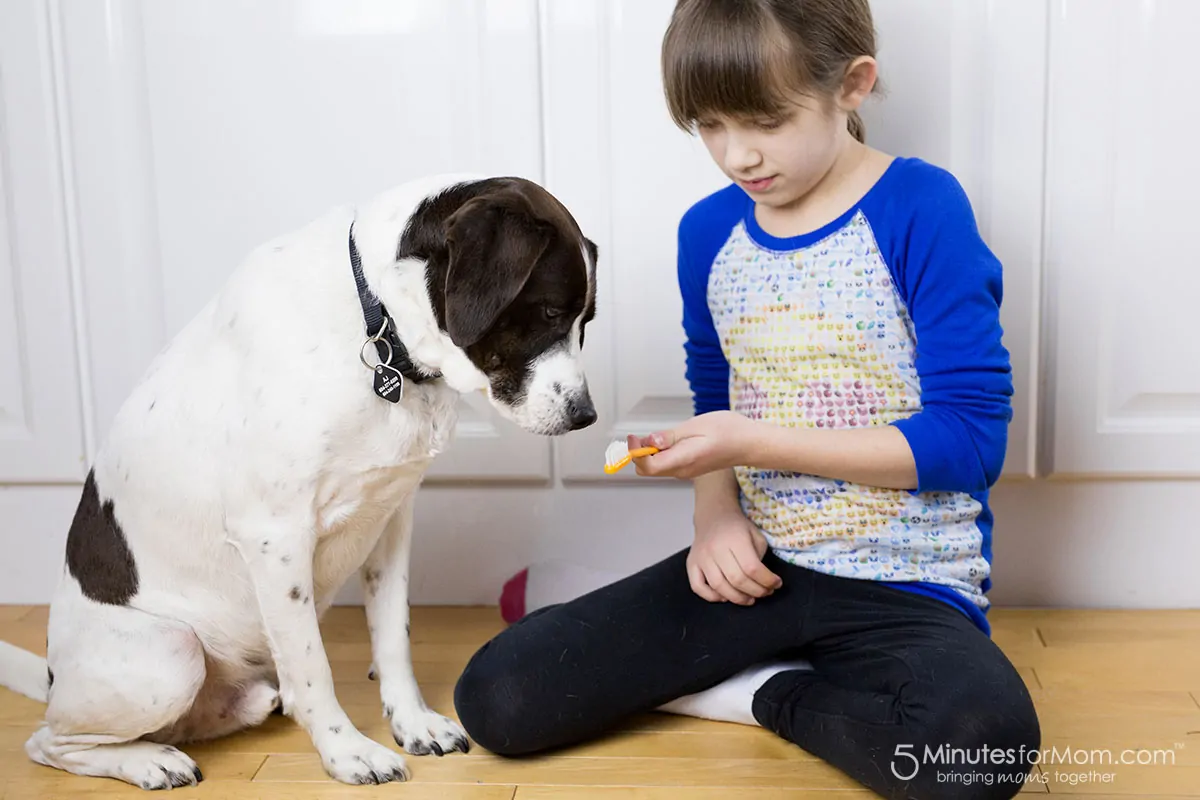 So, what if you didn't start your pet's dental cleaning routine early enough? Or, what if you got sidetracked and your pet is no longer okay with you trying to brush his teeth?
You can start again and take it one step at a time — keeping things positive, fun, and tasty. Yes, treats are a must.
If your dog is stressed or hesitant to let you put a toothbrush in his mouth, start with putting your finger in his mouth, letting your dog taste the pet toothpaste and lifting his lip to expose his teeth. If he accepts this step, you can try to use a finger brush with pet toothpaste.
Alternatively, you can use a thin washcloth, a piece of gauze, or specially designed pet dental wipes to clean or "brush" your dog's teeth.
Please note — if your pet is stressed or you are concerned he might bite, do not continue. Make an appointment to see your vet and follow their advice.
3. Only Use Toothpaste Designed for Pets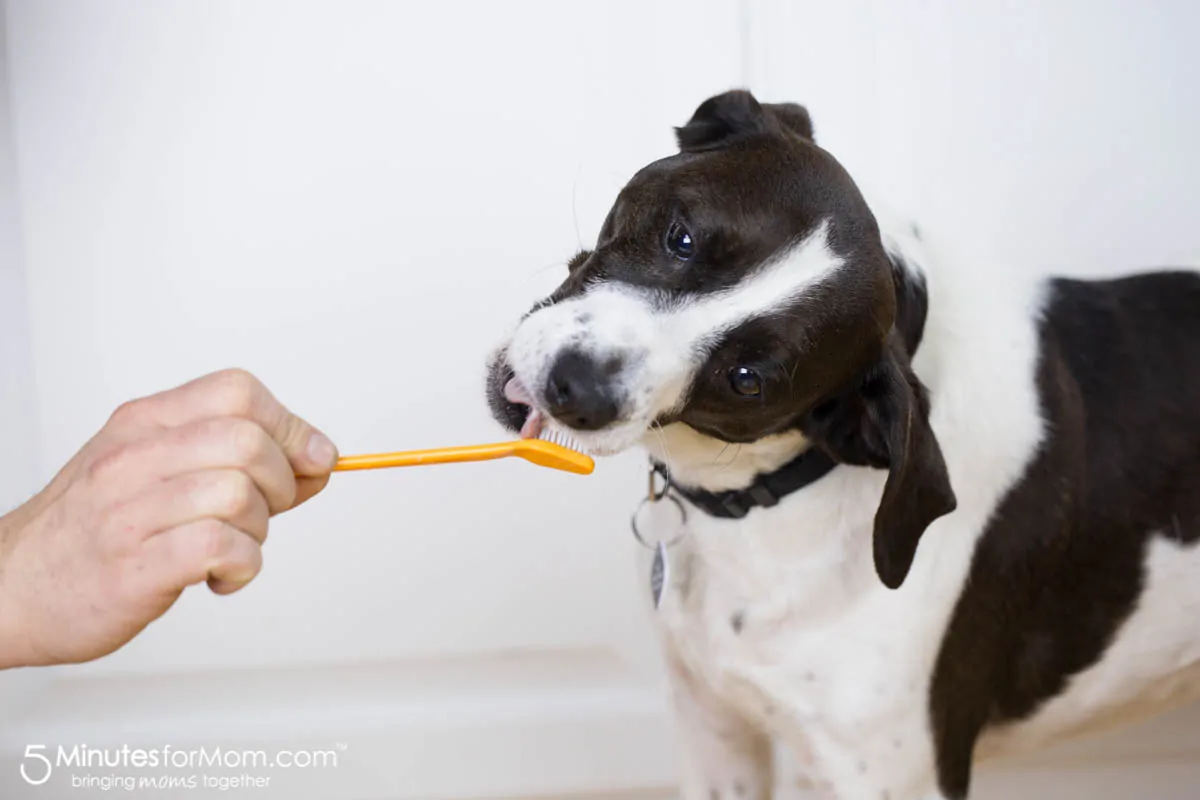 In case you are tempted to give your pet minty, fresh breath with your human toothpaste — don't.
Pets need toothpaste made specifically for them. And my bet is that they will enjoy the poultry or beef flavoured toothpaste more than a mouthful of minty bubbles!
4. Let Them Chew
The best news is that your dog's love of chewing can actually help clean his teeth.
Our vet explained to us that AJ's obsession with chewing everything he can get his teeth on is probably why his teeth have stayed in good condition despite my lack of brushing.
We use a variety of chewing options for AJ, including various bones that are designed to help clean dog's teeth. Chewing to look after his teeth is definitely a win-win situation for AJ.
If you are wondering what plaque preventative products would work best for your animal, check with your vet.
5. Feed Their Teeth
While the ideal situation is daily dental brushing sessions with your pet, you can also look for pet food that supports dental health such as the NOW FRESH Small Breed recipes from Petcurean.

Did you know small dogs are more prone to dental issues? With their small mouths and even smaller teeth, keeping an eye on their dental health can be especially challenging. While manually brushing their teeth is the best option, you can also look for pet food that supports dental health such as the NOW FRESH Small Breed recipes from Petcurean.

The NOW FRESH Small Breed recipes are formulated with ingredients that help support oral health and fresh breath, including sodium tripolyphosphate, which binds calcium to protect teeth from tartar formation. Peppermint and parsley are also included as natural ingredients to promote fresh breath. In addition, the small clover-shaped kibble is one of the smallest in the market, contributing to high palatability, easy chewing, and effective digestion.
6. Visit Your Vet
Regular veterinary care is essential for your pet's health.
If you haven't had your pet's teeth and gums checked recently, pick up the phone and make an appointment. Only your vet can evaluate your pet's dental health and advise you what is best for your dog or cat.
If your dog or cat has dental issues such as broken teeth or appears to be in pain, do not try to brush their teeth. Have your vet check their teeth before you proceed with any dental cleaning.
7. Have Your Pet's Teeth Professionally Cleaned
In some cases, your pet may need to have their teeth cleaned at your veterinary clinic.
Even with regular brushing, some pets still require regular professional dental cleanings. During these visits, your animal is under anesthetic while a member of the veterinary team scales and polishes her teeth, removing tartar build up.
As I said, my Sheltie, Jacob, had his teeth professionally cleaned every year. So far, with AJ the vet has said he doesn't need a professional cleaning yet. Eight years in and I am crossing my fingers and buying plenty of plaque-preventative bones and chew toys.
Exclusive Petcurean Coupon Code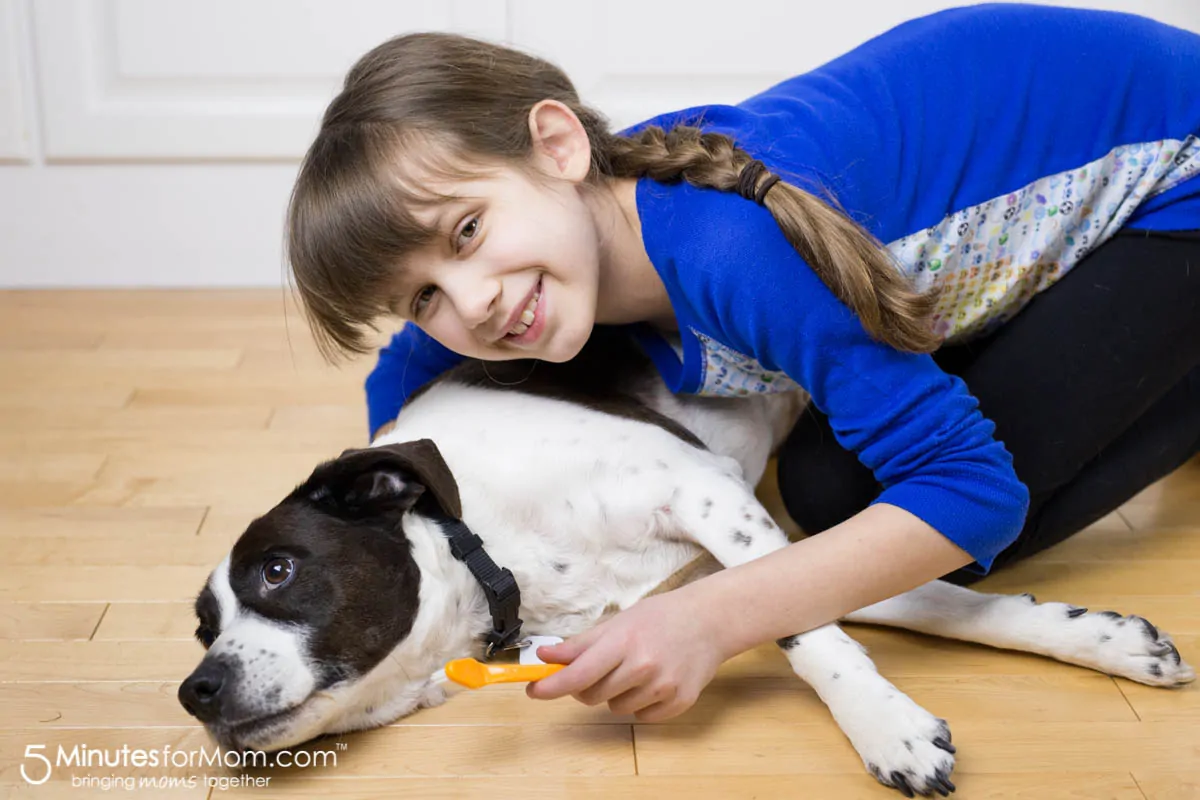 We have an exclusive coupon code for you to try out some fabulous Petcurean dog food!
AJ eats Petcurean every day and loves every single Petcurean food and treat he has tasted.
Visit Petcurean.com/pawsome and use our coupon code PAWSOME3 for $5 off Petcurean kibble.
Written by Janice Croze, co-founder of 5 Minutes for Mom
Talk with me: @5minutesformom and Facebook.com/5minutesformom
Pin with me at pinterest.com/5minutesformom
Your Dog Will Also Love…
Make your dog a super cozy DIY Dog Bed.