This post may contain affiliate links. Read my disclosure policy here.
We are thrilled to introduce you to a totally new type of children's book that is just launching on Kickstarter. Little Me Tomorrow is a handcrafted circular book with a wooden handle that you can personalize for your child. Tanja Hladnik, the author and mother of a 1 year old boy, wrote this story to inspire little ones through a unique experience to help them discover their passions.
Kristen Hale, one of our regular contributors here at 5 Minutes for Mom, had the chance to review one of the prototypes of the new book. So you know, this post is sponsored and Kristen received a sample book.
I'm raising little bookworms and I couldn't be happier. In our family, we LOVE reading. It's a big part of our day… morning, noon, and night, my rambunctious boys are picking out books from their shelf and handing them to me for a story. We like to act out characters using accents — sometimes even singing the words. I love encouraging this because it's what I loved about reading as a child – discovering a whole new world inside a story.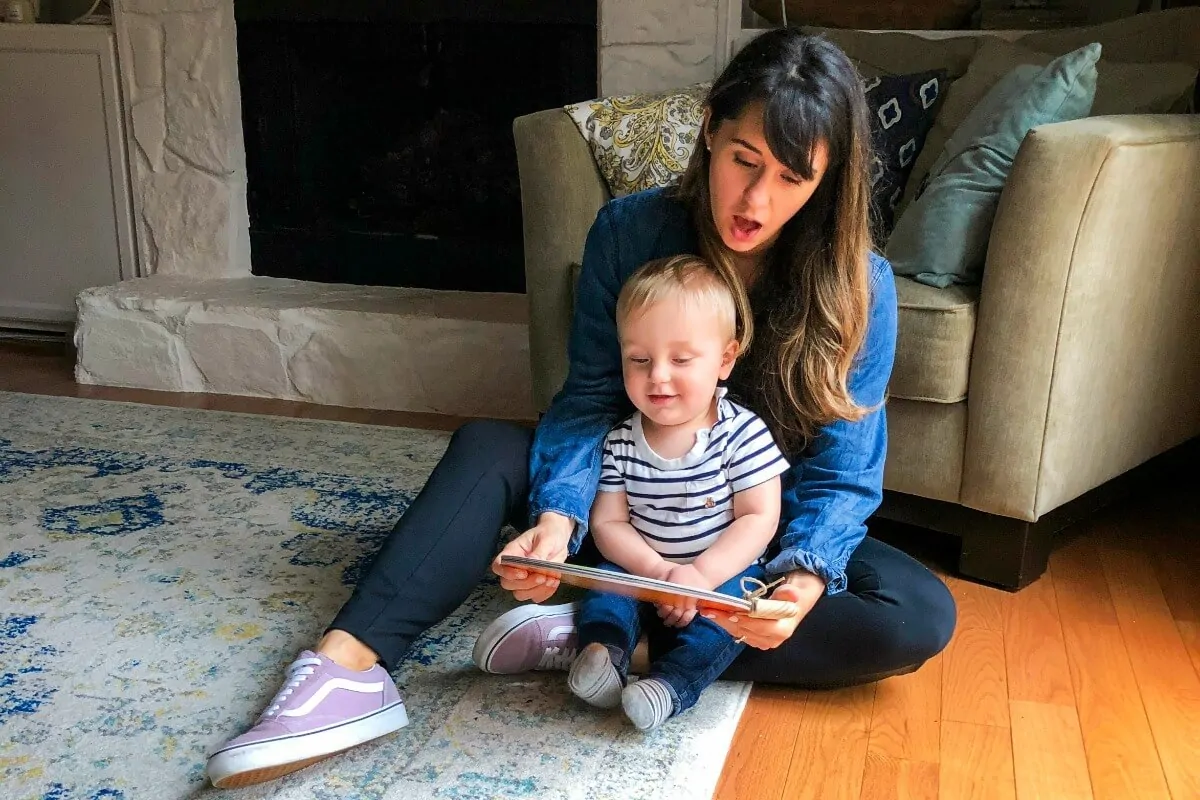 What is Little Me Tomorrow?
When I opened our package containing the book Little Me Tomorrow, I was honestly taken aback by how unusually special this book is.
Fashioned in a unique round shape, the book is held together by a sturdy wooden handle with a custom-engraved script lettering out my son's name – Daxton. You can make the book truly special by adding your own dedication letter, which will be printed on the first page of the book.
The book is constructed with eco-friendly craftsmanship in mind – there isn't even any glue used to hold it together.
It's truly a one-of-a-kind hardback that would make the perfect gift for a child in the 1-10 year old age range.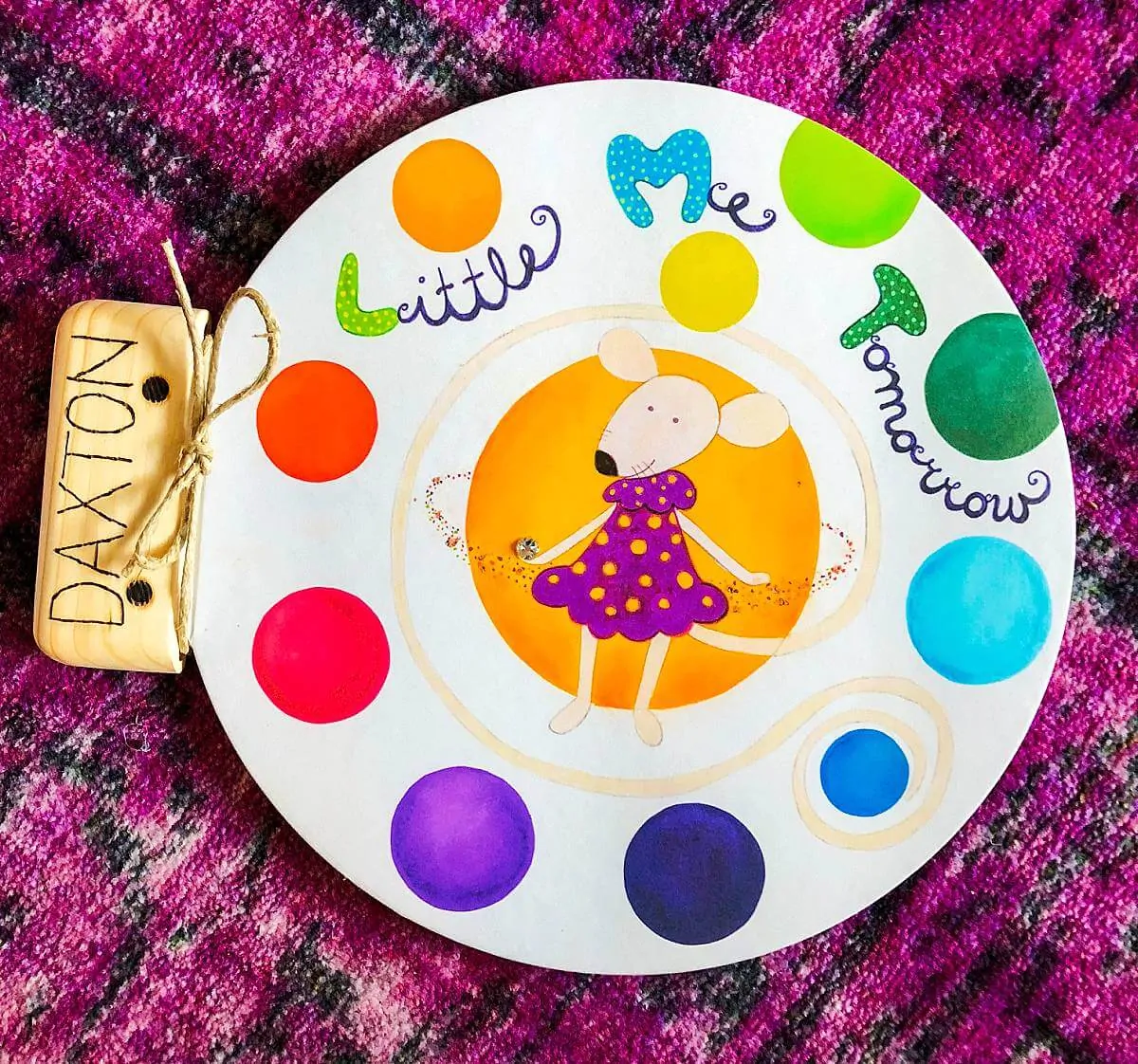 Why is it special?
1. The Contents!
There are so many reasons why this book is enormously special. The circular shape in itself hints that the content within will be just as curiously wonderful. And it is! This book introduces the reader to a bevy of hobbies and provides an opportunity that seeks to spark a future passion within each child – from cooking to snow skiing to snorkeling.
It gives the reader an insight into who they could be – a professional chef inventing new flavors, skier descending from a snow-capped peak, or a snorkeler diving into the Red Sea. The possibilities of their future are detailed in a delightfully bright way.
I love the inspiration this book provides to my little ones.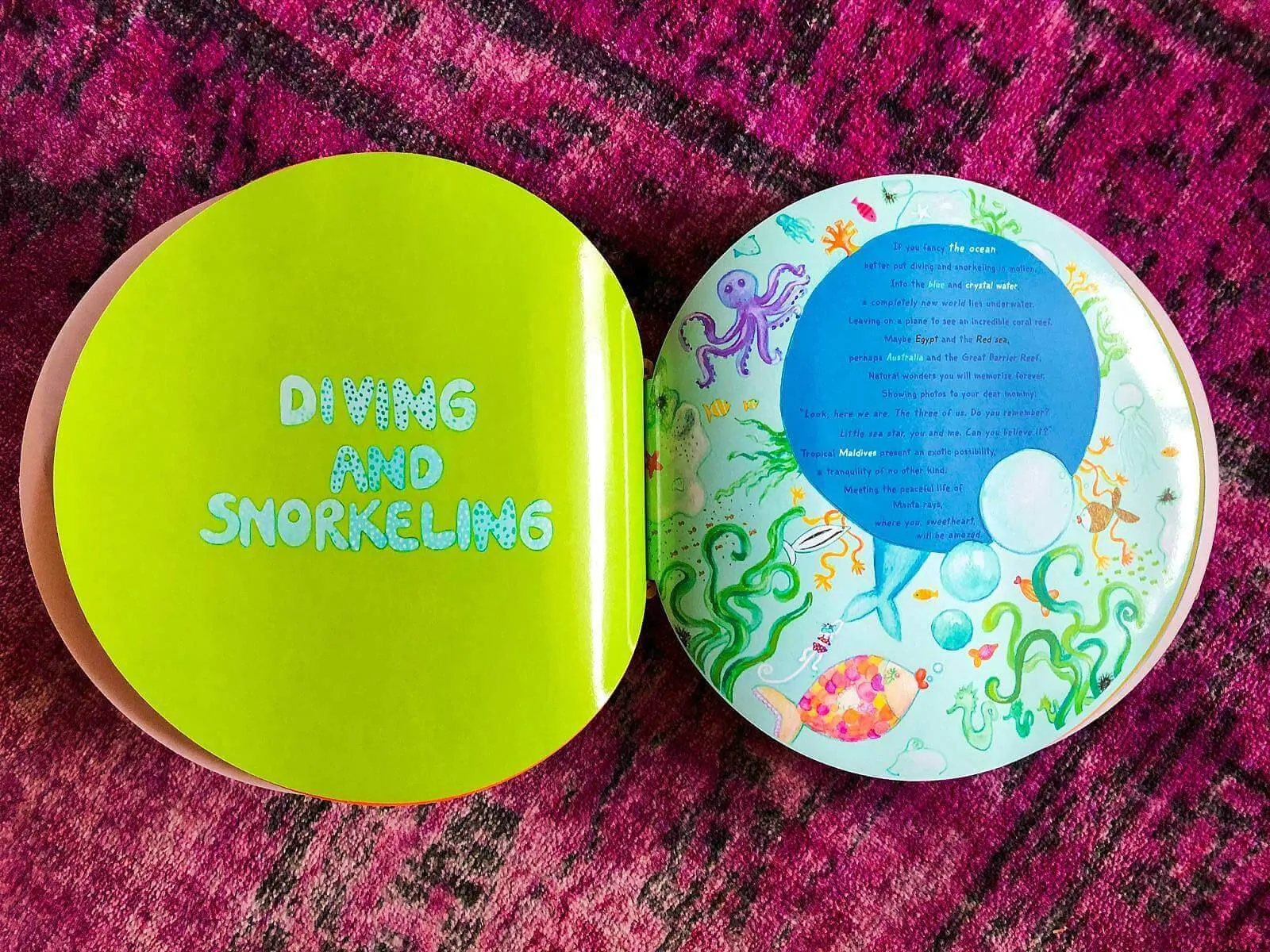 2. The Design!
When I am reading to my two boys (who, as we have already determined, are rambunctious and wiggly!), they often try to knock the book out of my hands with their squirmy instincts. However, with Little Me Tomorrow, the study wooden handle is super helpful to actually hold onto the book in a way that feels more stable and ergonomically correct! And since I have such a good grip, the book isn't getting knocked out of my hands nearly as often. It's just a wonder. #momwin
3. The Artful Approach!
This book is a lyrical and visual work of art. Illustrated for a child's observation, this book provides beautiful hand-drawn pictures that appeal to the eyes of little ones – ideally for our youngest. The words aren't just explanatory of the variety of pastimes, but they read more like poetry – introducing the reader to the expressive appeal of the melodious spoken word. The journey is a synchronized beauty of aesthetic and verse.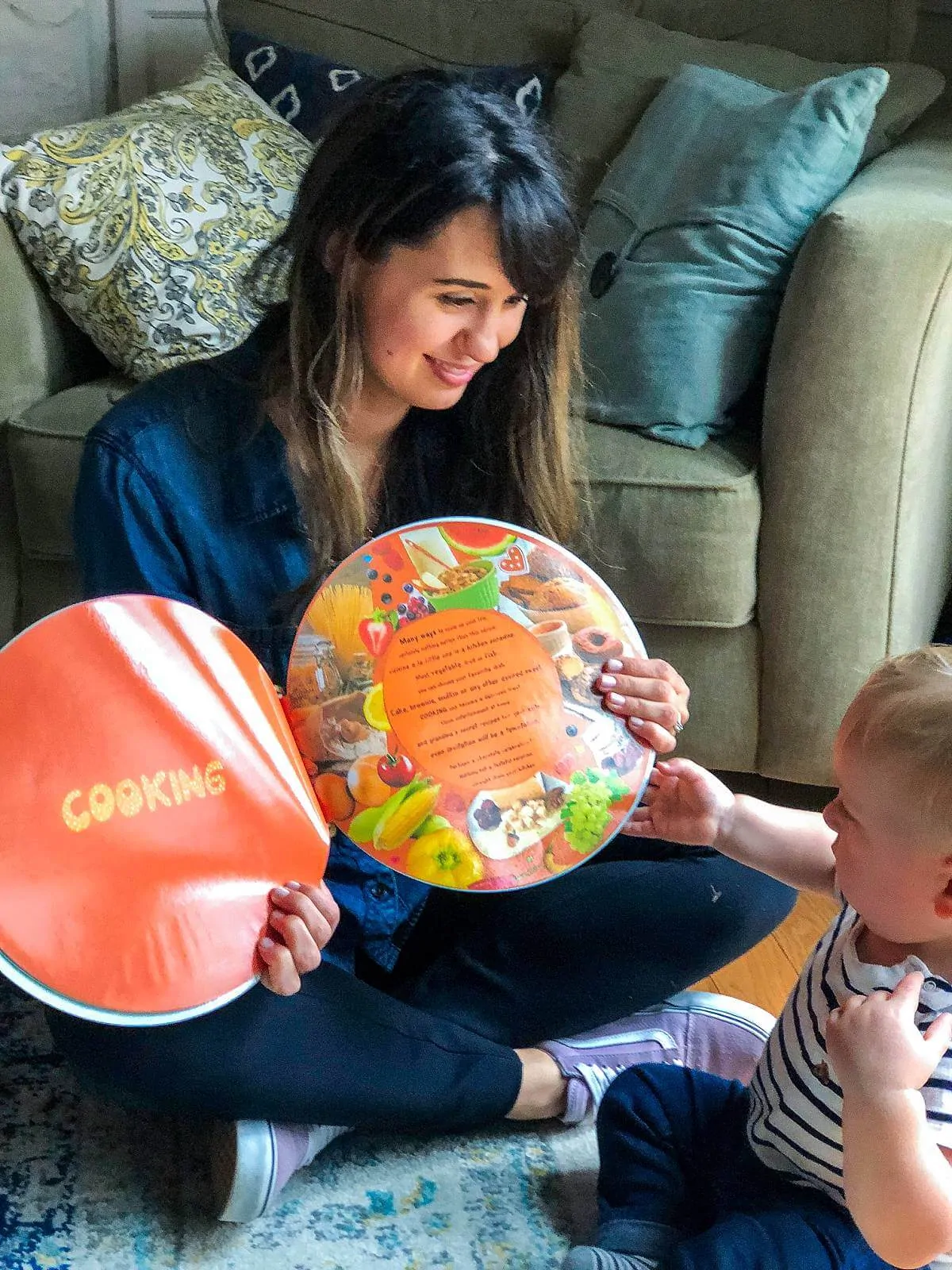 Now I'll be honest – my boys love reading, but they also love interrupting the reading to jump, laugh, clap and even spin around. Most of the time we can finish the story, but sometimes we go back to the same page days in a row to actually finish learning about a particular hobby. Little Me Tomorrow has given us so much to discuss as a family…
"Which of these hobbies sounds like the most fun to you?"
"Which one would you like to try?"
"What do you think your brother would enjoy?"
In between the wiggling and clapping, the content of this book has allowed us to have conversations about their future interests.
I especially love seeing how my 1-year old son has watched his older brother and learned from him about how transformative the reading experience can be.
Little Me Tomorrow has introduced my boys to inventive opportunities and has fulfilled its purpose in being a book that comes along and changes everything.
Kickstarter
Little Me Tomorrow just launched on Kickstarter.
Check out the Kickstarter project now…

Disclosure: This post is sponsored so extra thanks for reading and sharing.
Written by 5 Minutes for Mom contributor Kristen Hale, who blogs about living a playful and intentional life at Oy!
Pin it for Later