This post may contain affiliate links. Read my disclosure policy here.
We've all been there… You've found the perfect recipe, and have all the ingredients on hand, but you don't know what pan to use.
When you're stocking your pantry, you want to ensure you have the essential baking pans. But which baking pans do you actually need?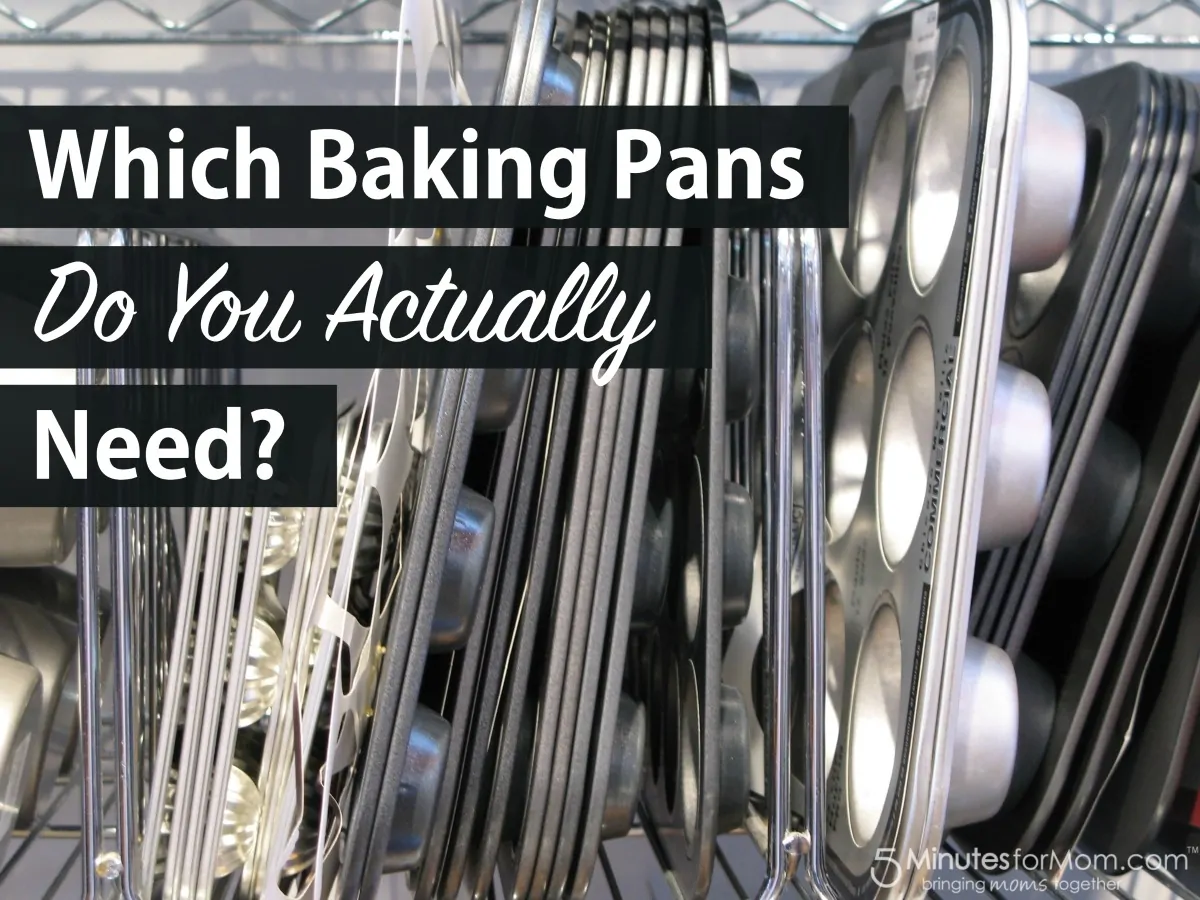 If you're rather new to baking and you're filling your cupboards to get ready to bake, you may be asking…
What is a Bundt pan?
Can I make this into a sheet cake instead of layers?
Do I really need all those different pans in glass and metal?
If I choose metal, should it be shiny or dark?
Here is a breakdown of baking pans and what you really need.
Metal pans
Metal pans are probably a better choice for beginners. Shiny metal pans brown evenly, and allow for even baking. You can purchase inexpensive metal baking pans that will work perfectly fine and if dried thoroughly after each use, will last quite a while. You don't want to store food in the metal pans, though, or it will pick up the metallic taste and may corrode the finish. There are even non-stick versions of the baking pans that are a great help.
Glass/Ceramic Pans
Glass pans conduct heat evenly and allow for a pretty presentation. The only drawbacks are that they're heavy and can break, and recipes high in sugar might get too brown. That's why recipes usually tell you to lower the baking temperature for glass pans. A big advantage of glass pans, though, is that you can store your baked goods in the pan. Make sure that your glass pan is rated for oven cooking at the temperature you need to use.

Silicone Pans
Silicone pans are great if you want to make a uniquely shaped cake. There are literally hundreds of silicone pans available, and all must be supported underneath by a cookie sheet, as silicone has very little ability to support itself. Baked goods tend to not brown much when baked in silicone pans.
Pan Sizes
When purchasing baking pans, stick to standard sizes in the beginning. Also, a little math is a great help in figuring out pan size. Although dimensions don't have to match up exactly, it can help to know if one pan can be substituted for another size.
9" x 13" Pan
This is probably the most used pan in your arsenal. It holds about 3 quarts, and can be used for making casseroles as well as baking a cake. A standard cake mix or a two-layer cake recipe can almost always be baked in this pan. If the recipe calls for two 8 or 9 inch layers, you can most likely use this one. Math part – the area of this pan is 9 x 13 = 117 sq. inches.
8" or 9" Square or Round
These are used interchangeably in recipes that call for layers. Square pans make good brownie or bar cookie pans. Shape is a personal preference for layer cakes, though round cakes are more common. If you use 8 inch pans, your layers will be thicker. Any recipe that calls for a 9 x 13 pan can be baked in two of these pans. Math part – the area of an 8 x 8 pan is 64 sq. inches; the area of a 9 x 9 pan is 81 sq. inches.
Cookie Sheets
Choose shiny cookie sheets for best results. Most cookie recipes have enough butter that your cookies won't stick, but you can purchase non-stick finish ones, too. A better choice is rimmed half sheet pans, available at a restaurant supply store. They're heavy duty, and bake very evenly. Purchase at least two cookie sheets.
Pie Pan
Every kitchen needs a great pie pan. Either glass or metal is okay, but glass makes for a nicer presentation. A 9 inch or 10-inch pie pan can be used interchangeably. Also, look for deep dish pans, which can be nice to have for a meat pie or quiche. Unless you make several pies for the holidays, one pie pan is adequate.
Loaf Pans
The standard size of a loaf pan is 9 x 5 inches, and metal pans are preferred. If you like to bake for the holidays, they are many mini loaf pan sizes available, which are nice for gift giving. Bake yeast bread, quick breads, and even make meatloaf in this pan. You'll be finding more and more uses for it daily.
A couple nice to have, but not essential pans
Brownie Pan – This is an 11 x 7-inch pan that works well for making brownies and bar cookies. It's close to the same area as a 9-inch square pan, so you can substitute a brownie pan wherever the square pan is used. Math part – there area of this pan is 11 x 7 = 77 sq. inches.
Three 6 x 3-inch round pans – Want to make a little layer cake that's tall? Use three (3) six inch layers! It works perfectly for any recipe that calls for the 9 x 13, or two 8 or 9 inch layers.
Are you baking for gifts?
You might want to consider disposable pans. There are disposable pans made of foil and heavy paper that are available in many shapes and sizes, and are great for taking to events or for gift giving. This is a good choice so you don't have to lug a dirty pan home, or even risk losing one of your good baking pans.
These are the absolute must-have baking pans every kitchen should have. There are many more baking pans and supplies that you may also want. Take your time and purchase your pans as the need arises. Before you know it, your cupboard will be full of baking pans.
Remember, whatever pan you choose, it should never be filled more than 2/3 of the way full.
Pin it for Later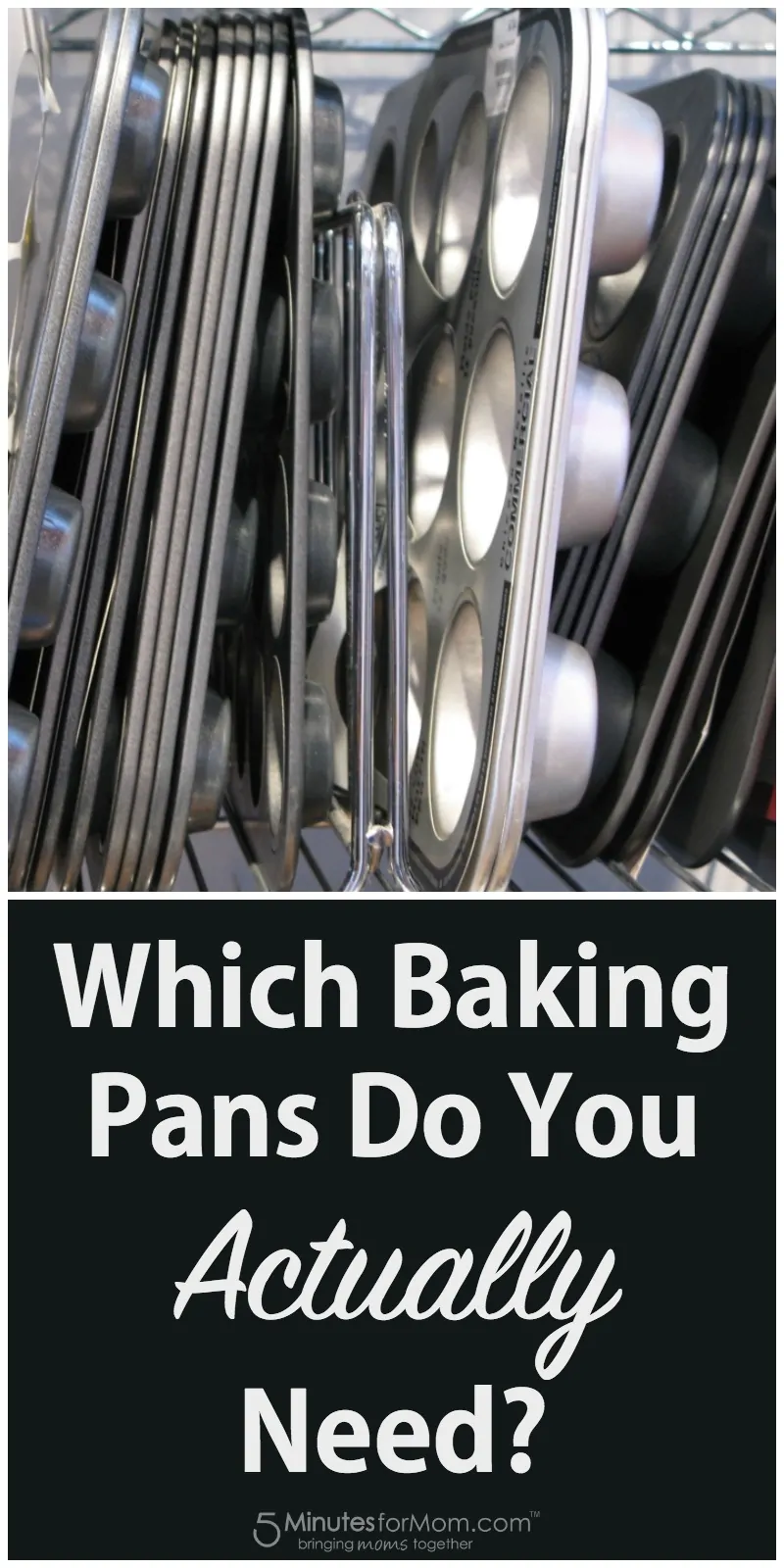 And Don't Miss…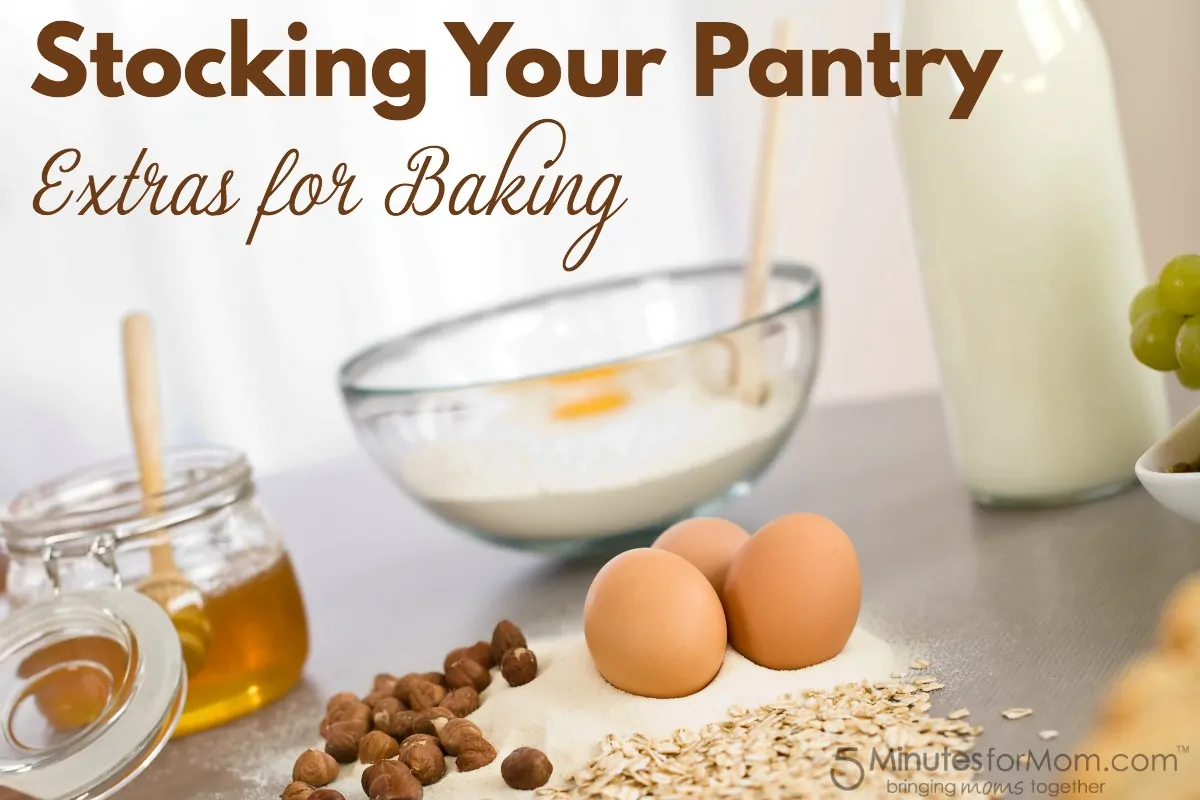 Written by the team at 5 Minutes for Mom
Talk with me: @5minutesformom and Facebook.com/5minutesformom
Pin with me at pinterest.com/5minutesformom