This post may contain affiliate links. Read my disclosure policy here.
When you're getting started with baking, you'll need to have the basics – all-purpose flour, white and brown sugar, cocoa, butter or margarine, eggs… you get the idea. But once you've mastered your basic baking skills, how do you make your baking more memorable to those you share it with?
One way is to expand your baking pantry.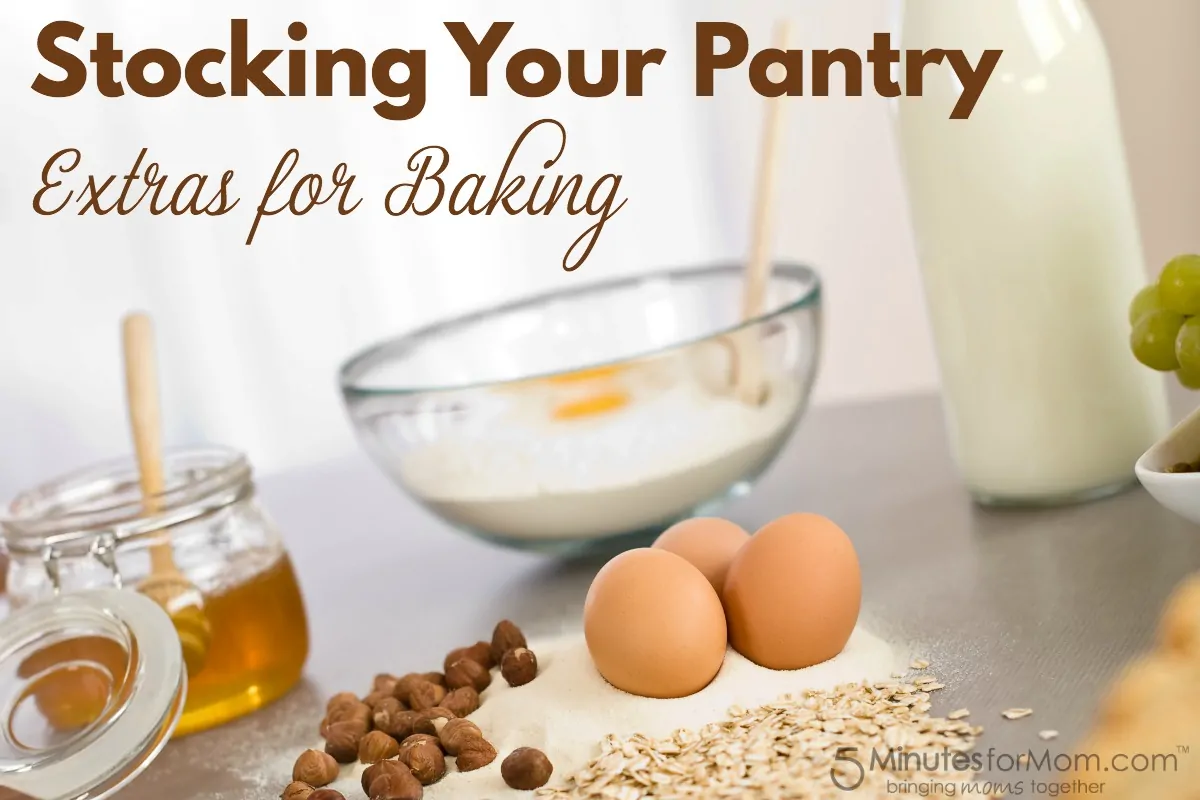 You can explore exotic versions of some products you already use, or find new products altogether. Either way, you'll add a new flavor dimension which can take your baked goods from average to spectacular.
Extra Baking Ingredients To Stock In Your Pantry
This is not a list of must have ingredients… it's a list to expand your baking horizons and to think about other choices.
Add new extracts
The pure vanilla extract you find at the grocery store is good, but there are small companies now making gourmet extracts like vanilla that are amazingly sweet and potent. The difference can be equated to a box wine vs. a fine bottled wine. Lemon, Almond and Peppermint extracts are also nice to have on hand.

Use different flours
Although flours aren't necessarily interchangeable, having a variety of flours that you can use in new recipes will expand your repertoire. Bread flour, which has a higher gluten content than all-purpose flour will give yeast breads some stability as they rise. Cake flour is lower in gluten and makes for a lighter cake with a more tender crumb. Whole wheat flour, which will make a dense and chewy product, will provide plenty of options for your experimentation. Cornmeal, oat flour, almond flour, and some of the specialty grain flours like rye can also be used to create flavorful baked goods.
You can't go wrong with chocolate!
There are so many wonderful chocolate products available, it's hard to know where to begin. Chocolate varieties are really a personal preference, but without trying different options, how will you know what your favorite is? Instead of supermarket chips, use some better grade ones in different flavors, like white chocolate, milk, semisweet, or even bittersweet. Try big chunks and mini-chips. Whether it's Ghirardelli, Valrhona, or another brand completely, the choice is up to you.
Dried Fruits and Nuts
Instead of always reaching for the walnuts, shake it up by adding pecans. Cashews and hazelnuts are good choices, too. Almost any nut can be substituted for another in a recipe. There are a lot more nut butters available, too, other than peanut butter. Almond, cashew and other nut butters can be great additions to your pantry.
If you haven't used dried fruits before, try adding chopped dried fruit to a coffee cake or oatmeal cookies. Everything from dried apples, raisins, and cherries to dates and apricots are readily available. It will kick up both the nutrition and flavor. Crystallized or candied ginger is a nice addition to sweet bread and cookies. Don't forget coconut! Some dried fruit, like bananas or pineapple, don't fare nearly as well, and are better left for snacking.
Spices
This is where you can go crazy! Cinnamon, cloves, allspice, kosher and other types of salt (yes, salt; you need it to elevate the flavors), nutmeg, cardamom, anise, caraway, ginger, savory spices, sesame seeds. You'll find as you bake more, your spice cabinet will bulge with your new discoveries. If you like to bake bread, try some 'everything' bagel spice mix; it makes a great savory sandwich bread.
Here are some nice extras to have on hand…
Non-stick cooking spray and parchment paper – If you've ever has something stick to your pan, you will treasure these products. Line pans with parchment and your baked goods will lift right out. You can bake cookies on sheets of parchment; and if you can find them, try baking muffins or cupcakes in parchment baking cups. They will not stick to the paper!
Evaporated milk and sweetened condensed milk – these two products are not interchangeable, and you'll want to keep both in your pantry. They are shelf stable for many months, and you can use reconstituted evaporated milk in place of regular milk in most recipes.
Other sweeteners – honey, molasses, and corn syrup all have a place in the pantry. Use as specified.
Candies – Marshmallows, peanut butter cups, M&Ms, etc. can all be added to cookies and other baked goods. They're especially great in bar cookies.
This list should open your mind to some new baking experiences. It isn't necessary to purchase to entire list, but try to choose a few new products to use to change up your favorite recipes. As you gain confidence, you'll learn what flavors you like, and what products you want to experiment with.
Pin it for Later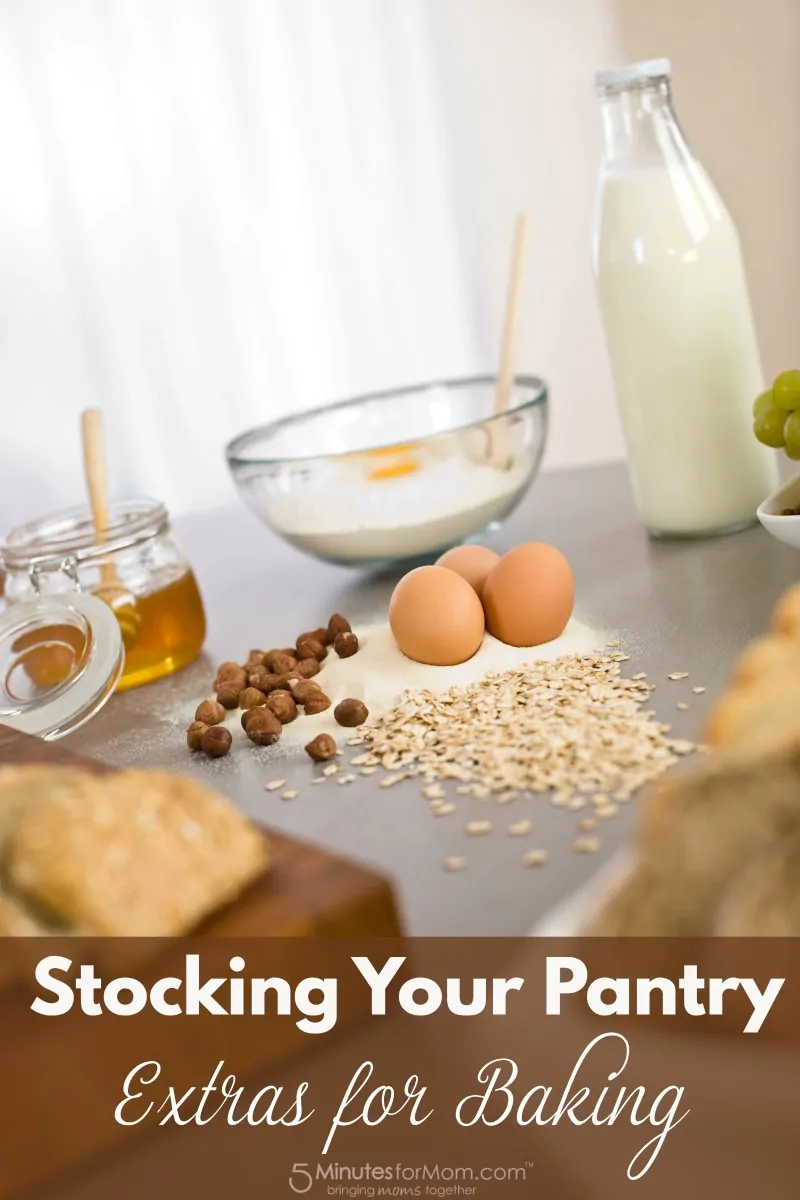 Written by Susan Carraretto, co-founder of 5 Minutes for Mom
Talk with me: @5minutesformom and Facebook.com/5minutesformom
Pin with me at pinterest.com/5minutesformom