This post may contain affiliate links. Read my disclosure policy here.


You know that nursery rhyme about what little boys are made of? It says frogs and snails and puppy-dogs' tails is what little boys are made of.
This Christmas we have a perfect Playskool/Hasbro giveaway for the boys in your life, the ones who may also be made of dinosaurs and trucks and running amuck.
We are featuring these fun Playskool/Hasbro toys: TONKA Chuck and Friends, Dino Roars Monty Rex, Nerf-N-Force Sword and Nerf Dart Tag.
For the younger crowd, we have two interactive and fun toys that are sure to amaze your preschooler. (Reviewed by Erica)
TONKA CHUCK & FRIENDS CHUCK MY TALKING TRUCK is a preschool boy's best buddy who always has something to say! This friendly truck featuring sound recognition technology is fully interactive and will roll forward when called!

CHUCK is revving to go with over 40 onboard phrases to encourage play such as "We've got work to do!" Toddlers will enjoy rolling the brightly-colored dump truck across the floor, tilting back the dump bed to unload big hauls, and going on adventures with their fun loving pal CHUCK.
Both of my boys love cars and trucks and have LOVED playing with CHUCK. He has received many giggles and smiles and has taken part in many adventures. CHUCK is definitely a well loved toy in our home.
DINO ROARS MONTY REX Dino is sure to delight your preschooler. Standing over 15-inches tall, this lifelike dino not only moves its head, tail, and arms, but also actually walks!

Toddlers can enjoy fun filled adventures with this realistic T-Rex pal that responds to touch, roars back when spoken to, and dances along to four engaging onboard songs.
While he is the king of the dinosaurs and roars like the best of them, MONTY REX is also soft to the touch. I was worried that my youngest would be a little afriad of MONTY REX, but he pets and kisses MONTY REX before roaring away and stomping around the living room with him.
The next two featured toys are a hit for the older crowd, the ones you always have to remind to stop jumping off of the furniture and running crazy throughout the house.
Nothing fits this rowdy crowd better than NERF toys. (Written by Janice)

Nerf N-FORCE MARAUDER LONG SWORD is the second addition to the new NERF N-FORCE line. These swords are both longer and wider than previous N-FORCE Swords to help your son march into any mission feeling confident and cool. They are available in red and black.
Boys and their weapons, right? I am always amazed how a simple sword can provide Jackson with hours of entertainment. I get a kick out of watching him become a knight, ninja warrior or scary villian all with a toy sword and childhood imagination.
When Jackson invites his friends over, I like to get them outdoors. The NERF DART TAG FURYFIRE 2-PLAYER-SET is a great way for boys to burn off some of their energy.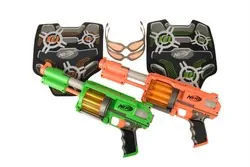 Complete with two new rapid-fire FURYFIRE blasters featuring auto-advance barrels that hold ten darts, two redesigned scoring vests, two sets of VISION GEAR eyewear and 20 DART TAG DARTS, the NERF DART TAG FURYFIRE 2-Player Set inspires engaging, energetic team play.

Each set includes one green and one orange blaster; gather a group and divide teams by color to create an extreme NERF DART TAG environment.
We have each of these toys to give away to one lucky reader. Here is how you can enter to win:
See our Christmas Giveaway 2009 post to read more about
participating in our Christmas Giveaway

Either link back to this post and include a Christmas Giveaway 2009 button in that post or on your sidebar, or link to the individual giveaways you choose to enter. We have a ton of different buttons and styles for you to choose from. Click here to get the button codes. (If you post and include the button, either in your post or on your sidebar, and link back here, you are good for all the giveaways. No more linking required.)
You may earn additional entries for the following:
If you are already subscribed and are on our newsletter list, you qualify for these two additional entries. Go ahead and leave your additional comments below.
Spread the word to your friends via your blog, twitter, etc.
Remember to leave a comment for each thing you do!
Entries are open until Friday, December 4th at 12pm EST.
Our winner will be drawn randomly and we will announce the winner Saturday, December 5th. Please make sure to check our site and your email address to see if you have won a prize. We must receive your reply within 5 business days. (If you want your prize to arrive in time — the sooner we hear from you, the better!)
This contest is open to US AND Canadian shipping addresses. Due to legal restrictions, this promotion void where prohibited.
Please see our site's Terms and Conditions of Use for a complete list of our Contest and Giveaway Rules.
*Erica received CHUCK and MONTY REX to review. Janice is scheduled to receive both NERF toys to review, but they did not arrive in time. We didn't want lost mail to keep you from missing these fun toys and having a chance to win them, so the Nerf info is based on product description. Playskool/Hasbro is also providing the prizing for this giveaway and product for Under the Tree.