This post may contain affiliate links. Read my disclosure policy here.
Well, it's that time again. This week we are closing the Intelligent First Aid giveaway.
Please remember to add contests5m4m(AT)gmail(DOT)com to your "Safe Senders" list or address book, to ensure that your notification is not marked as SPAM.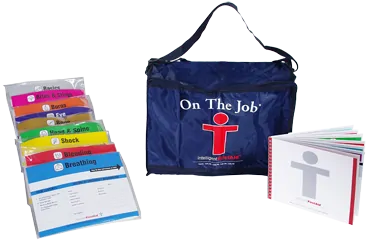 According to OSHA, 5,071 workers died on the job in 2008. "With every one of these fatalities, the lives of a worker's family members were shattered and forever changed. We can't forget that fact," says Secretary of Labor, Hilda Solis.
OSHA's Web site also shares a list of workplace related fatalities. Accidents on the job can range from machinery-related accidents to heart attacks or loss of consciousness at work.
It's important to be prepared for work-related injuries. All places of employment should have a first aid kit on hand and provide employee training on how to handle work-related injuries and emergencies.
The On The Job Safety Kit by Intelligent First Aid meets OSHA requirements and includes Care Packs for Breathing/CPR, Bleeding, Shock Care, Head & Spine Care, Bone Care, Eye Care, Burn Care, Bites & Stings Care, Basics Care.
Comment Number 199 – Sheree', will receive an On The Job Safety Kit!

Congratulations! You should have received an email about claiming your prize.

If you haven't received an email, please send your FULL NAME, SHIPPING ADDRESS, and TELEPHONE NUMBER to contests5m4m(AT)gmail(DOT)com by Wednesday, December 2nd in order to claim your prize. Any prizes unclaimed will be forfeited and new winners will be selected.