Welcome to Intelligent First Aid's hub on 5 Minutes for Mom. Our goal is to urge you to not only have a first aid kit in your home, but to also have the right one – one that works for you.
Click Here for First Aid Quiz
or
scroll down to see the First Aid Quiz.

Note: There are ALL NEW Quiz Questions so you can test yourself again!

What Would I Do?
Sometimes when I am lying in bed at night trying to sleep, the thought crosses my mind that if there was a fire in our home, we might not be able to escape. My family's bedrooms are all on the top floor of our house. If a fire occurred in the lower levels of our home, trapping us upstairs, just how would we escape?
The more I think about it, the more it worries me. I should definitely look into purchasing several escape ladders and holding a fire drill with our children.
While I know that emergency preparedness is of the upmost importance, my husband and I have yet to put together any sort of emergency plans for our home and family. We definitely do not have a stock pile of food, a list of emergency contact phone numbers or even a way to escape from the top floor of our home in the event of a fire.
In fact, the more I think about it, the more driven I am to stop everything and get cracking on our emergency preparedness.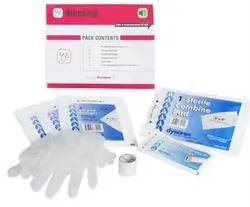 One thing we do have is an Intelligent First Aid™ kit. I am very thankful for the kit. It is separated into individually labeled and color-coded injury packs so that I have all of the supplies and easy to follow instructions for managing a specific injury.
At the squeeze of a button, the audio module in each injury card narrates step-by-step instructions to manage the injury, pausing and repeating when necessary.
Comment and Win
How prepared are you for an emergency? Please tell me that you are in a better place than I am with your emergency preparation.
What things do you do with your children to prepare for emergencies? Do you hold fire drills in your home? Have you taught your children when and how to dial 911? Where do you keep your emergency contacts? Would your children know which family members or friends to call in the event of an emergency?
Let's discuss emergency preparedness in the comments section below. Each comment counts as an entry into our final drawing for an Intelligent First Aid kit.
You never know when an emergency will happen. It is very important to be prepared!
Do you want another chance to win?
if you haven't already, please take our newest First Aid Quiz to see how your first aid knowledge rates. Share your results in the comments section below for an additional entry. We will announce our winner of the Intelligent First Aid Kit on December 5th, 2009.
The Intelligent First Aid™ Kits

The Intelligent First Aid™ kits are here to help you through many common emergencies. From bleeding to shock, Intelligent First Aid™ kits guide you through important steps to help an injured person, in the first few critical minutes before professional help is available.
The audio's calm voice will help you to relax and the step-by-step instructions will ensure that you don't forget any important steps.
The Intelligent First Aid™ kits, designed by medical and educational experts, combine supplies, visual instruction cards and now audio guidance to manage the most common injuries, at home, at work, or at play.

By combining the necessary supplies with the new audio technology, Intelligent First Aid™ kits are a dependable tool to help you provide rapid and accurate first aid care even under the most stressful situations.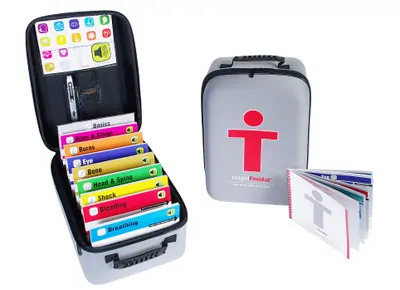 The Talking First Aid™ kit includes:
Over 130 medical supplies
Talking Care Packs for Breathing/CPR, Bleeding, Shock, Head & Spine Care, Bone Care, Eye Care, Burn Care, Bites and Stings, and Basics Care.
Each individual pack contains all supplies needed as well as step by step instructions with an embedded audio chip that provides a calm, clear guiding voice at the squeeze of a button. Instructions can also be paused and repeated.
Full color guidebook covering hundreds of additional medical emergencies
A multi-purpose flashlight book light combo for use when lighting is low
Quiz Yourself and Win
How prepared are you for a medical emergency? Take our quiz and find out!
Note: There are ALL NEW Quiz Questions so you can test yourself again!
When finished, be sure to click here to find the correct answers to the First Aid Quiz.
[quiz id="2″]
Click Here for First Aid Quiz Answers.
*Please note: This page is provided for information purposes only as part of a paid promotional campaign with Intelligent First Aid™. The content on http://www.5minutesformom.com does not constitute medical advice.