This post may contain affiliate links. Read my disclosure policy here.

The Danes Know How to Design…
A few weeks ago, I watched Oprah tour homes in Denmark as she interviewed women in the "happiest country in the world." The living spaces were sleek, small and almost sparse. There was no clutter, no chaos. The designs were clean and inspiring.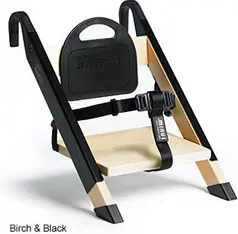 So I am not at all surprised that the fabulous, versatile portable high chair – the minui HandySitt – is designed in Denmark and manufactured in Europe.
The HandySitt is ingenius! This portable high chair can serve as your primary high chair at home and also travel easily whenever you need to take a high chair or booster seat along with you.
It is made for children 6 months to 5 years old. When your child is about 3, you can remove the front guard and use it as a booster seat.
Keiki Enterprises, the company who distributes minui products exclusively in North America, sent me a chair this summer to test out with Olivia. I have been using it ever since! It is fantastic.
I love the sleek, European design. It is beautiful — and doesn't stand out like a bright plastic booster seat. I have used it on numerous chairs, and the adjustable design fit all of them.
It only takes a minute to set up or remove the HandySitt, making its portability even more attractive.
The only problem I had with the minui HandySitt was the front guard. It can sometimes be awkard to slip in your child – especially if your child is refusing to get in her seat with a case of toddler rigor mortis.
BUT, no worries! The company has changed the design for its North American chairs. They now come with a three point harness instead of the front guard. Now, it really is a perfect space-saving, portable high chair.
Minui has also recently developed a chair that transforms the HandySitt into a complete seating system.

"With the introduction of the new Chair, our product is further differentiated from other modern, wooden high chair products. We're the only one that offer a great looking, eco-friendly freestanding high chair for the home, but that also has a portable seat — which is a high chair in its own right when affixed to an adult chair — that families can take with them on outings."
— Hardy Mogensen
The only aspect of this high chair that might be a change for some families is that it doesn't come with a tray. The HandySitt is designed to be pulled up to the table so the child can eat with the rest of the family.
Olivia loves to use her minui HandySitt at our table. She is part of the action!
While I also still occasionally use her older, plastic high chair, (for us, it is helpful to have two seats available since Susan's daughter Sophia is so often here too,) if Olivia gets her choice, she chooses the HandySitt!
The minui HandySitt has been awarded the influential PTPA Media Seal of Approval for excellence in parenting products in the Green Category.
If you have a child in the high chair or booster seat years, you really need to check out the minui HandySitt website. Those Danes, they know what they are doing!
Keiki Enterprises is providing one minui HandySitt portable high chair to giveaway in our Christmas Giveaway and an additional HandySitt for our Under the Tree program. Thanks Keiki!
Here's how you can enter to win:
See our Christmas Giveaway 2009 post to read more about
participating in our Christmas Giveaway

Either link back to this post and include a Christmas Giveaway 2009 button in that post or on your sidebar, or link to the individual giveaways you choose to enter. We have a ton of different buttons and styles for you to choose from. Click here to get the button codes. (If you post and include the button, either in your post or on your sidebar, and link back here, you are good for all the giveaways. No more linking required.)
You can check out minui HandySitt website and then come back to this post and leave one comment below telling us what feature you like most.
You may earn additional entries for the following:
If you are already subscribed and are on our newsletter list, you qualify for these two additional entries. Go ahead and leave your additional comments below.
Spread the word to your friends via your blog, twitter, etc.
Remember to leave a comment for each thing you do!
Entries are open until Friday, December 4th at 12pm EST.
Our winner will be drawn randomly and we will announce the winner Saturday, December 5th. Please make sure to check our site and your email address to see if you have won a prize. We must receive your reply within 5 business days. (If you want your prize to arrive in time — the sooner we hear from you, the better!)
This contest is open to US AND Canadian shipping addresses. Due to legal restrictions, this promotion void where prohibited.
Please see our site's Terms and Conditions of Use for a complete list of our Contest and Giveaway Rules.
* I received the minui HandySitt for review purposes.
Written by 5 Minutes for Mom co-founder, Janice Croze.