This post may contain affiliate links. Read my disclosure policy here.
As mothers and business owners ourselves, Janice and I LOVE to support mom entrepreneurs. So we are thrilled to introduce you to two talented women who have started a successful business in a crowded and competitive marketplace.
UPDATE: The Twitter Party is over, but you still have another chance to win… Click Here for the extra giveaway.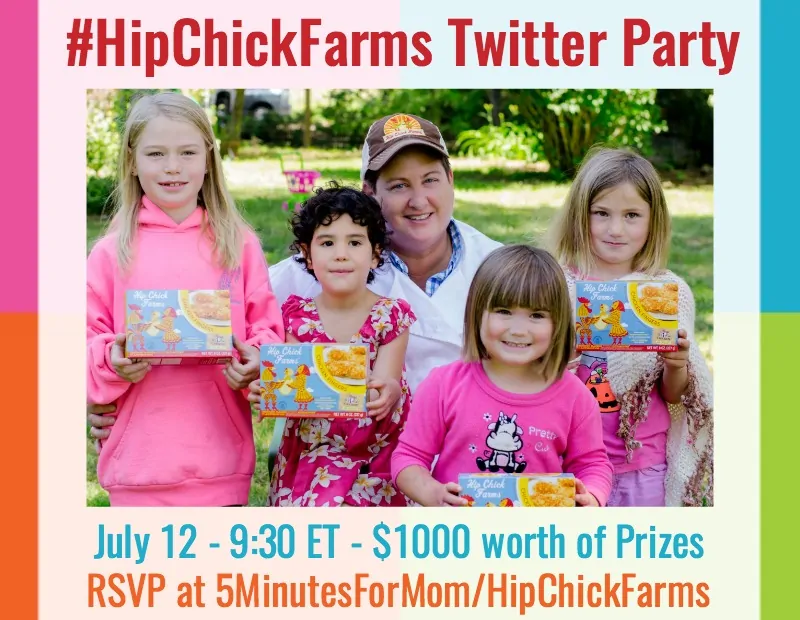 We invite you to join us for a Twitter Party and live tweeting of their appearance on the West Texas Investors TV Show on CNBC July 12th. We'll be giving away $800 worth of prizes during the party and $200 afterwards!
Meet Hip Chick Farms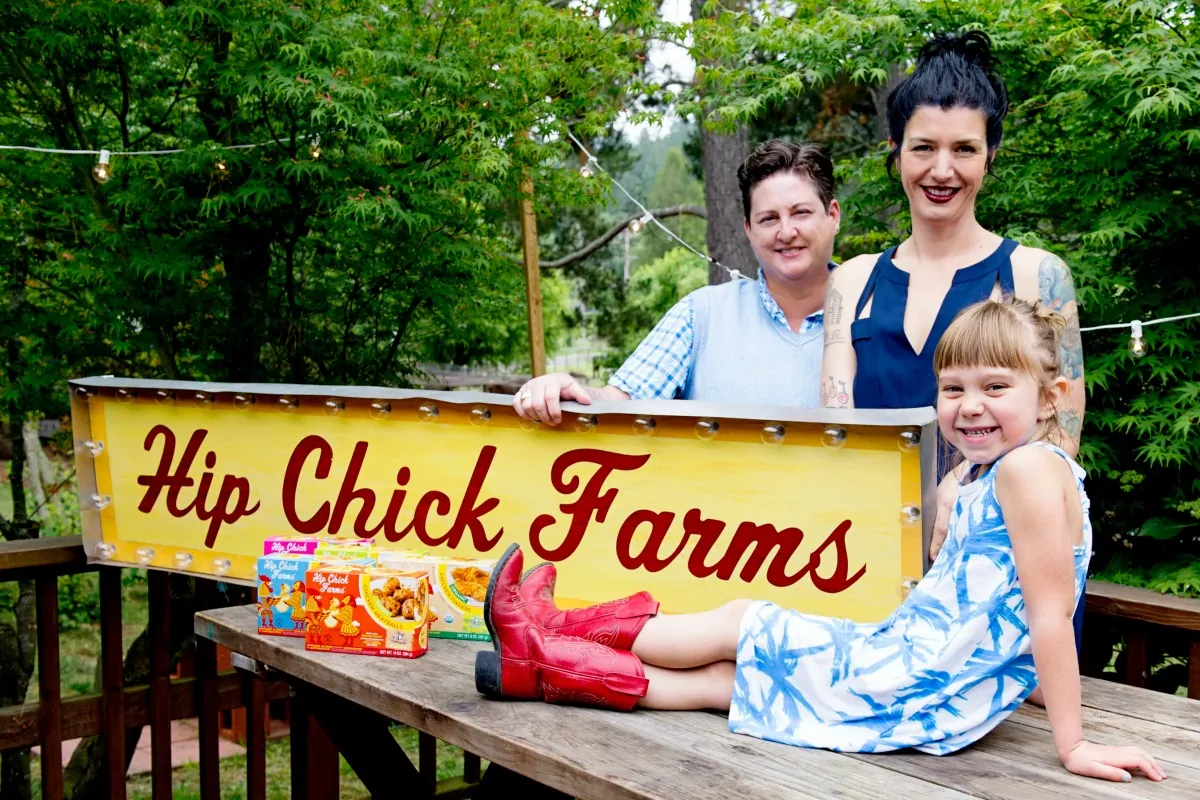 Get ready to fall in love with Hip Chick Farms and their delicious frozen chicken products that you can feel good about feeding to your children.
Chef Jen along with her wife and co-founder Serafina Palandech combined their love of food and love of family to start this business.


Chef Jen is passionate about cooking with the freshest, sustainable and locally sourced ingredients. When working in Ann and Gordon Getty's kitchen as their personal chef, she was inspired by cooking meals for all the children attending the school in the Getty's home. The kids loved her cooking her so much – especially her chicken fingers – that she and Serafina decided to share her recipes with the world.
Together they created Hip Chick Farms' line of artisan, transparently sourced poultry products that are convenient for busy families.
"Our chicken products contain no artificial ingredients; it's like I'm in your kitchen, making it for you fresh," says Chef Jen.

Our products are kid tested, mother approved.
Investing in Healthy Family-Friendly Food
Jen and Serafina will be featured on the CNBC TV show "West Texas Investors Club".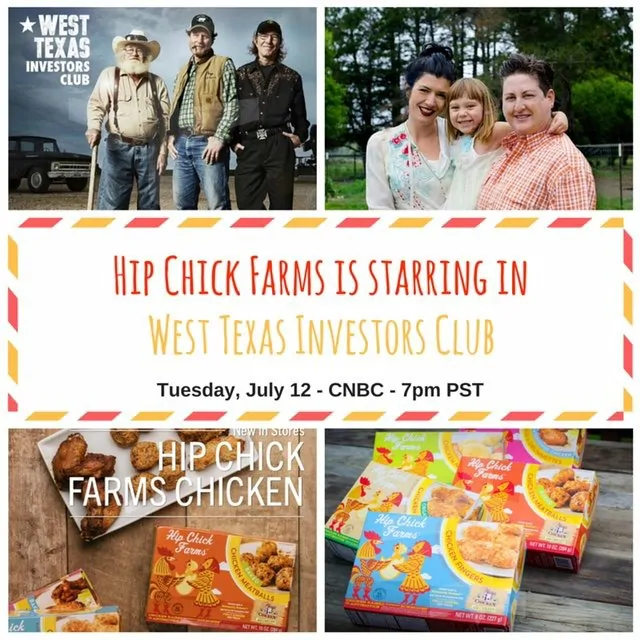 The show is set deep in the heart of Texas, where self-made multimillionaires Rooster McConaughey and Butch Gilliam test out business ideas by promising entrepreneurs who hope to impress and secure an investment.
These modern moms with their forward-thinking business from San Francisco venture out to Texas to get these old-school Texans on board with Hip Chick Farms.
I can't wait to see what happens… Join us on Twitter as we watch the show together and hand out prizes.
#HipChickFarms Twitter Party Details
Join us for a fun and informative twitter chat as we live tweet along with @HipChickFarms as they pitch their business to the West Texas Investors on the CNBC TV show.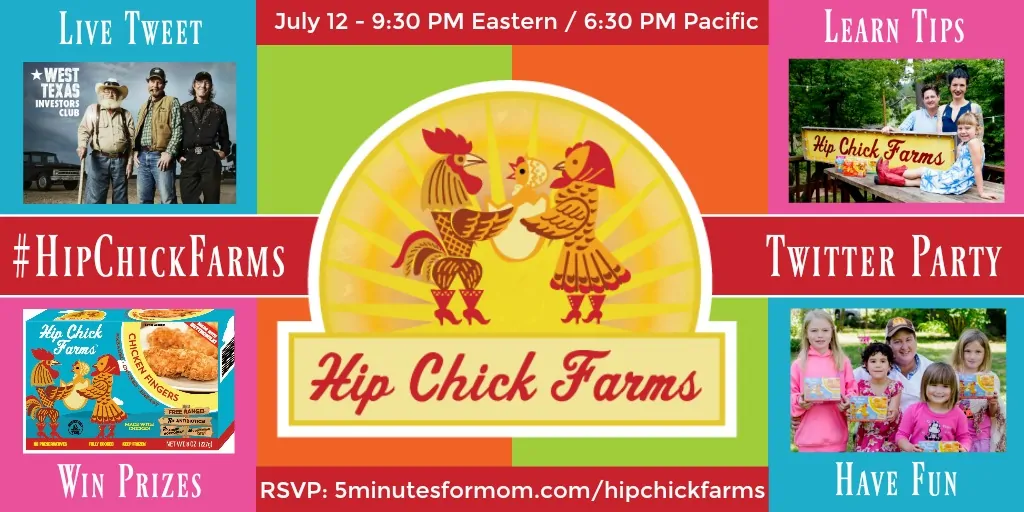 We're going to talk about…
life as mom entrepreneurs and small business owners,
how to feed your kids healthier food that they'll love,
finding and following your passions in life and in business,
and of course chat live while we watch the show!
Date: Tuesday, July 12
Time: 9:30 – 11:00 pm Eastern / 6:30 pm – 8:00 pm Pacific
Twitter Party starts at 9:30 pm Eastern / 6:30 pm Pacific
West Texas Investors TV Show on CNBC Prime TV starts at 10 pm Eastern / 7 pm Pacific
Our #HipChickFarms Twitter Party will last 1.5 hrs. So we'll have time to chat before the TV show starts and then live tweet as we watch the 1 hour TV show together.
Hashtag: #HipChickFarms
Party hosts to follow:
@5minutesformom
Sponsor to follow:
@HipChickFarms
Panelists to follow:
@TheSimpleParent
@MommyBlogExpert
Prizes:
Before, during and after the Twitter Party, we'll be giving away $1000 worth of Prizes. Prizing is open to the US only.
BEFORE the Twitter Party…
1 Early Bird Prize Winner who RSVPs and tweets about #HipChickFarms will win
Coupons for $100 of Hip Chick Farms Products and a Baby T-Shirt
DURING the Twitter Party…
RSVP is not required for these prizes.
FIVE (5) Winners: Coupons for $100 of Hip Chick Farms Products and a Baby T-Shirt
Grand Prize: $100 VISA Gift Card and Coupons for $100 of Hip Chick Farms Products
AFTER the Twitter Party…
Enter this extra giveaway post to win another prize of
$100 VISA Gift Card and Coupons for $100 of Hip Chick Farms Products
RSVP and Tweet Now
If you will be joining the party, RSVP below and Tweet now with #HipChickFarms and you'll be entered to win the Early Bird Prize of Coupons for $100 of Hip Chick Farms Products and a Baby T-Shirt.
[Tweet "RSVP for #HipChickFarms Twitter Party watching #WestTexasInvestors Jul 12 #Giveaway Entry"]
or
[Tweet "Looking forward to seeing #HipChickFarms on @WTexasInvestors July 12th RSVP #Giveaway Entry"]
We'll also send you an email reminder the day of the party.
And please remember to follow our sponsor @HipChickFarms.
Add your Twitter Handle below…
Example Link Text: @5minutesformom
Example URL: https://twitter.com/5minutesformom
On Sale Now
Awesome News!!!
There is a 50% off sale at Good Eggs right now…
Good Eggs is where to buy Hip Chick Farm products online.

Disclosure: This post and the Twitter Party are sponsored by Hip Chick Farms.
Written by Susan Carraretto, co-founder of 5 Minutes for Mom
Talk with me: @5minutesformom and Facebook.com/5minutesformom
Pin with me at pinterest.com/5minutesformom
Pin it for Later