This post may contain affiliate links. Read my disclosure policy here.
Do you know how to care for your granite and natural stone countertops? We have partnered with Granite Gold® to share their three step process for proper care and maintenance of stone surfaces…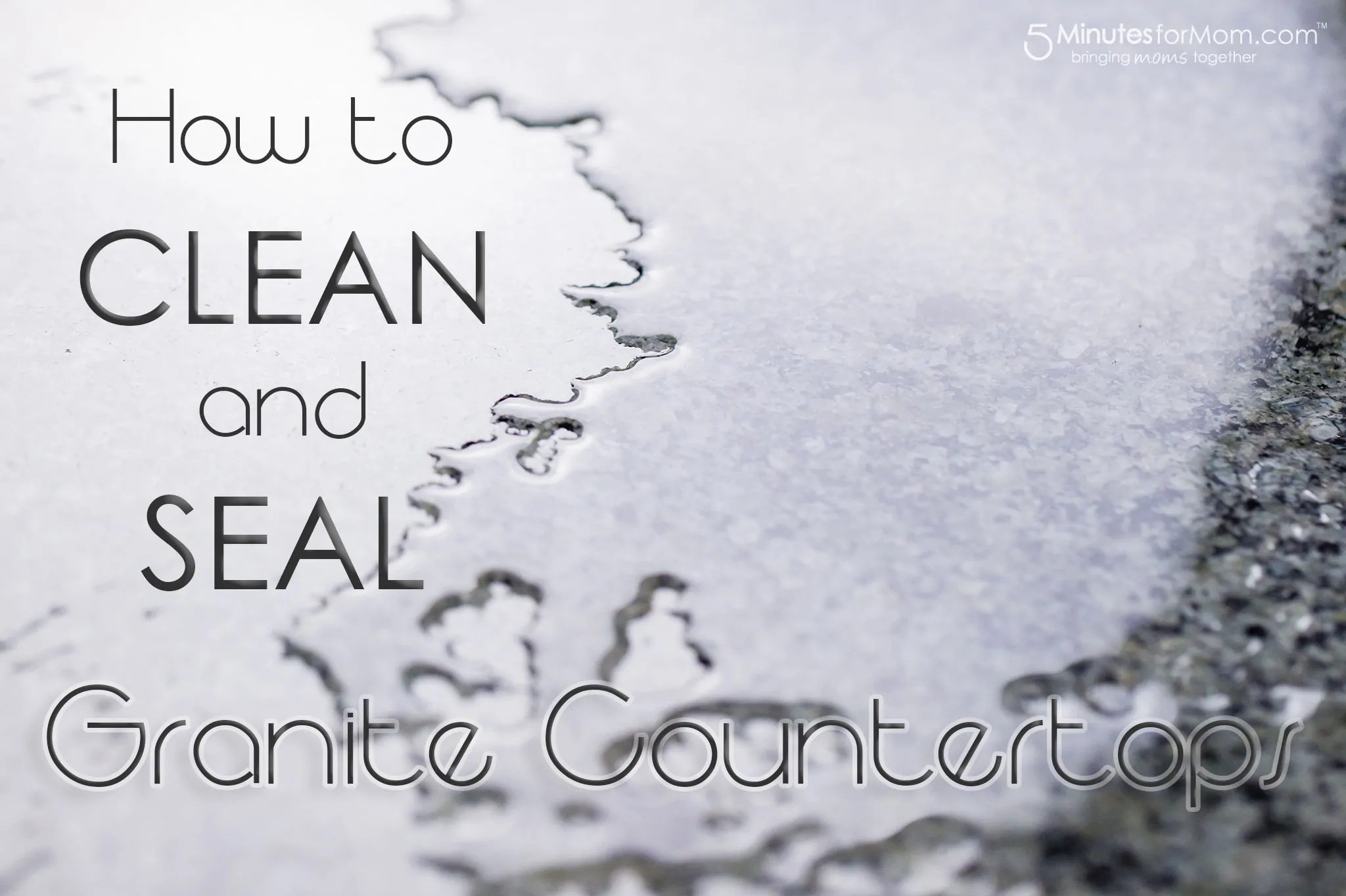 Granite counters are everywhere these days and both Susan and I have them in our kitchens.
I love the look and durability of the natural stone, but I am always concerned about how I should care for my granite. Can I use regular cleaning products? How do I ensure it is well sealed and protected? And how can I keep it polished and shiny?
Some of the folks at Granite Gold read a couple of our posts about household and kitchen cleaning tips and wrote to see if we would be interested in trying out their natural stone cleaners.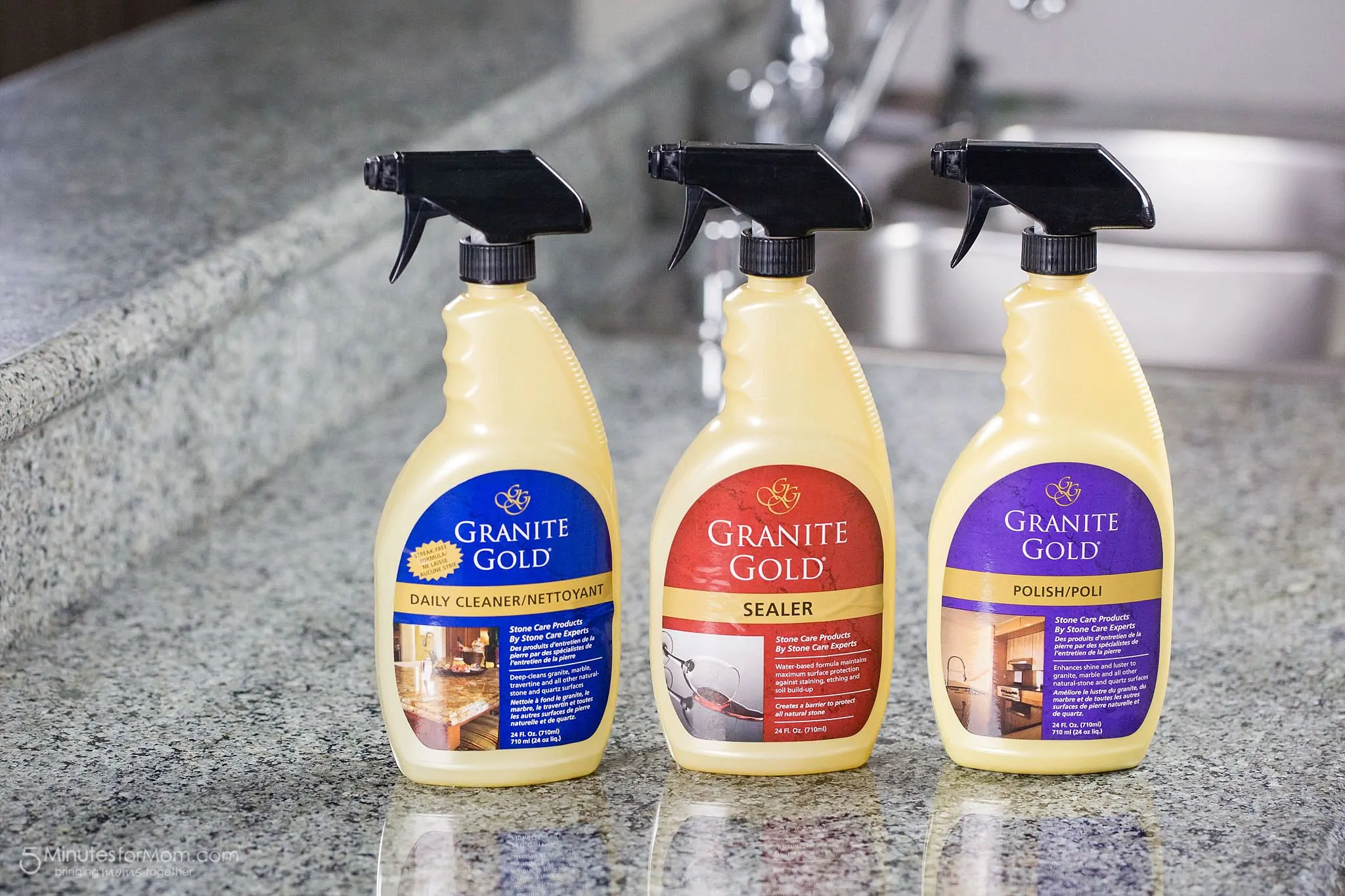 Since both Susan and I have granite in our homes, we were happy to learn more about their products and try them ourselves.
What Should I Use to Clean My Stone?
Granite Gold co-founders, Lenny Sciarrino and Lenny Pellegrino, are cousins who grew up in the family business of manufacturing, installing and restoring stone surfaces in homes and businesses throughout Southern California.
Their families' history of stone care expertise spans three generations and is the foundation of their company and their desire to help their clients answer the common question, "What should I use to clean my stone?"

Because common household cleaners can pose dangers to natural stone, the cousins created a formula of granite cleaners that were safe for their clients to use.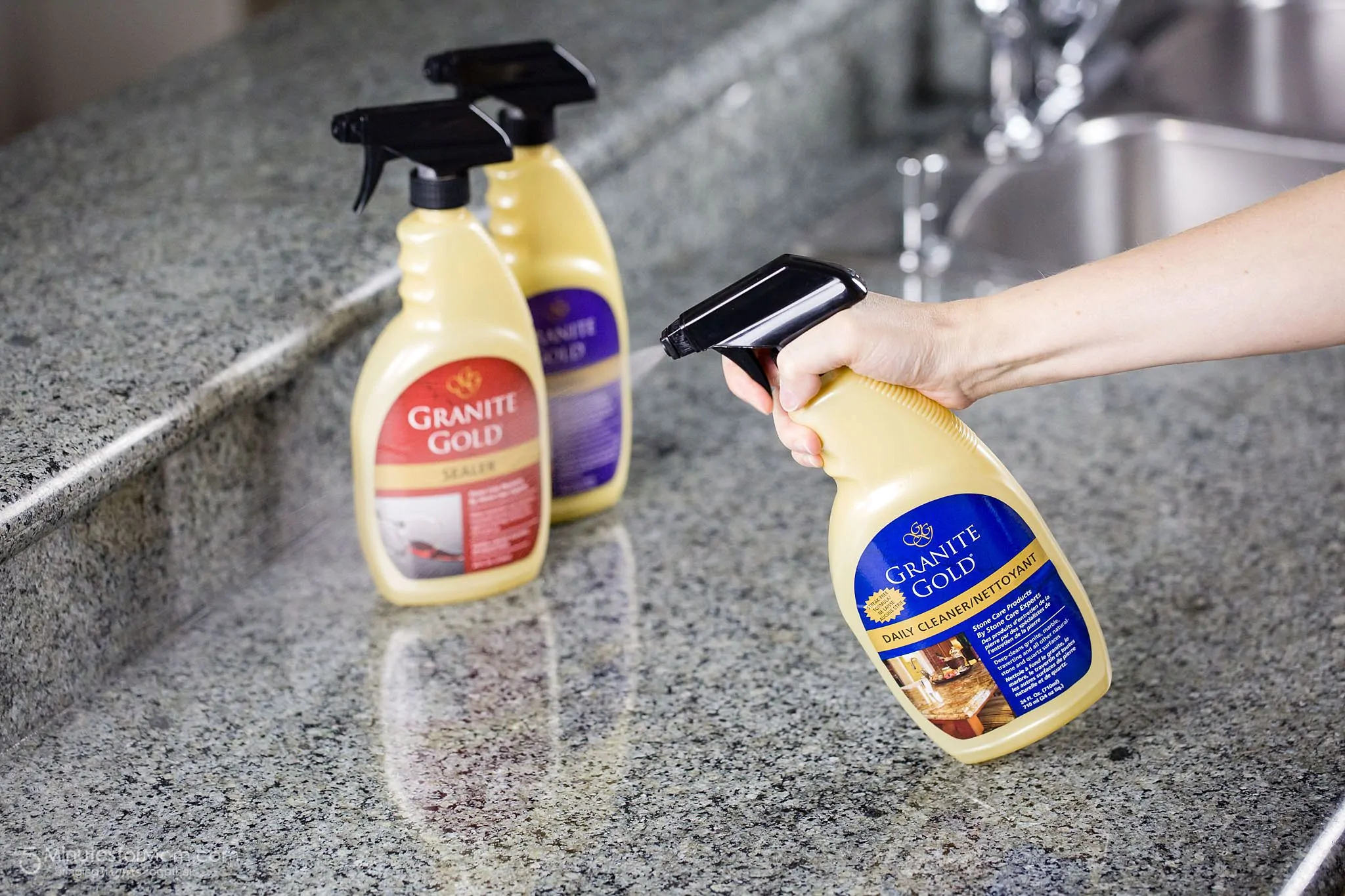 In 2003, they founded Granite Gold and after starting with local distribution in the San Diego area, the company quickly grew and now Granite Gold stone care products are available in grocery, hardware, mass merchant and specialty store channels throughout the U.S. and internationally.
The products are non-toxic, non-acidic, biodegradable, contain no phosphates or ammonia, and are safe on food-prep surfaces.
The Three Step Process to Care for Natural Stone
Granite Gold has a three step process for cleaning, protecting, and preserving your stone surfaces…
Step 1 – CLEAN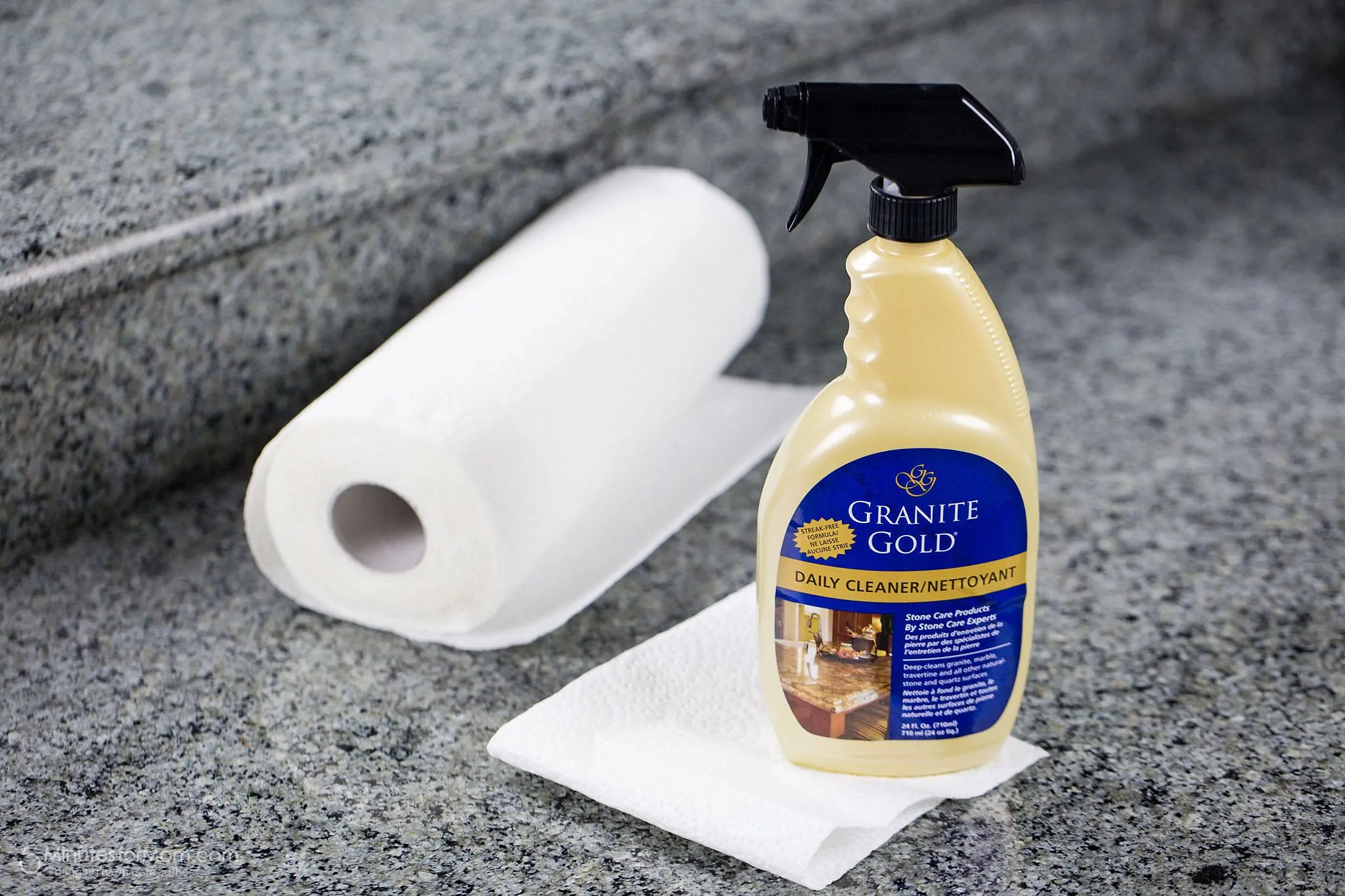 Clean your granite and stone surfaces often. Even tiny particles could possibly damage your natural stone. But it is crucial to avoid common cleaners and abrasives that can break down the protective seal and damage your stone.
Use a cleaner that is specially formulated for natural stone, such as Granite Gold Daily Cleaner.
Step 2 – SEAL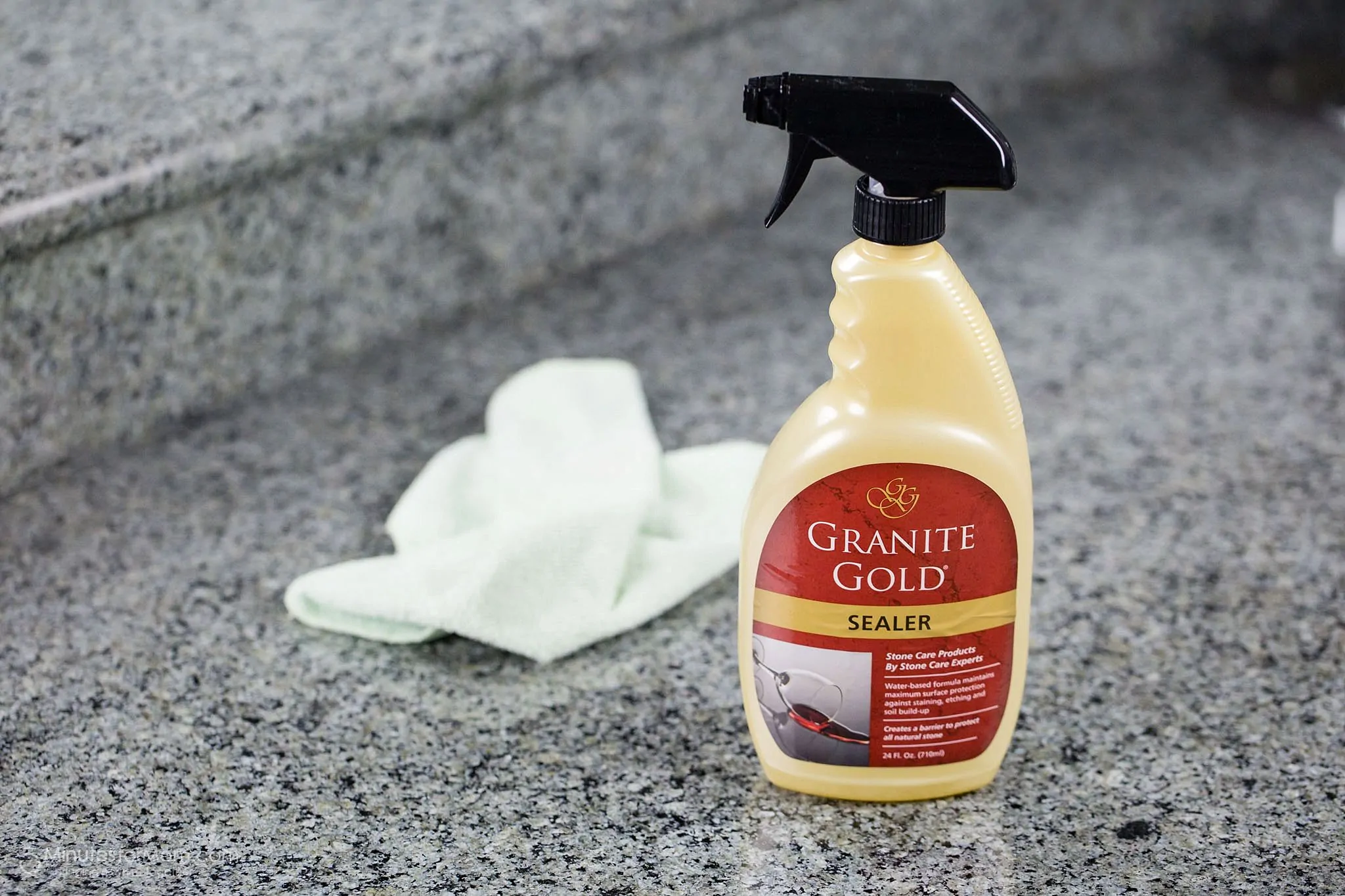 You should seal your granite frequently and you don't need to worry about over-sealing. Frequently sealing your granite countertops and natural stone surfaces maintains maximum surface protection and provides long-lasting resistance to staining, etching and soil build-up.
Sealing with Granite Gold Sealer is fast and easy. Simply spray on to stone surface in three foot sections, wipe with a lint free cloth and buff dry.
Step 3 – POLISH
After sealing, wait for 24 hours for the sealer to cure before using Granite Gold Polish.
Polishing your stone regularly brings out the stone's natural beauty and reinforces the protective seal to provide ongoing protection against water spots and fingerprints. Polishing shower walls and tub surrounds will also help prevent soap scum build-up. But, don't polish stone floors unless you want to go skating in your socks!
How Do You Know if Your Granite is Sealed?
If you ever notice water marks or rings on your granite countertops, your granite needs to be resealed.
You can regularly check if your granite is sealed by simply pouring water (about 3 inches in diameter) on the surface in several locations and letting it sit for 30 minutes.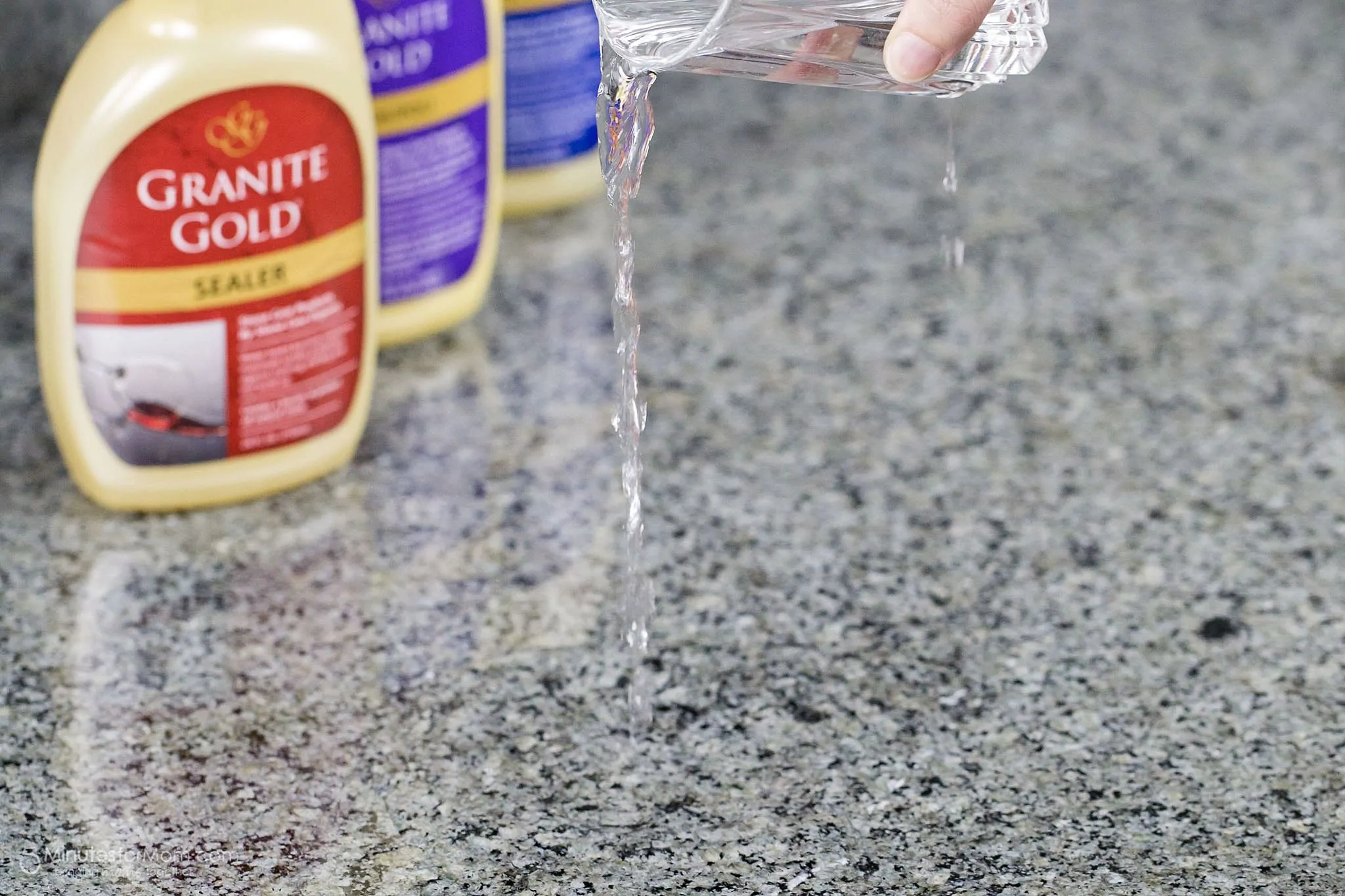 If the water beads, then the stone remains sealed. If a dark mark or ring appears, the water is penetrating the stone and it's time to reseal.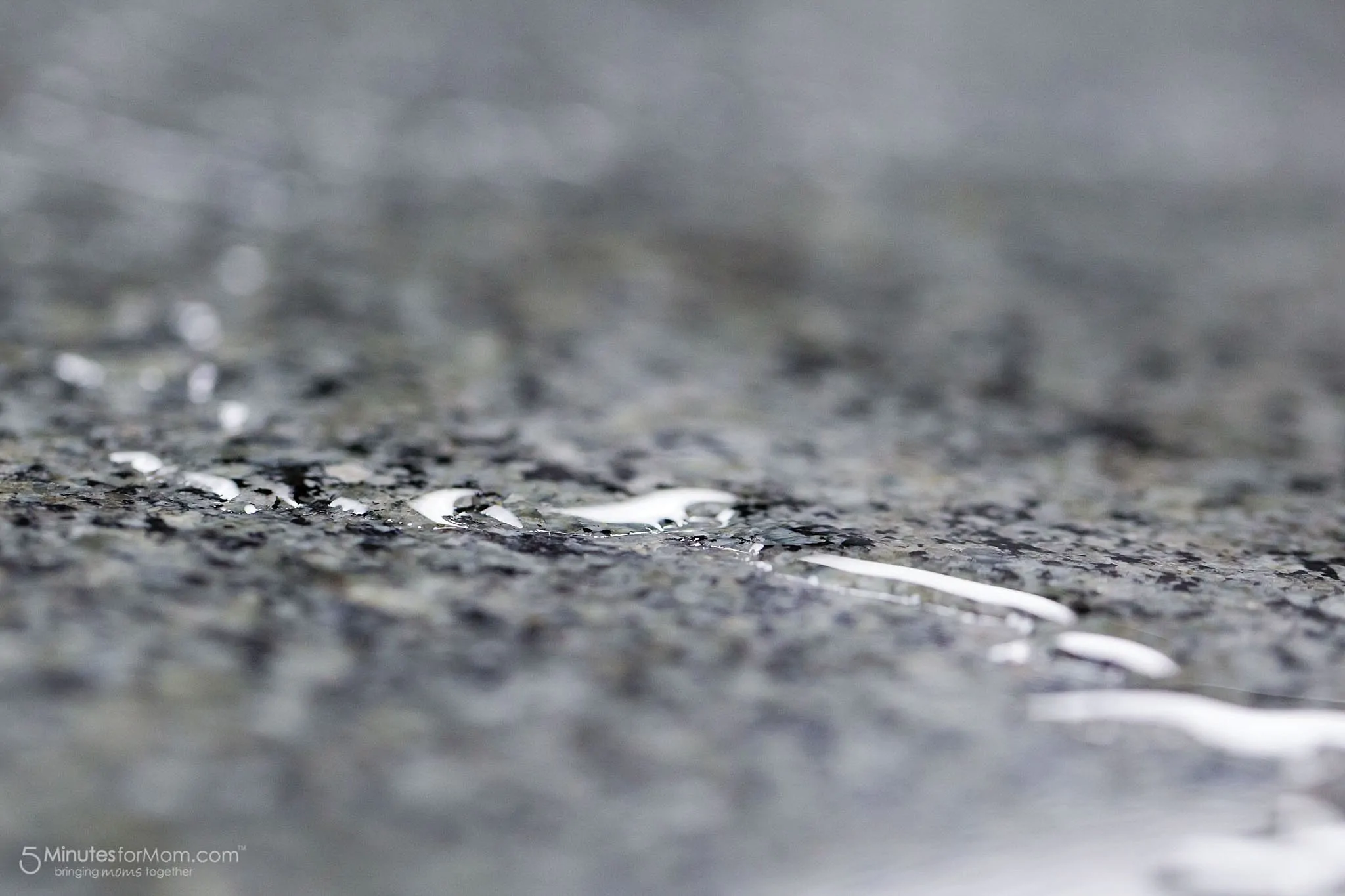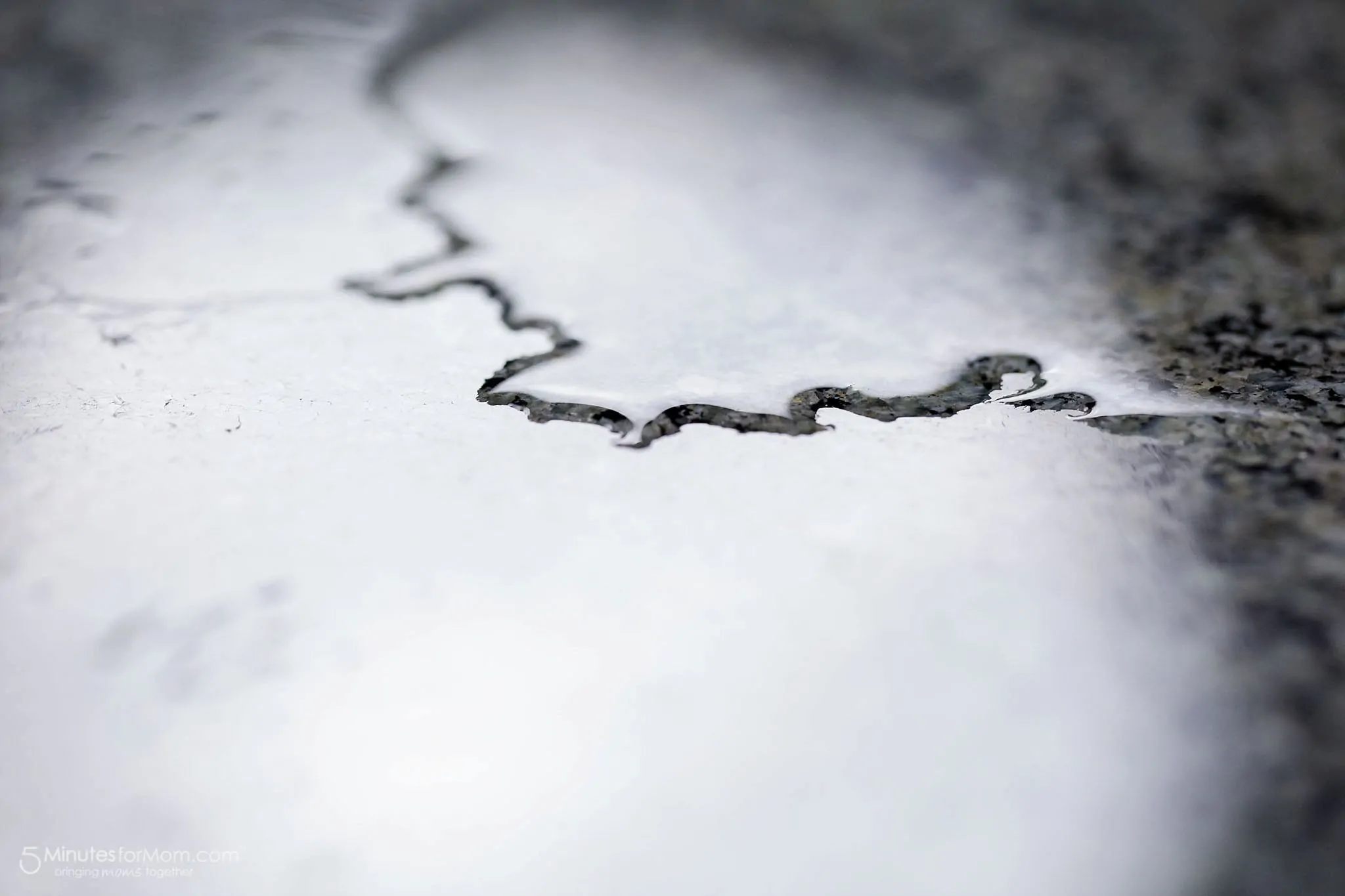 Remember to check for etching and stains and fix these problems before sealing your stone surfaces.
Pin for Later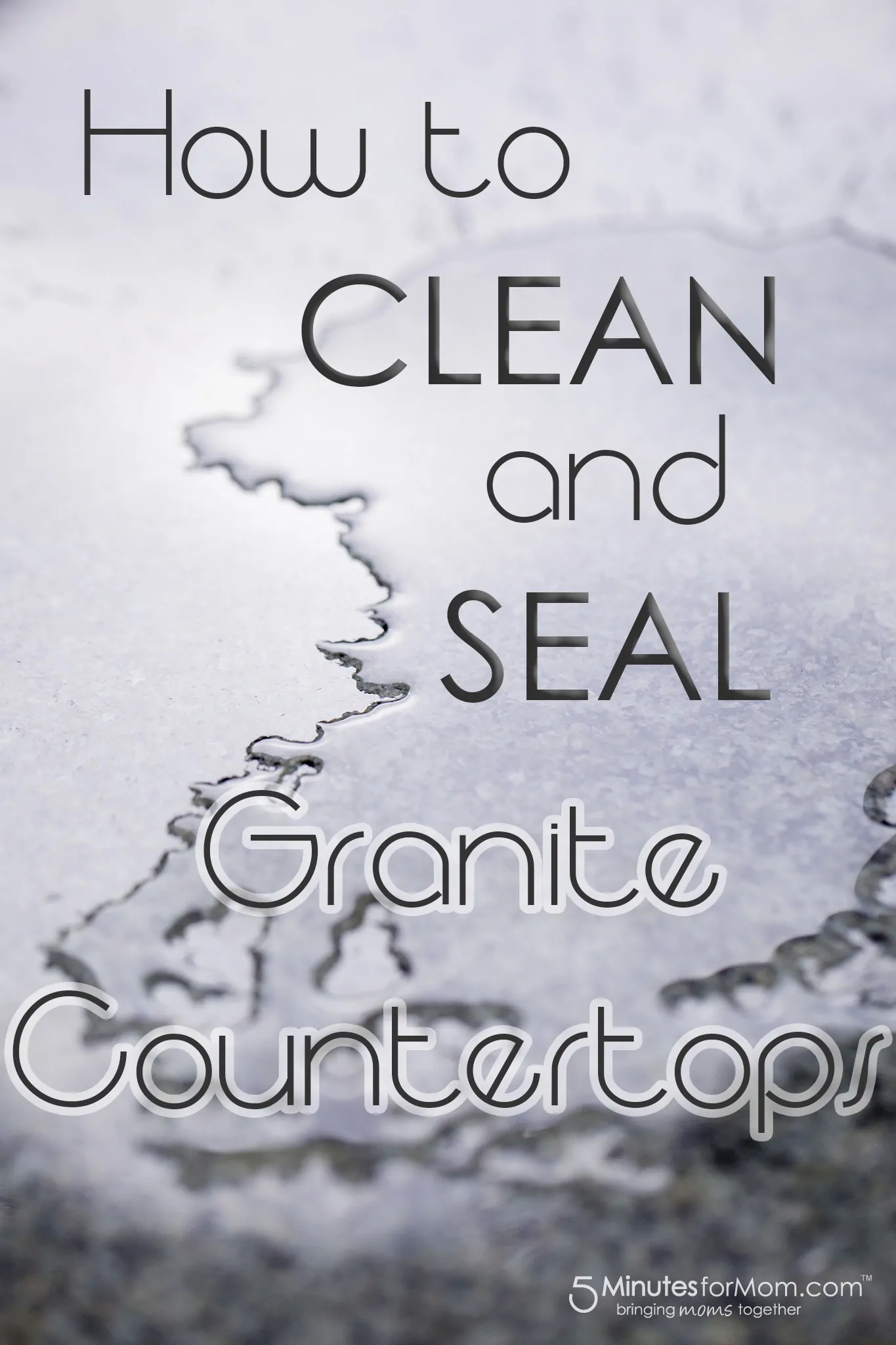 Disclosure: This post is sponsored so extra thanks for reading and sharing.
Written by Janice Croze, co-founder of 5 Minutes for Mom
Talk with me: @5minutesformom and Facebook.com/5minutesformom
Pin with me at pinterest.com/5minutesformom